Our Historic Area hosts evening activities every night of the week
Whether you're a local looking for a date night or family activity after dinner, or you're a planning a fun weekend getaway here, there are a wealth of evening activities in Williamsburg. We're often asked when's the best time to visit Williamsburg. While the Historic Area is beautiful during every season, you may be surprised to hear that one of the best times to visit isn't a season at all; it's after dark!
As the sun goes down and our iconic sites and historic trades close their doors for the day, Duke of Gloucester Street twinkles with anticipation. This fall, you can find things to do in Williamsburg every evening. And there is an outdoor staged performance Thursday through Friday.
Thursdays & Saturdays
First, on Thursdays and Saturdays, you can take in a new open-air theater experience on the Charlton Stage: The Actors' Lament.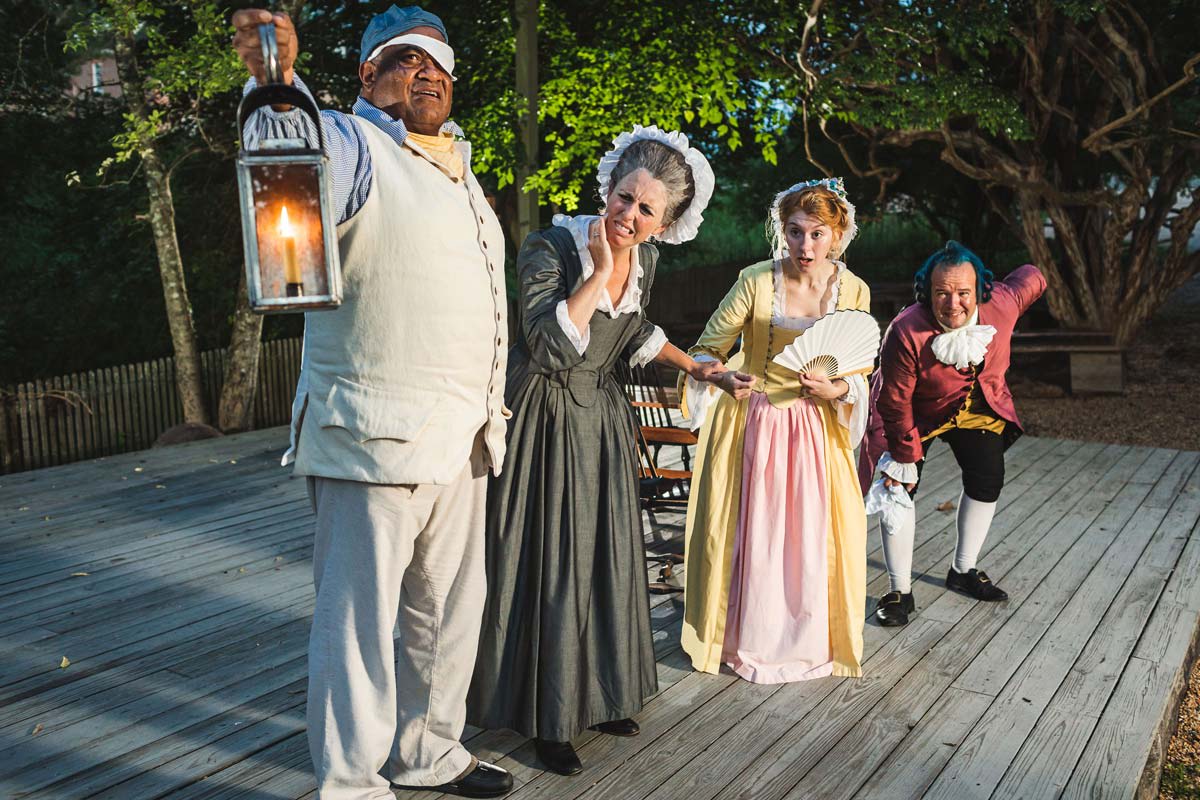 "Loved, loved, loved watching this truly slap stick comedy. The actors were hilarious, and it was fun watching them enjoy playing different characters with such gusto and creativity. Don't miss this one, folks!"

—Linda D.
Otherwise known as "The Actors' Lament: Or the Really Rotten Luck of the Fledgling Theatre Company" this comedy invites you, the audience, to play a role from the beginning as the Company arrives to open its season. Despite its terrible luck, the Company has held onto high hopes for a bright future! But as they stumble toward opening night, company intrigues and secrets are revealed. Will they open on time? Get tickets to find out the last night of this outdoor play, November 6!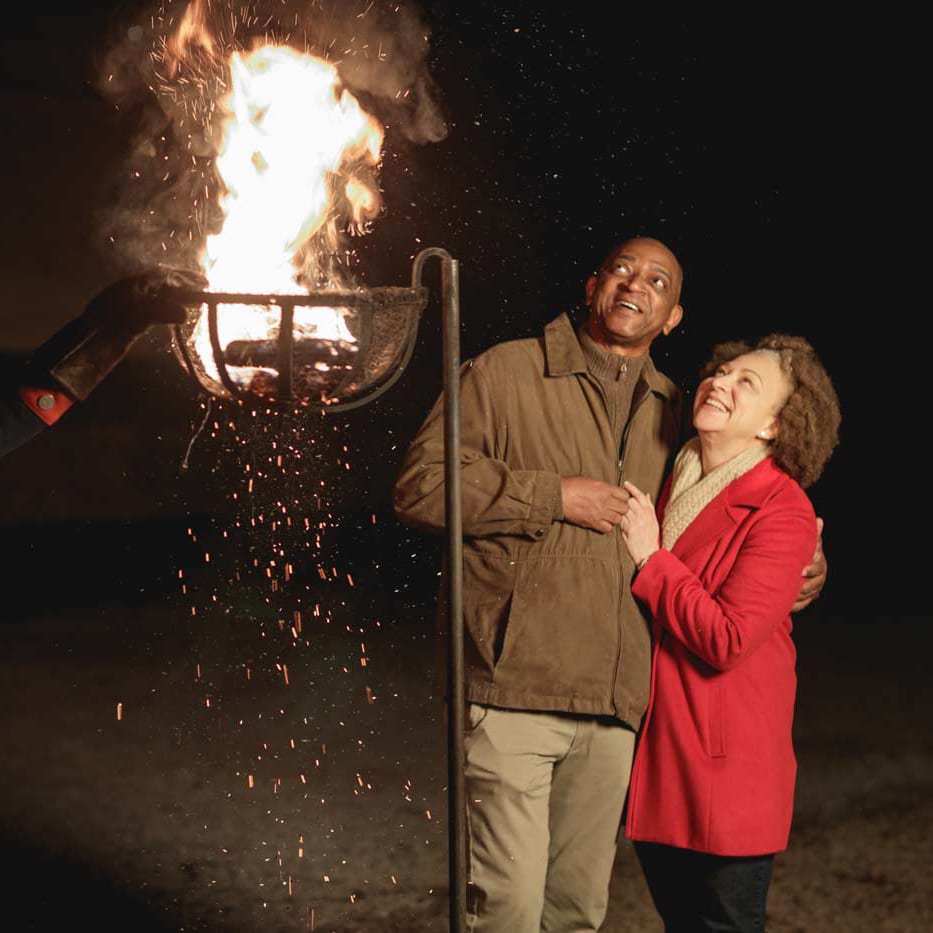 We're also excited to share that there will be an extra special ambiance on some Thursdays, Fridays, and Saturdays this fall. We'll be lighting Duke of Gloucester Street with cressets and bringing the streets to life with strolling musicians. With the absence of modern electric lights in the evening, the authenticity of an evening stroll down the fire-lit street is something you simply must experience for yourself. Check the schedule to see if we're lighting the cressets during your visit.
Fridays
On Friday evenings, check out a special outdoor presentation of one of our most popular trial programs, Cry Witch. Is Grace Sherwood a witch? Question witnesses, weigh evidence, and decide for yourself!
Don't take our word for it. Here's what just a few guests have said about Cry Witch:
"This is a must see!"

—Susie N.




"I was lucky to see this performance twice. Just loved it."

—Kathleen G.



"This was the highlight of our trip a few years ago. Top notch performances from the whole cast. We were completely immersed!"

—Kelsey T.
"This is by far the best play we have ever seen written and produced at Colonial Williamsburg. It was extremely well written and all of the performers were fabulous in their roles. The comedic timing was superb. It was obvious the audience thoroughly enjoyed the production."

—Mary & Bob M.
❮
❯
Sundays
For Sunday evening activities, we're pleased to bring another favorite trial program to the Charlton Stage for a special outdoor presentation: To Hang a Pirate.
Join in this recreation of the actual trial of Israel Hands, who was among the 15 members of Blackbeard's crew who were captured and brought to the Public Gaol in Williamsburg. Hear the evidence and make a judgment! How would you sentence a pirate?
Here's what one guest had to say about this program:
"Fantastic in every way. Entertaining, engaging, educational; a must see for history and Pirate lovers!"

—Mike D.
Daily
Of course, we can't talk about night life in Williamsburg without highlighting our official ghost tour, Haunted Williamsburg. Always a popular walking tour, Haunted Williamsburg is the only haunted history tour with exclusive access to historic outdoor spaces, featuring costumed storytellers who share their unnerving tales.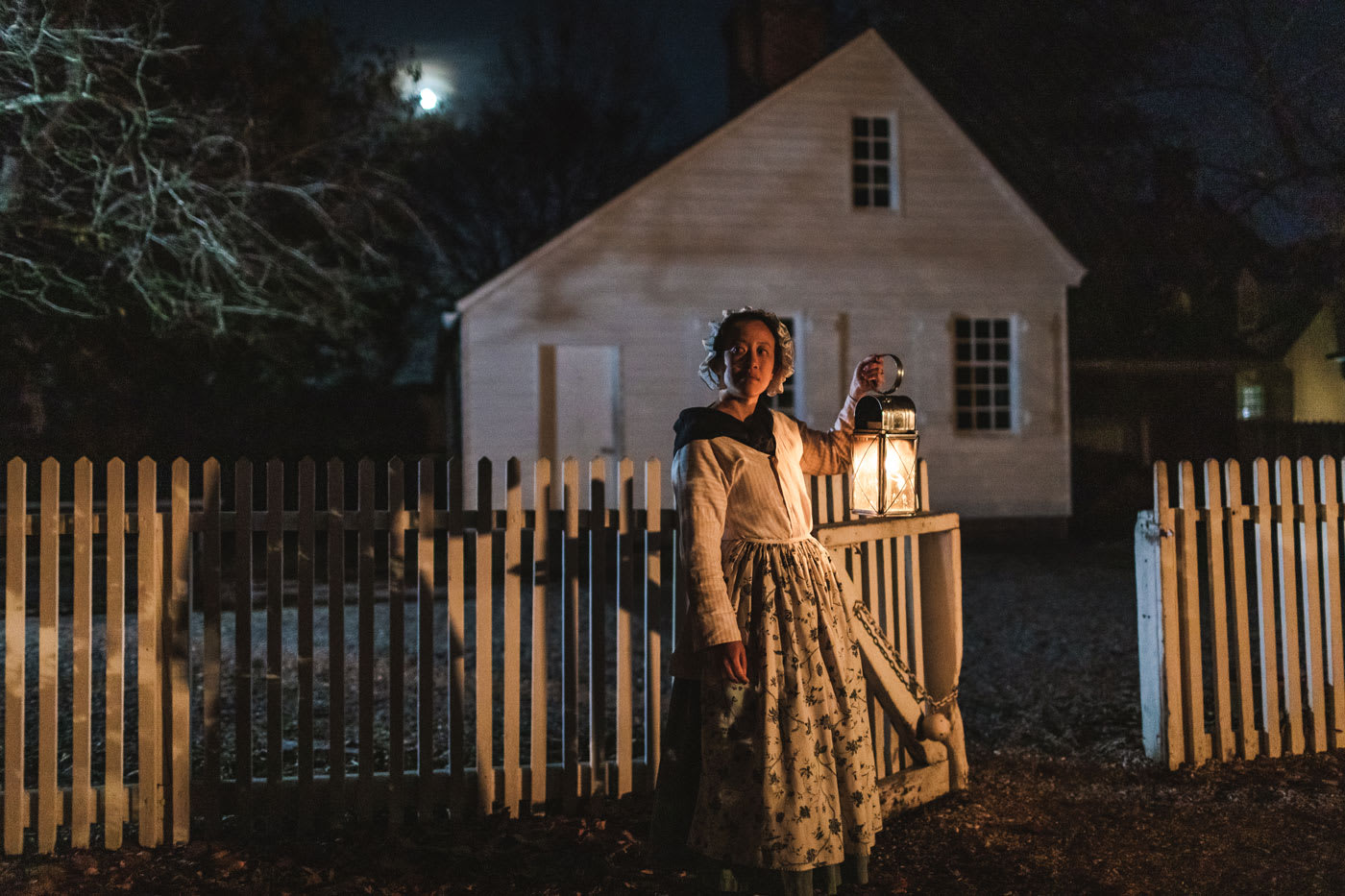 Our authentic 18th-century colonial ghost stories and creepy modern-day encounters make Haunted Williamsburg the best ghost tour near Williamsburg — or in Virginia for that matter! In fact, our Historic Area boasts a building known as one of the most haunted on the East Coast.
Kids Activities
For families with younger kids, we're happy to offer fun for kids with none of the fright! Ghost Walk Jr. is one of the best children's activities around, offering an exciting interactive spooky storytelling experience.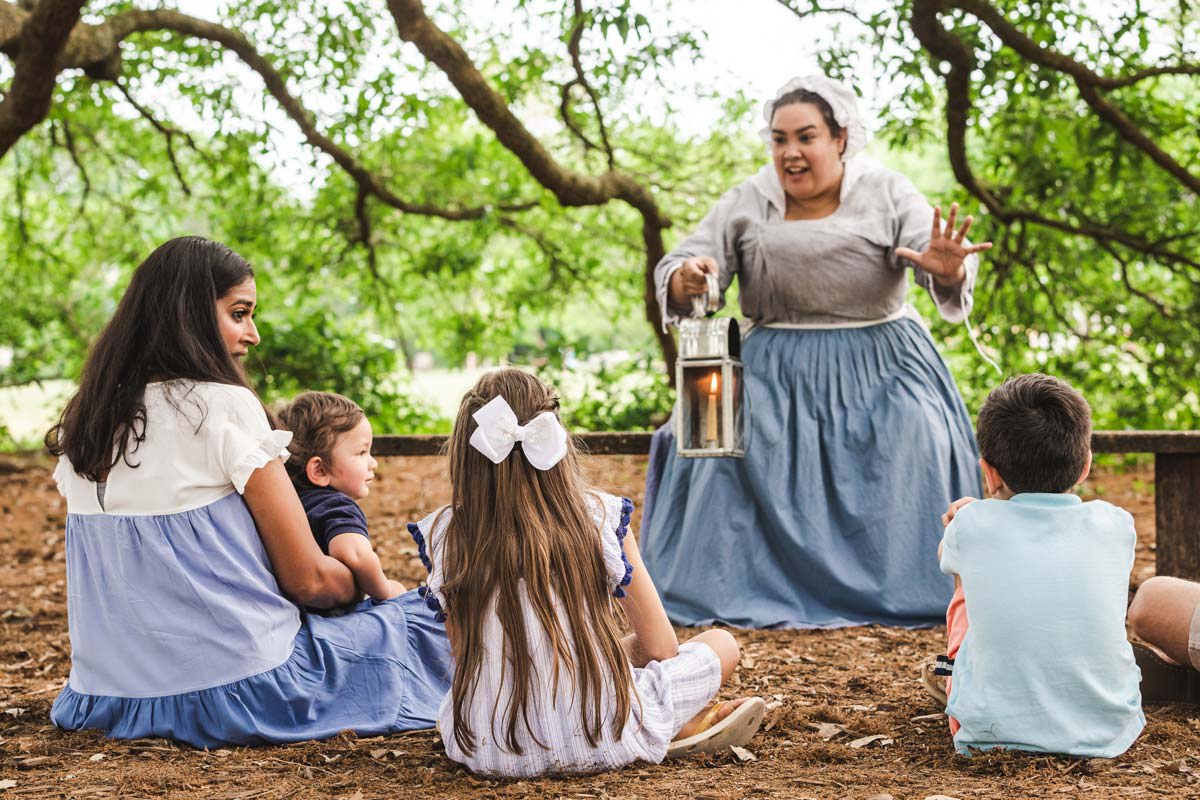 We're excited to share all of this evening entertainment and exciting with you for Fall 2021. Our evening program offering changes seasonally, so check our evening programs page or the events calendar closer to your visit for information about planning your trip for another time of year.
Keep History Alive!
Our donors help us achieve a deeper understanding of America's founding ideals and how they relate to the world and this country today. Because we are not state or federally funded, your support is crucial to preserving the wonder of Colonial Williamsburg. Give now to keep history alive for generations to come.
Colonial Williamsburg is the largest living history museum in the world. Witness history brought to life on the charming streets of the colonial capital and explore our newly expanded and updated Art Museums of Colonial Williamsburg, featuring the nation's premier folk art collection, plus the best in British and American fine and decorative arts from 1670–1840. Check out sales and special offers and our Official Colonial Williamsburg Hotels to plan your visit.
Learn More