December 3-5, 10-12, & 17-19
Join the Colonial Williamsburg community as we celebrate the holiday season with three Grand Illumination weekends, December 3-5, 10-12, and 17-19. Yuletide entertainment will include favorite holiday traditions, as well as heartwarming new additions to the festivities. On Friday evenings, join the new Procession of the Yule Log and enjoy holiday songs and stories on Market Square. Saturday evenings will include a dramatic presentation of an original holiday story, glorious music, and a joyful appearance by Father Christmas, culminating at 7:00 p.m with simultaneous Grand Illumination fireworks displays over the Governor's Palace and Capitol building.
Dominion Energy Presents Liberty Ice Pavilion
Experience the sights, sounds, and scents of the holidays with a few turns on the ice. November 19, 2021 through February 27, 2022.
Buy Tickets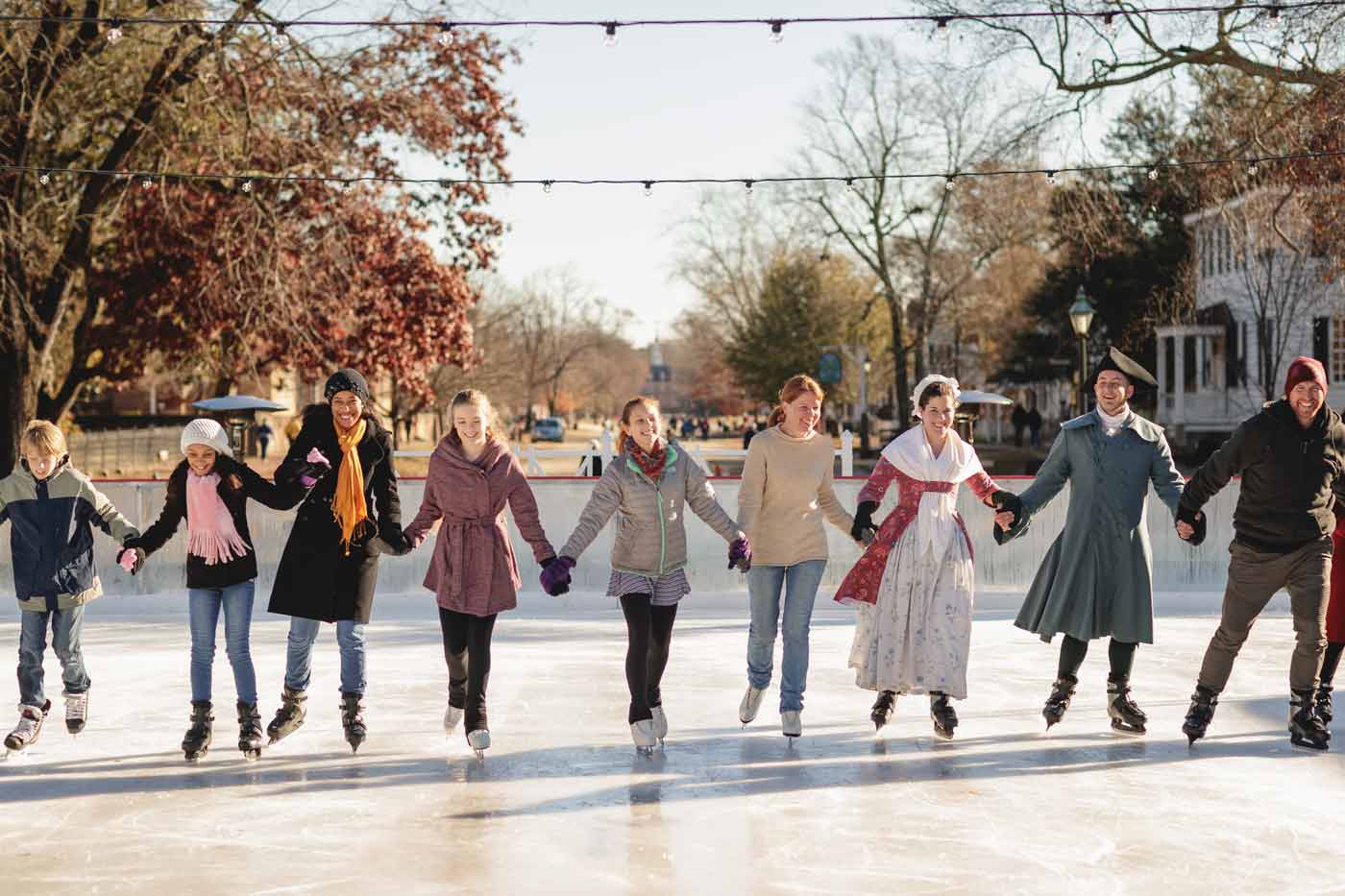 Frequently Asked Questions
What is different about this year?
Instead of a single Sunday event, the Grand Illumination events and fireworks will occur on three consecutive Saturday nights.
The festivities begin each Friday night, with the Lighting of the Cressets, 18th century entertainments on Duke of Gloucester Street and a Celebration of the Yule Log, a holiday procession beginning at the Capitol and ending at the Magazine where guests will have an opportunity to make a wish and toss a sprig of greenery into the bonfire.
This December, our Grand Illumination festivities will be on Saturday, December 4th, Saturday, December 11th, and Saturday, December 18th from 5:00 p.m.– 7:00 p.m. Each night and will feature two locations for fireworks, one at the Governor's Palace and one at the Capitol.
There will not be a premium seating area on Palace Green. Guests are encouraged to bring lawn chairs or blankets.


Can I reserve a specific audience area on Palace Green?
No. All audience areas are free and open to the public. There will not be a premium seating area on Palace Green. Guests are encouraged to bring lawn chairs or blankets.

What time do the fireworks start? What time should I arrive?
The fireworks begin at 7:00 p.m., but it's best to arrive early. The official start of Grand Illumination holiday programs throughout the Historic Area is at 5 p.m.

Will each week be the same Grand Illumination fireworks show?
Yes. Each Saturday night, the fireworks will be fired simultaneously from the Capitol and Palace. There will not be fireworks at the Magazine.

Where are the best places to watch the Grand Illumination fireworks shows?
For the Palace fireworks, anywhere on Palace Green is perfect. For the Capitol show, the best viewing area is on Duke of Gloucester St east of Botetourt St.

Where should I park?
Parking will be at a premium downtown all day. We recommend parking at the Colonial Williamsburg Regional Visitor Center and using the free shuttle to the Historic Area.

What time do the shuttles run?
Masks are required on all buses. Shuttle buses will run on a 30-minute schedule from 9:00 a.m. – 5:30 p.m. Limited bus service to Visitor Center & Palace stops only from 5:30 p.m. – 6:30 p.m. There will be no bus service from 6:30 p.m. - 9:30 p.m. Regular bus service resumes to all stops at 9:30 pm until 10:00 p.m.
Can I bring a cooler with my own food and drinks?
Yes. Coolers are permitted.

Where can we purchase food and drinks?
There will be three food trucks parked behind the Courthouse in the center of town on Nicholson St just east of North England St. Serving hot food and non-alcoholic drinks from 3 p.m.– 7 p.m.
There will be a concession stand by the Lumber House Ticket office on Duke of Gloucester St across from Palace Green selling drinks, baked goods, and snacks till 7:30 p.m.
Kings Arms Tavern will have a prepaid dinner on each of the Grand Illumination evenings
Raleigh Tavern Bakery will extend their hours until 7:30 p.m.
Chowning's Cider stand will be open until the fireworks begin around 7:30 p.m.
Chowning's Garden will offer a variety of food options as well
Holiday Bake Shop (located in the Taste Studio) will be open 9 a.m. -5 p.m.

Where is the closest restroom?
In addition to regular restrooms listed on the maps and in the Colonial Williamsburg Explorer app, there will be portable units installed throughout the Historic Area.

Please note that the following items are not permitted on Colonial Williamsburg Property:
Weapons
Beach umbrellas
Tents
Drones


Are the Grand Illumination Palace Green and Capitol fireworks viewing areas ADA accessible?
Yes.

Is there special seating for seniors?
No, there is not special seating for seniors.
Sign up for our emails to be the first to know more about this year's Grand Illumination