July 1-4, 2022
There's no better place to celebrate our nation's birth than on historic Duke of Gloucester Street. Enjoy a full weekend of patriotic festivities, including public readings of the Declaration of Independence, musical performances, and a dazzling fireworks display to cap the evening.
To opt in for weather related July 4th information via text message, please text FIREWORKS to 226787.
American Music Concert Series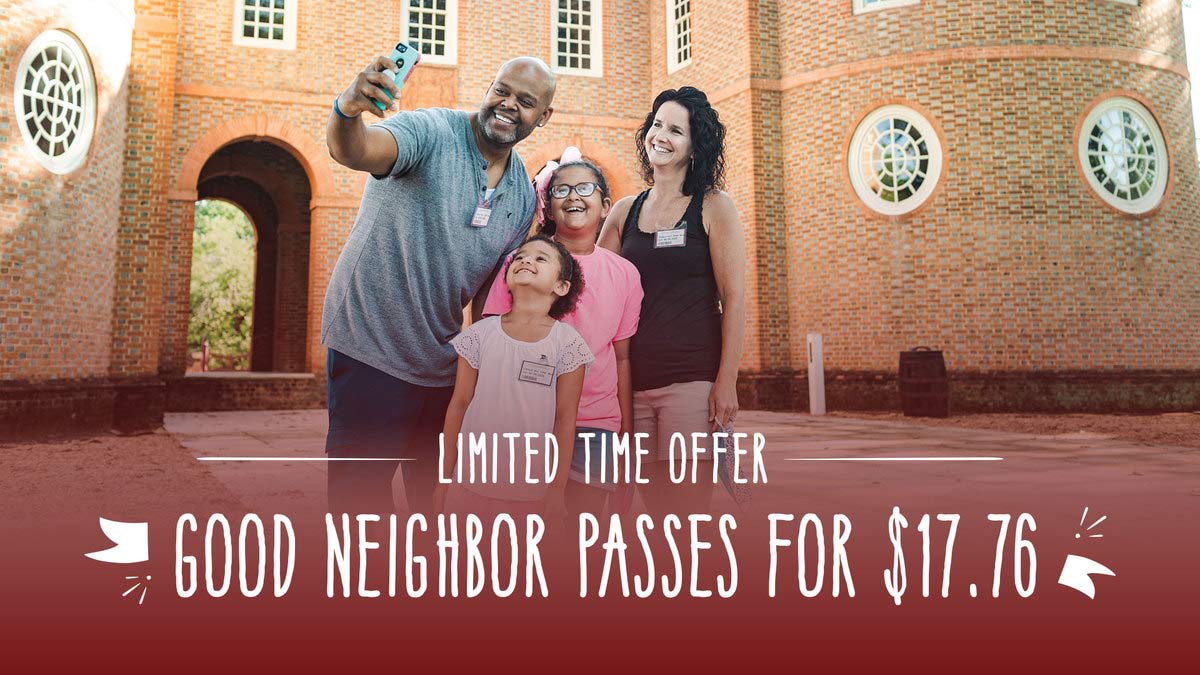 365 Days for $17.76
Through the Fourth of July, we're inviting locals to get adult Good Neighbor Passes for just $17.76.
Get Passes
Frequently Asked Questions
When will the Fireworks go off?
On Monday, July 4th, 2022, fireworks will be ignited at 9:30 p.m. at the Governor's Palace. They will last about 20 minutes.
Where is the best place to see the Fireworks?
The best location for viewing is Palace Green. The fireworks may also be seen from Market Square and the Lawn of the Art Museums of Colonial Williamsburg on the eastern side.

How far in advance do you cancel the firework show due to weather?
Colonial Williamsburg does not offer a rain date for the July 4th Fireworks. We do not have a set time in cancelling the program if the weather is a concern. Communication on the status of the fireworks will be posted through our social media channels.
To opt in for weather related July 4th information via text message, please text FIREWORKS to 226787. Notifications will expire at 12:01 AM on 7/5/2021, or you can opt out on your own at any time.

Are there additional Independence Day activities besides the Firework show in the Historic Area?
Yes. In addition to daily Historic Area programming, there will be a reading of the Declaration of Independence by Thomas Jefferson at 9:30 a.m. from the Capitol building's West Balcony and a noontime reading of the Declaration of Independence by members of the 18th century Williamsburg community on the steps of the Colonial Courthouse. At 10:30 a.m. on Market Square, A Salute to the States will feature a special muster in commemoration of the anniversary of the birth of our nation. Our signature Independence Day program, Lights of Freedom, is staged on Palace Green and begins at 8 p.m.

Will there be additional entertainment within the Colonial Williamsburg Foundation?
Yes. Live music and refreshments will be available on the lawn of the Art Museums of Colonial Williamsburg from 6:30 – 9:30 pm with a special Independence Day concert featuring local favorites, Good Shot Judy.

Where do I park my vehicle?
The best place to park is at the Visitor's Center parking lot.

What is the Bus Schedule?
Regular Bus Service (Historic Bus Service – all stops) will be available every 30 minutes from 9:00 a.m. – 8:00 p.m. From 8:00 p.m. to 8:45 p.m., Limited Bus Service will be available between the Visitor Center and Governor's Palace stop only. There will be no service between 8:45 p.m. and 11 p.m. Regular Bus Service will resume at 11:00 p.m.

How do I get to the Visitor's Center if the Buses are not running?
There is an accessible walking path to the Visitors Center from the Palace bus stop. This path will be closed beginning at 8:30 p.m. and will reopen following the fireworks display.
Where can I purchase food and/or beverages on July 4th?
Kings Arms Dinner Service: will be open for dinner 4:30 pm- 7:30 pm. Reservations are required, 1-800-HISTORY or OpenTable app.
Chowning's Cider Stand: Open 11 am-10 pm, Drinks, sandwiches, snacks and cookies.
Chowning's Garden Snack Bar: Open 12 pm-9:30 pm, Burgers, Hot dogs and more
The Raleigh Tavern Bakery: Open 9 am until 9:30 pm.
Greenhow Ticket Office Lawn: Open 11:30 am – 10:00pm, Hot dogs, Grilled Sausage, BBQ Sandwich, sides, drinks, French Fries, draft beers.
Shields Tavern- inside dining event 11am-5pm) reservations are required) An American Original 200 years in the Making – Independence Buffet $65.00++ per adult, $33.00++ per child (3-10)
Shields Tavern – outside dining event – no reservations required -Shields Pavilion Concession's 11am-7pm, burger, hot dogs, ice cream, cotton candy, cold drinks.

Where are the Restrooms located?
Besides the regular restroom locations in the Historic Area, additional portable toilets are available within the vicinity of Palace Green. Please note that the restrooms within the Governor's Palace Gardens and the structure at the corner of Scotland Street and Palace Green will not be available after 5 p.m. Public restrooms are also available in Merchants Square at the corner of Duke of Gloucester and N. Henry Streets, and in the Henry Street Shops.

Are there any restrictions on what I can bring to the fireworks?
Yes. The following items will not be permitted on Palace Green, Art Museum Lawns, or any other Colonial Williamsburg owned properties:
Tents
Pop-up tents
Oversized umbrellas
Drones
Weapons

Will stores in the Historic Area be open on July 4?
Yes. The John Greenhow Store will be open 9:00 a.m. – 9:00 p.m., the Market House will be open 11:00 a.m. – 8:00 p.m., the William Pitt Store will be open 9:00 a.m. – 9:00 p.m., and Tarpley, Thompson & Company will be open 10:00 a.m. – 7:00 p.m., the Prentis Store will be open 10:00 a.m. - 7:00 p.m., and the Golden Ball will be open from 10:00 a.m. - 5:00 p.m.
At 12:30 p.m. on Market Square, bid on select items from CW stores as well as one-of-a-kind auction items found nowhere else.
Sign up for our emails to stay informed about upcoming special events, programs, and special offers
Art Museums of Colonial Williamsburg
Featuring the best in British and American fine and decorative arts, plus the nation's premiere collection of American folk art.
Learn More
Meet the Nation Builders
From recognizable names like Jefferson and Washington, to people whose names did not grace your history book, meet the Nation Builders who helped shape their time, and whose legacies continues to influence and inspire American ideals.
Meet the Nation Builders