February 13-15, 2021
Take advantage of the long weekend to visit the place where it all began. Before they were presidents, Virginians George Washington, Thomas Jefferson, and James Madison were shaped by their experiences in Williamsburg. Meet them and discover the roles that each played in Virginia's colonial capital and how that prepared them to be Commanders in Chief.
Learn more about the important role Williamsburg played in the lives of three early Virginians who held the office of the presidency.
Sign up for our emails to be the first to know more about Presidents' Weekend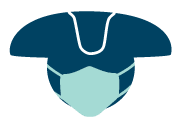 Please note that some images may have been taken prior to COVID-19. All guests are required to wear face masks when indoors, and they are recommended outdoors. Face coverings will be worn by Colonial Williamsburg staff. Learn more here about our commitment to the health and safety of our guests and staff and what protocols we have in place.