I wrote my application for Colonial Williamsburg's Robert M. & Annetta J. Coffelt and Robert M. Coffelt Jr. Fellowship in February 2020. I'd recently started my PhD research on caregiving during the American Revolutionary War and had begun to think broadly about health crises and their impact on caregiving practices. I remember feeling conflicted about whether I should stick to writing about the eighteenth century or whether there was enough of a modern 'care crisis' for me to emphasize the contemporary relevance of my research. But by the time I submitted the application in March, the world had been turned upside down by the most far-reaching health crisis in a century.
Two years later in January 2022, I arrived in Williamsburg, excited to embark on my first research trip since the pandemic started. At Colonial Williamsburg and the John D. Rockefeller Jr. Library, I found a community of librarians, historians, curators and interpreters whose knowledge and enthusiasm for their work immediately reignited my passion for my own.
My dissertation examines care networks, care practices and caregivers for sick, injured and physically impaired people during the American Revolutionary War. In the late eighteenth century, an individual's state of health was always precarious and fluctuating. On top of this, the Revolutionary War was the most violent conflict North America had seen since European colonization and coincided with one of the most dramatic smallpox epidemics to sweep the continent. The American Revolution is well known as a political and military crisis, but it was also a health crisis. And like any health crisis, it required the devotion of extraordinary time, energy, and resources to care work.
I spent my first week at the Rockefeller Library immersing myself in books on eighteenth-century military medicine, apothecaries, army hospitals, physicians and healers, drug supplies, Native American remedies, domestic and medical objects, textiles, and privies. The library's collection of specialist literature on the colonial and Revolutionary eras is unparalleled, and I was able to read books that I simply could not access in the UK.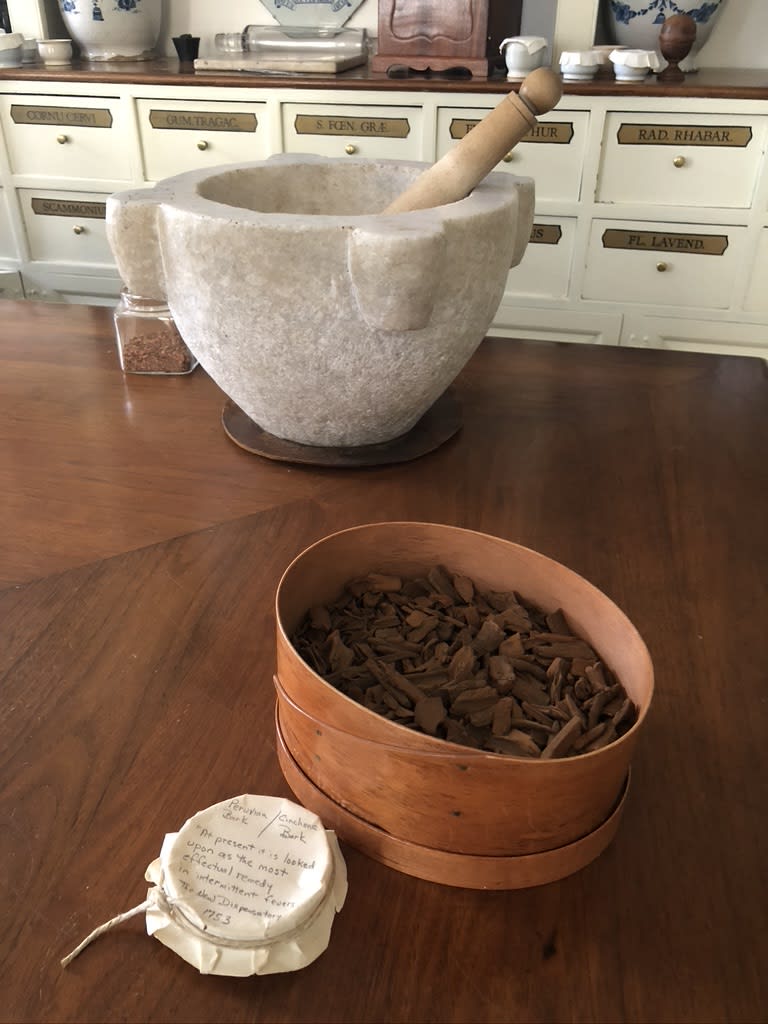 It is clear from these books that there was a strong sense of obligation in colonial America to provide care within communities, which endured throughout the Revolutionary period. Anglo-American caregiving networks could be large and include any number of caregivers, including domestic servants, the enslaved, family, friends, neighbors, religious leaders, physicians, community healers, and apothecaries.
Luckily for me, the Colonial Williamsburg Foundation is interested in every aspect of the eighteenth-century community, including the people and places involved in caregiving networks. The Rockefeller Library holds research reports detailing the historical, architectural, and archaeological background of every site in the town, every trade shop and household, and even the social customs and cultural knowledge in Revolutionary Williamsburg. I could draw from decades of research into the smallest details of the period. I became familiar with the Revolutionary-era residents of the town and the resources available to them when they were sick, as well as anecdotes diligently recorded in each individual's personal file by generations of librarians. I was fascinated to learn, for instance, that when British troops brought smallpox to Williamsburg in 1781, Betty Randolph stayed in town to care for the sick child of a friend.
In Special Collections, I was introduced to a treasure trove of manuscripts and microfilm, including family letters and diaries mentioning illness and the local disruption of war, financial accounts, recipe books, and military journals. Account books from local apothecaries, such as James Carter and John M. Galt, provided details of the ingredients they were purchasing to sell to patients in Williamsburg. John Galt's books record who he visited or 'attended', and the medical procedure he prescribed or carried out. He frequently treated enslaved people, under the accounts of their enslavers, providing crucial evidence for examining the power dynamics within caregiving networks – which could be deeply coercive and utilitarian.
I was excited to visit the Pasteur & Galt Apothecary to talk to the apothecary interpreters, all of whom base their knowledge and practice on their detailed study of eighteenth-century medical texts – and in some cases, decades of experience at Colonial Williamsburg. With their invaluable suggestions, I was able to develop a sense of the medical environment of the town, as well as the transatlantic drug supply chains that colonial apothecaries depended on, and that were disrupted during the Revolutionary War. A highlight for me was when longstanding apothecary Robin Kipp showed me a box of 'Peruvian Bark.' Cinchona tree bark is found in South America and contains quinine, which is still used to treat malaria. This bark was known to improve fever symptoms and became the prevailing treatment for 'intermittent fever' in the colonial period. I'd seen Peruvian Bark referenced so many times in eighteenth-century medical texts that seeing it in real life was like meeting a celebrity!
Engaging with material culture is essential to recover experiences of caregivers. Many of the more mundane or unpleasant aspects of care labor are rarely mentioned in written sources. Also, a large proportion of caregivers were domestic servants or enslaved women of color whose voices were omitted from the written archive. Their stories become more tangible when examining the objects they used, as do the embodied realities of those they cared for. I was lucky enough to meet with curatorial staff from the DeWitt Wallace Museum and the Archaeology Department, who showed me examples of many of the objects used in caregiving. I saw apothecary cabinets, ointment and drug jars, bed warmers, feeding boats, pestle and mortars, and more chamber pots than I can count.
Exploring the Historic Area brought a depth to my research that I could not have anticipated – and experiences which couldn't be replicated anywhere but Williamsburg. I visited the Governor's Palace (which was used as a Revolutionary War hospital), and its working kitchen, where I saw posset (a popular sustenance for the sick) made from an eighteenth-century recipe in an actual posset pot. I chatted to the brick makers in the brickyard about the use of heated bricks in the treatment of fevers. I went on a bespoke 'Poop Tour' about the different methods of waste disposal used in the town. By chance, I also met an interpreter who turned out to be an expert in eighteenth-century military surgery and showed me how to amputate an arm with historically accurate methods!
During my time in Williamsburg, I found an indispensably rich and diverse collection of research material. I met an exceedingly kind and astoundingly knowledgeable community in the staff at Colonial Williamsburg and had a ridiculous amount of fun. I am grateful to everyone I met during this fellowship for reminding me why historical research can be so exciting!
Meg E. Roberts is a PhD candidate at the University of Cambridge, UK, and held the 2020 Coffelt Fellowship at the John D. Rockefeller Jr. Library. Her doctoral research examines the effect of health crises on care practices and caregivers during the American Revolutionary War.
Colonial Williamsburg is the largest living history museum in the world. Witness history brought to life on the charming streets of the colonial capital and explore our newly expanded and updated Art Museums of Colonial Williamsburg, featuring the nation's premier folk art collection, plus the best in British and American fine and decorative arts from 1670–1840. Check out sales and special offers and our Official Colonial Williamsburg Hotels to plan your visit.
Keep History Alive!
Our donors help us achieve a deeper understanding of America's founding ideals and how they relate to the world and this country today. Because we are not state or federally funded, your support is crucial to preserving the wonder of Colonial Williamsburg. Give now to keep history alive for generations to come.