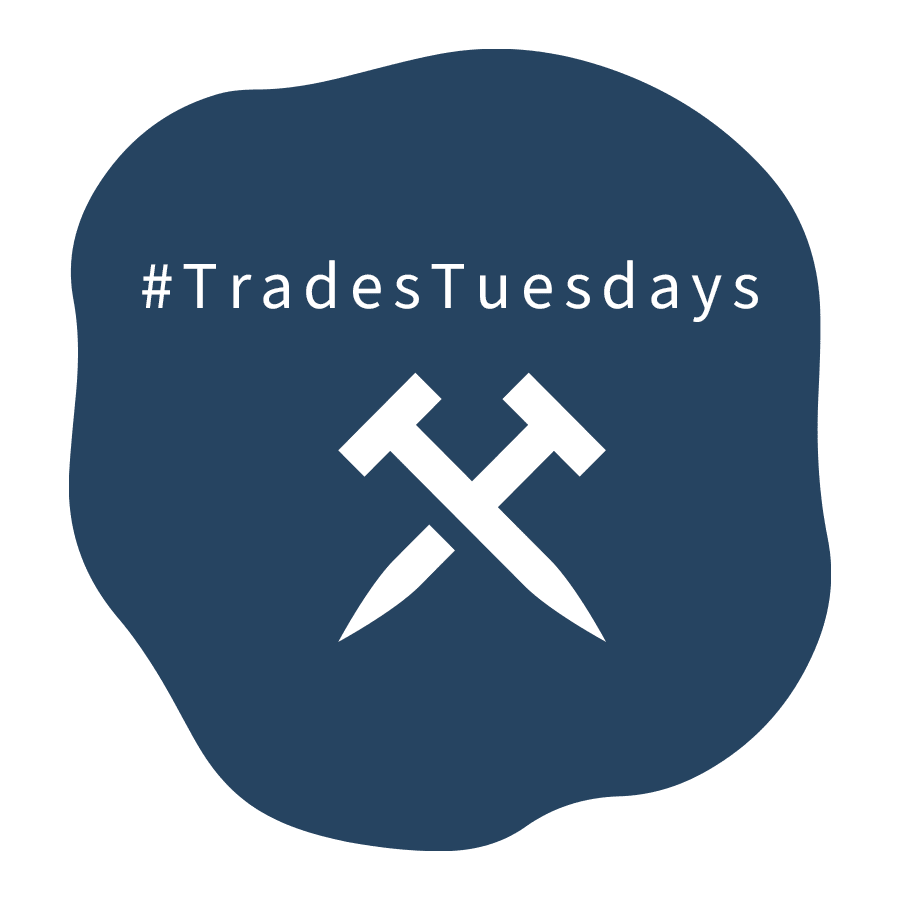 The skills of the craftsperson, musician, and soldier remain vital forces in 21st-century life. Join members of Historic Trades and Skills as they seek to rediscover and preserve the ingenious skills honed by their diverse predecessors.
March 28, 2023 at 1:00 p.m. ET

The Life of an 18th-Century Gown

Join our Milliners as they explore how a recent "Gown in a Day" project informs their understanding of their trade's history. Learn how recreating original objects heightens their understanding of an 18th century work environment and why shortcuts in sewing may have been a necessity to get the job done.
Join the Livestream Event Below
Ask your questions in the chat! Let us know your first name, where you're from, and what questions you have.
Upcoming Trades Tuesdays Schedule
March 28, 2023 at 1:00 p.m. ET: The Life of an 18th-Century Gown
Join our Milliners as they explore how a recent "Gown in a Day" project informs their understanding of their trade's history. Learn how recreating original objects heightens their understanding of an 18th century work environment and why shortcuts in sewing may have been a necessity to get the job done.

Previous Trades Tuesdays Programs
Black Coachmen: Past, Present, and Future
Join our Coach & Livestock team as they discuss the history of Black coachmen, their impact on Colonial Williamsburg, and what plans are in place to carry their stories into the future. 
Through Wood and Clay
See the progress our carpenters and brickmakers have made at the new brickyard site and hear about the exciting collaborative projects that will be coming out of the expanded building trades site in the near future. 
Printing a Newspaper
Join Journeyman Printers Chad Jones and David Wilson to see how newspapers were printed in the 18th century. They will discuss the full process from making ink and preparing inkballs all the way to the finished product.
Made for Dinner
Perhaps you've seen those tables set for a fine and fashionable dinner throughout the Historic Area. Have you ever wondered about the work that went into making those objects, cooking that food, and setting that table in the 18th century? Join us for dinner TradesTuesday-style as we explore such a scene from several perspectives. At our table you'll find cabinetmakers discussing furniture for dining, silversmiths exploring high-style serving pieces, Historic Foodways cooks planning meals, and sites interpreters speaking of the enslaved people who found ways to live their own lives amid the demands of making things like dinner happen.   
Transporting Tobacco
A hogshead filled with tobacco is heavy, but its bellied shape makes it easy to roll from the farm to tobacco warehouses along Virginia's rivers. For some farmers, it was advantageous to hitch hogsheads to horses for transport. How did they do this? Our Coach and Livestock team, farmers, coopers, and wheelwrights join forces to answer that question in this livestream. Join us to learn about the work each trade has brought to this collaboration and find out if they succeeded!
People and Planting
Our Historic Trades gardeners have been working collaboratively to explore three traditions: a colonial gentleman's pleasure garden, American Indian planting, and the gardening of enslaved and free Black Virginians. Join us to reflect back on a season of gardening, as well the different motivations, techniques, and beliefs that characterized each culture.
More than the Arts and Mysteries
Why would you hammer iron at an anvil, saw a board by hand, or play a tune on a fife in a digital world? Our historic tradespeople have answers to these questions and many more. The "old ways" can still be vital and relevant. Join us for an exploration of why we do what we do, how we learn how to do it, and the challenges we face in bringing the past into the present.
Circular Sashes and Curved Casements
As architectural trim carpenters, joiners are responsible for providing windows for their customers. In this livestream, Brian Weldy, journeyman and supervisor of the joiners, will demonstrate how to make a circular window in the style of Bruton Parish Church, one of many circular windows found in Williamsburg.
Women in the Workplace
Women's work has often been assumed to be exclusively in the home, but that is not the only sphere where their work was needed. Join a panel of tradeswomen to discuss the complex lives of 18th century women who managed to successfully balance home, family, and business.
Fashion and Health: Advice for Patients and Practitioners
Visit with the apothecary and milliner/mantua-maker as they discuss the connections between fashion and health.
So Ingenious a Fellow: The Many Skills of Peter Deadfoot
When Peter Deadfoot ran away from enslavement, he was described as "an indifferent shoemaker, a good butcher, plowman, and carter; an excellent sawyer and waterman, understands breaking oxen well, and is one of the best scythemen...in America; in short, he is so ingenious a fellow, that he can turn his hand to any thing." Join a group of Historic Tradespeople for an exploration of these many skills, what it would have taken for one man to learn them all, and the lives of skilled enslaved people in colonial Virginia.
Instruments from the Colonial Williamsburg Collection
Members of The Governor's Musick, in collaboration with the Collections Department, will perform on and discuss 18th-century bowed stringed instruments owned by Colonial Williamsburg.
Edge Tool Making with the Blacksmiths
The blacksmiths will demonstrate how to make a tanged paring chisel for woodworking. Join them as they form the tool from wrought iron, then hammer-weld steel laminate to form the edge.
Many Hands Make Light Work
The tailors will discuss past and current projects highlighting collaboration with other trades, Colonial Williamsburg's collections and conservation departments, and other museums.
Worth a Thousand Words
Pictures printed from engraved plates often teach our historic tradespeople more about 18th-century practices than printed words do. Join our engravers as they demonstrate some of the techniques used to create these plates and lead a discussion with several tradespeople on period printed images, what they can teach us about the past, and their limitations.
More Than a Copy
Join harpsichord makers Edward Wright and Melanie Belongia for a look at an original 1726 instrument from Colonial Williamsburg's collection and how it influences their current project.
The Indian Trade
Trade between various American Indian groups and colonists was an important component of cultural, economic, and political life in colonial Virginia. What kinds of goods were being exchanged? Where and how were they made? How was business conducted among such a diverse group of people with differing aims and agendas? Join our American Indian Interpreters and Historic Trades staff as they seek to answer these questions and others.
A Most Wholesome Liquor: Beer in the 18th Century
Our Foodways team has been exploring 18th-century brewing techniques for many years. Join them as they brew beer, share lessons learned, and answer your questions.
Hewing, Riving, and Sawing: Processing Building Materials in the 18th Century
Join the carpenters as they use period tools and techniques to produce the materials needed to construct a drying shed for the new brickyard location.
Historic Trades
Discover craftsmanship in more than 20 trades, where modern-day practitioners use 18th-century tools and techniques to apprentice in — and eventually master — blacksmithing, woodworking or gunsmithing, just to name a few.
Learn More