For over forty years, I served as Master Carpenter in the Historic Trades Program at Colonial Williamsburg. In many ways, we perform the same work as carpenters did in 18th-century Williamsburg: we raise and cover new buildings, we build onto existing structures through additions, we remove and upgrade woodwork, we do repairs, we build fences and gates, and we do general woodwork sometimes unrelated to building construction. In addition to that work, we study the history and material culture of early America, especially as it pertains to our trade, so that we can understand it better. The carpenter's trade of more than three hundred years ago has been dead and extinct in Virginia for a long time, and it is our mission to revive that dead trade by practicing it, to ultimately demonstrate it, and interpret it to the guests and visitors. And equally important, to preserve the newly understood and revived trade of the traditional carpenter of early Virginia, we must bring in new apprentices and pass our knowledge and understanding of the business to them, to preserve the trade for the future. Without this system of training apprentices, the trade will become dormant and die out once again.
Our apprentices go through an intensive, hands-on training that carries them through five levels of a curriculum that is largely project based. In the fifth level of training, the apprentice must take on the construction of a small building on their own to demonstrate their skill and understanding of the process. Every building that we have constructed since the historic trade of carpentry was established at Colonial Williamsburg in 1979 has been a part of our mission: to recreate the look of the 18th century city of Williamsburg, to rediscover the lost trade of Tidewater Virginia British carpentry, to educate and entertain the general public, to advance our understanding and skill of working with traditional hand tools. These building projects also give apprentices the opportunity to show off their skill and understanding of the work and, as a result, to be promoted from apprentice to journeyman carpenter. The hope is that they will then choose to become life-long craftsmen at Williamsburg, to continue to practice, preserve and interpret the trade, and to help train future apprentices so that the trade will continue to live on in perpetuity. Simply put, without the ability to continuously build new structures, we cannot fulfill our intended mission and we cannot promote our apprentices.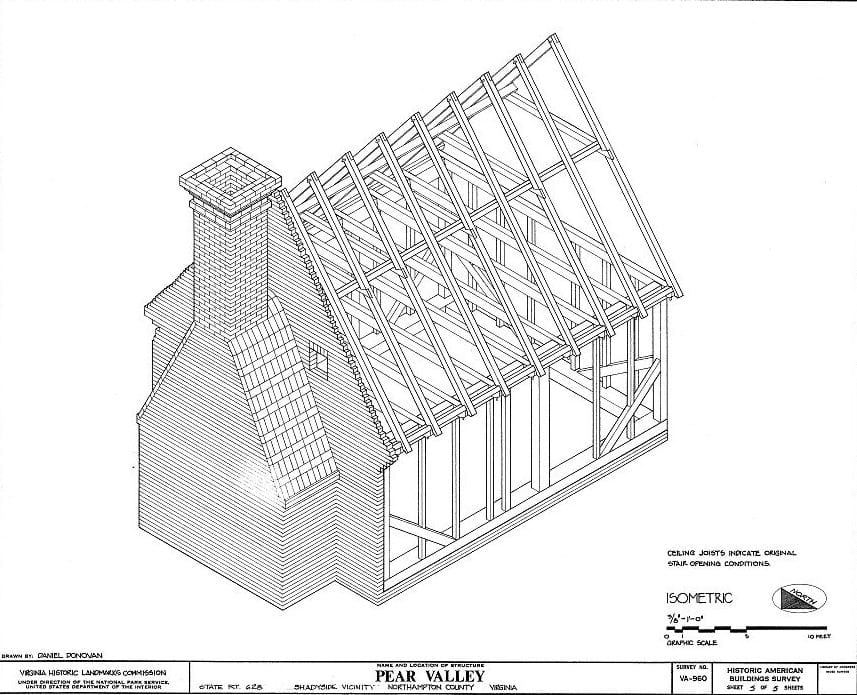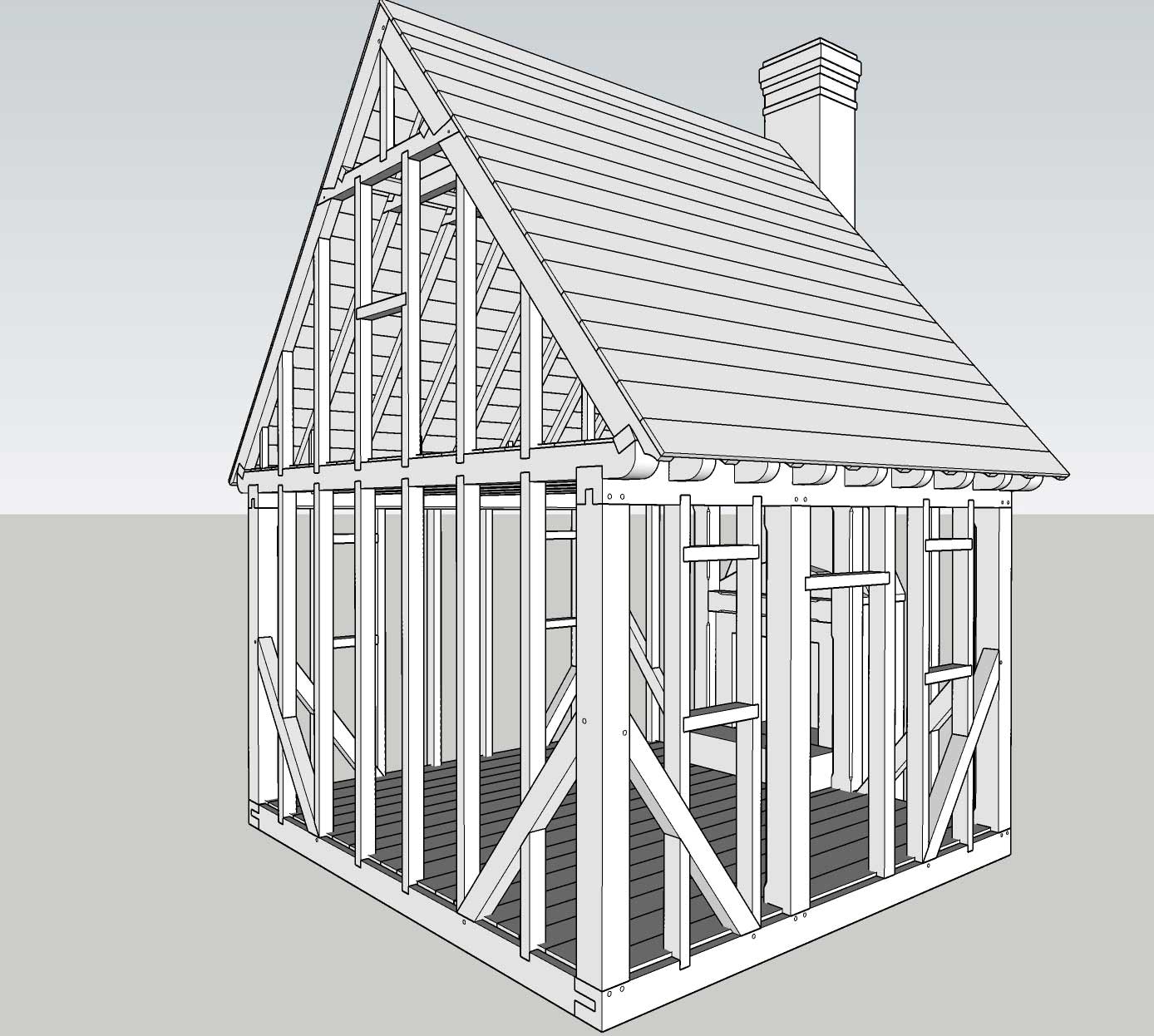 In the fall of 2021, we took on our first project for an outside client. We were asked to build a small timber frame, based on the construction details of a house on the Eastern Shore of Virginia, Pear Valley. This smaller version of Pear Valley would stand as the centerpiece of the Williamsburg-based Innermost House Foundation, which intends to raise and finish this small house in the coming months deep in the woods of Surry, Virginia. The ideas behind the construction of this small house are both simple and complicated:
"The Virginia House Project is a pilot program in land restoration, historical interpretation, and cultural renewal developed by the Innermost House Foundation, a 501(c)(3) nonprofit educational organization based in California and Virginia. Our purpose is to restore nature to health and craft to wholeness, ultimately to repair the broken link between body and mind in the individual soul. We design to bring the material foundations of an American Wisdom Tradition into focus, thus making wisdom accessible again to individuals everywhere who seek a higher, deeper relationship to life. Our project is an exercise in 'groundtruthing:' of testing the hypotheses of the founding American wisdom of 'plain living and high thinking' by grounding that tradition in material reality. The Virginia House Project focuses on the Historic Triangle and early Virginia as a crossroads of Old and New, North and South, East and West, Black and White, Native and Colonist. Supported upon a foundation of forest and wildlife restoration, the Project develops inwardly toward the possibility of individual wisdom in three distinct stages, each one an exercise in material re-collection: the Framing Stage, in which we seek to regain an original relation to structure; the Fire and Finishing Stage, which strives to rekindle the fire at the heart of the human environment; and the Furnishing Stage, in which we seek that fully developed condition of individual inwardness sought by the wise in all times and places. Our work combines Nature, Craft, and Culture as inseparable aspects of one wholeness of human nature."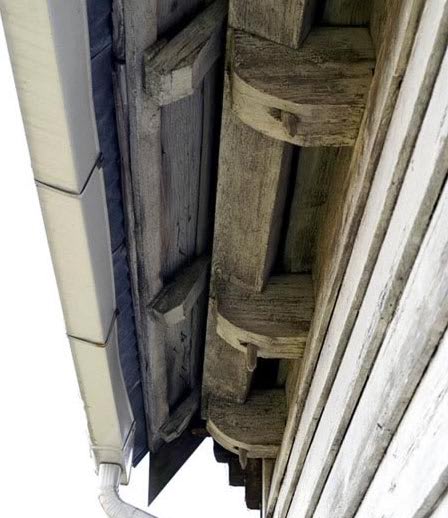 This project was a wonderful way to practice the trade, to talk to visitors about construction and the variation in design of early buildings, to create an opportunity for an apprentice to finish his apprenticeship and move up to the journeyman level, and to help the Innermost House Foundation in their educational mission.
Garland Wood was Master Carpenter in Colonial Williamsburg's Department of Historic Trades from 2000 until his retirement in 2022. Beginning work as an interpreter in 1982, over 40 years he and the team of traditional carpenters built almost 50 buildings for Colonial Williamsburg, including the Peyton Randolph kitchen and outbuildings, the Charlton Coffeehouse, the Publick Armoury, and the Market House. He oversaw the construction of agricultural buildings at Carter's Grove and Great Hopes Plantation, the establishment of a permanent carpenter's yard on Nicholson Street and the creation of the traditional joinery program and exhibition shop. He has degrees from the University Virginia and William & Mary, served a traditional apprenticeship in the carpentry/housewright trade, and has trained nine apprentices to the level of journeyman himself.
Keep History Alive!
Our donors help us achieve a deeper understanding of America's founding ideals and how they relate to the world and this country today. Because we are not state or federally funded, your support is crucial to preserving the wonder of Colonial Williamsburg. Give now to keep history alive for generations to come.
Colonial Williamsburg is the largest living history museum in the world. Witness history brought to life on the charming streets of the colonial capital and explore our newly expanded and updated Art Museums of Colonial Williamsburg, featuring the nation's premier folk art collection, plus the best in British and American fine and decorative arts from 1670–1840. Check out sales and special offers and our Official Colonial Williamsburg Hotels to plan your visit.
Learn More