New apprentices are key to continuing the preservation of 18th-century trades at Colonial Williamsburg. At the Deane Shop, we focus on the production of wheeled vehicles. But when I began working in the Wheelwright shop, where did I really begin? I'm apprentice Joel Morris and here are five things an apprentice can expect in their first year.
1. Reading and research
Diving into something new can be stressful especially if it's an 18th-century trade. Luckily, tradespeople are encouraged to read material to develop their own interpretation. "The Wheelwright's Shop" by George Sturt; and Harold B. Gill Jr.'s "Artisans of Williamsburg;" are both works that are a great starting point for any new Wheelwright apprentice.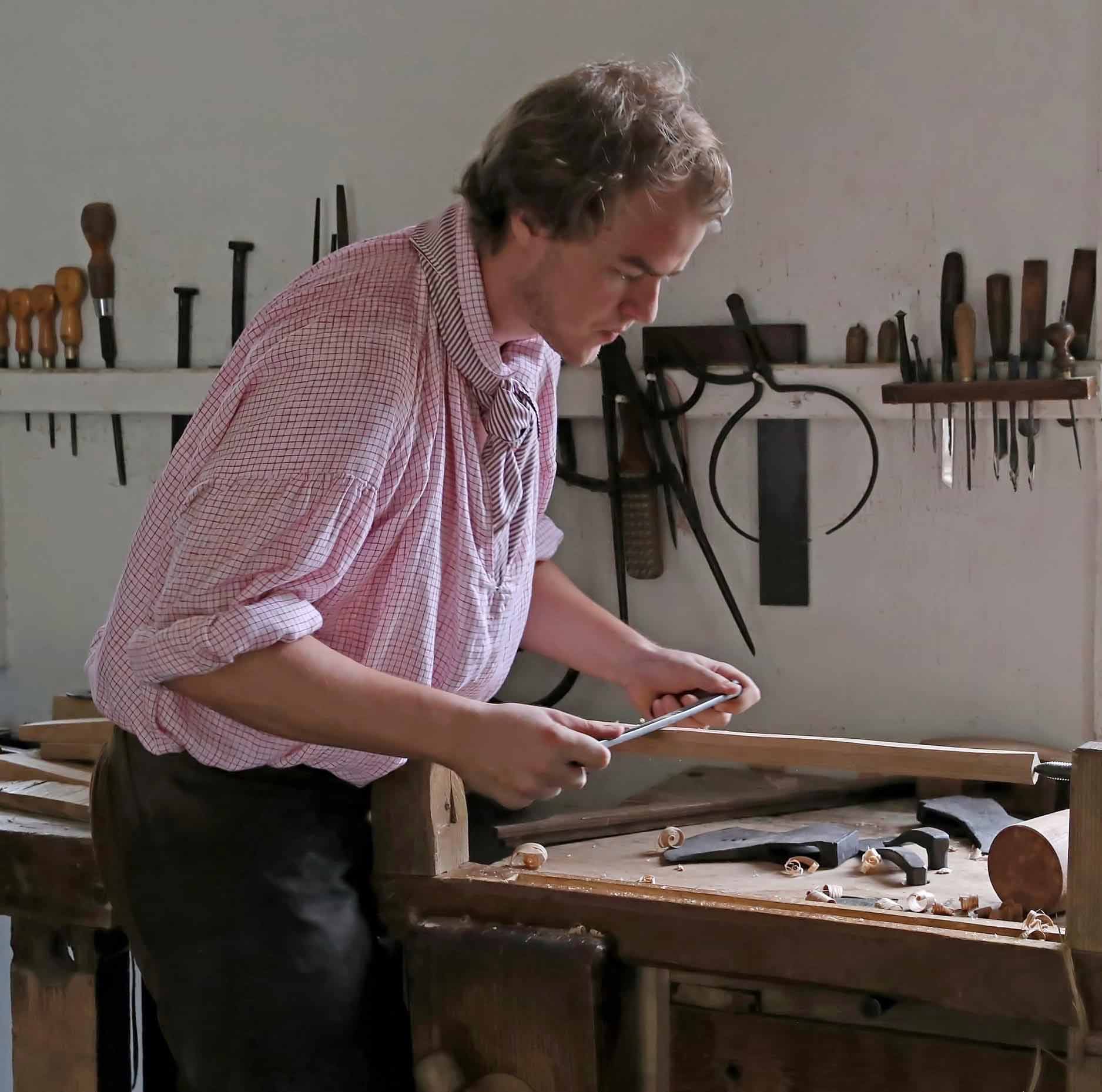 2. Using tools
What would a tradesperson be without tools? Learning how to use and maintain different tools is the backbone of any trade. New wheelwright apprentices will learn how to use all manner of saws, axes, and hand planes to prep materials for wheels. When faced with the numerous tools in the shop, it can seem very overwhelming to a new tradesperson. Fortunately, a new apprentice will not be expected to use them all immediately. A wheelwright is also expected to properly care for their tools as well. Sharpening plane irons correctly with an Arkansas stone or knowing drawknife techniques can be challenging for a new tradesperson. However, with enough time and practice, anything is possible.
3. Interacting with the Public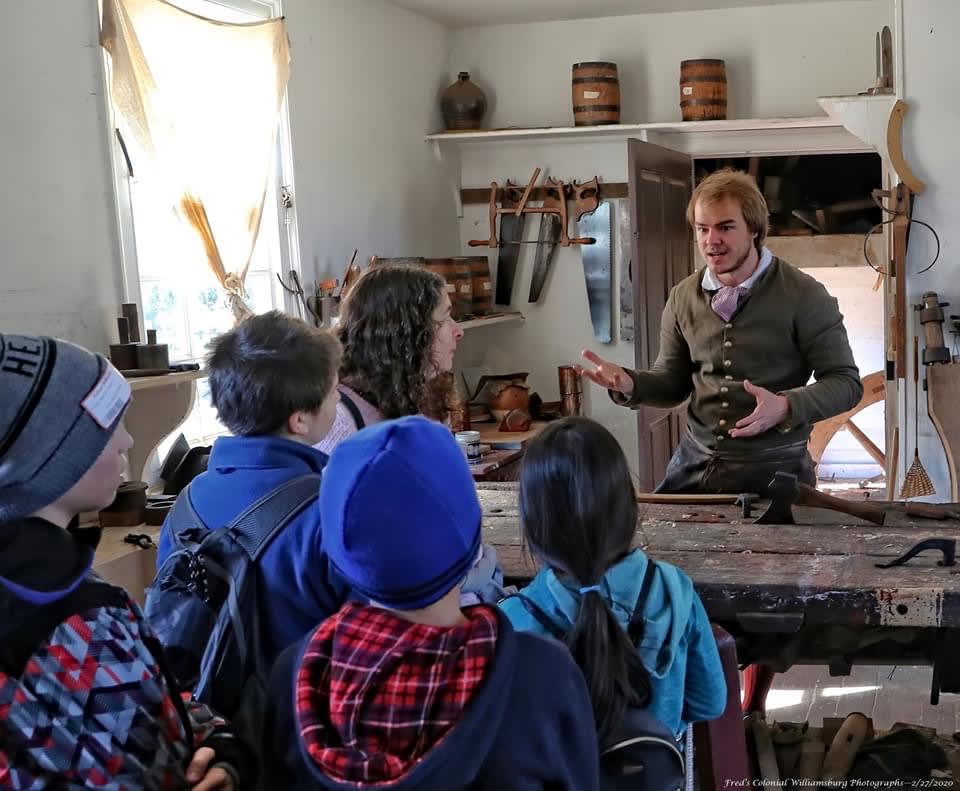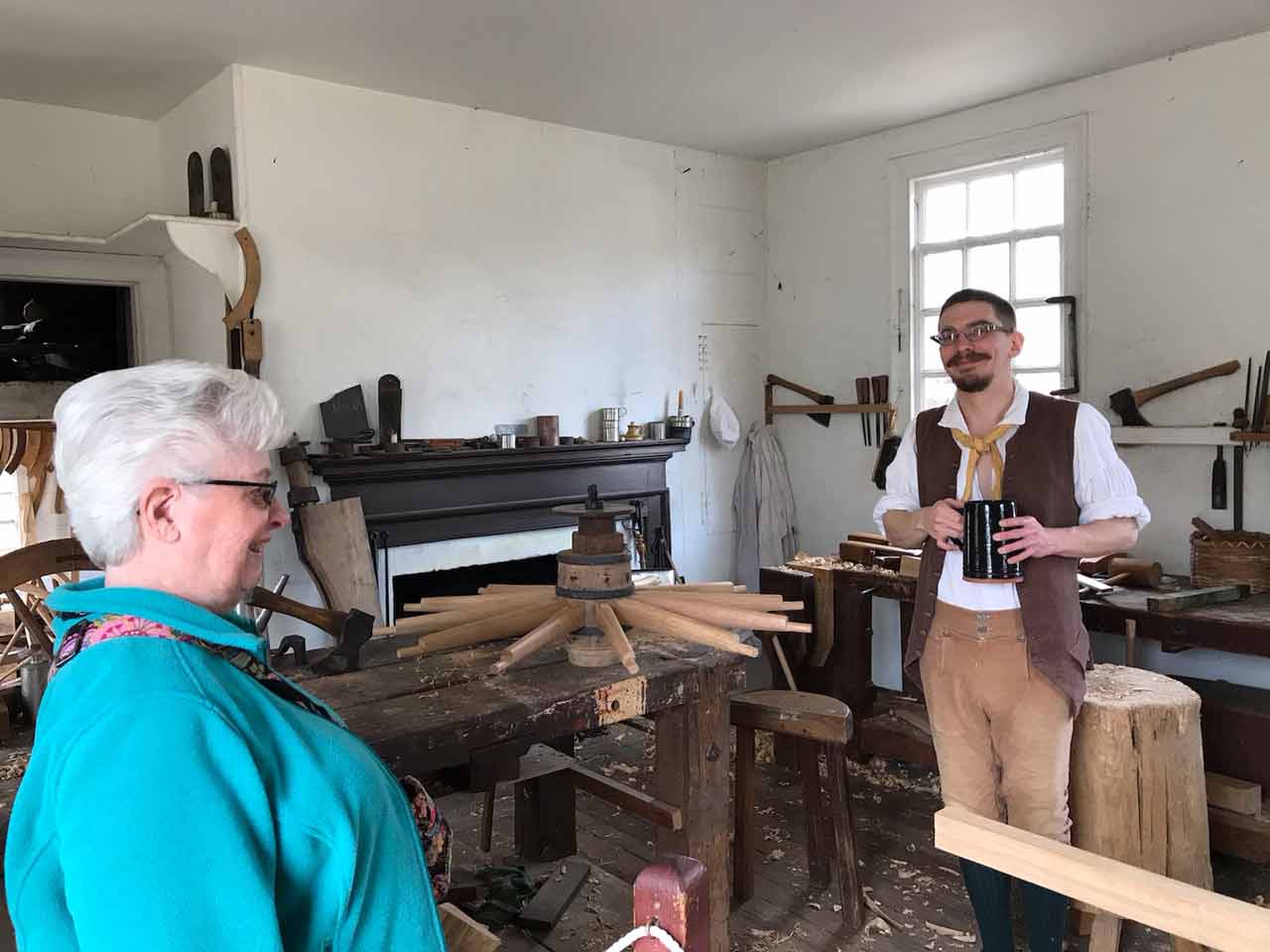 Public interaction is a major part of working in a living history museum, and Colonial Williamsburg is no exception. Not only do artisans have to practice the trade, they have to know how to interpret the trade to visitors. Interpretation could be providing information on the trade; explaining a trade's apprenticeship; answering questions; describing what tools will do; or demonstrating techniques for guests. Specifically, wheelwrights will demonstrate what tools do; identifying the parts of the wheel; discuss current projects; and describing which materials are used in wheel construction. love interpreting to guests about what we do as practitioners of a trade.
4. Making Mistakes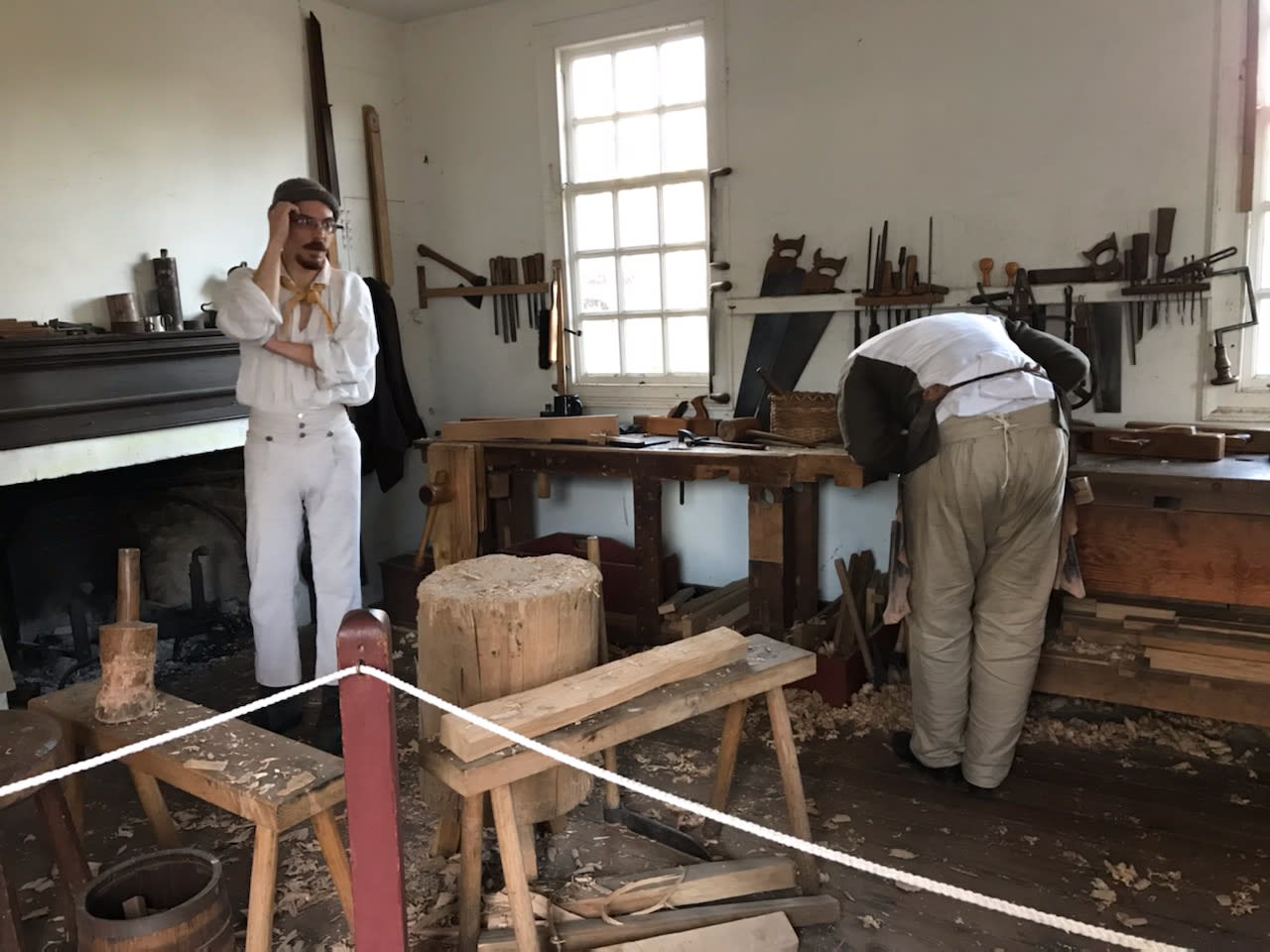 Let's imagine that I'm working with a piece of white oak. Eventually, it's going to be shaped into a spoke for a wheel. The piece is too big for the finished product. Using an axe, I chop away one side of the oak to get it closer to the desired dimensions. So far so good. But let's say I accidentally chop too much away from the piece. What do I do? This has happened to me numerous times. Working in a trade and in any job, no one will be perfect right away. Accepting that you're going to make mistakes in your career and moving forward is a part of becoming a better tradesperson. If a mistake occurs; recognize what you did wrong and move on.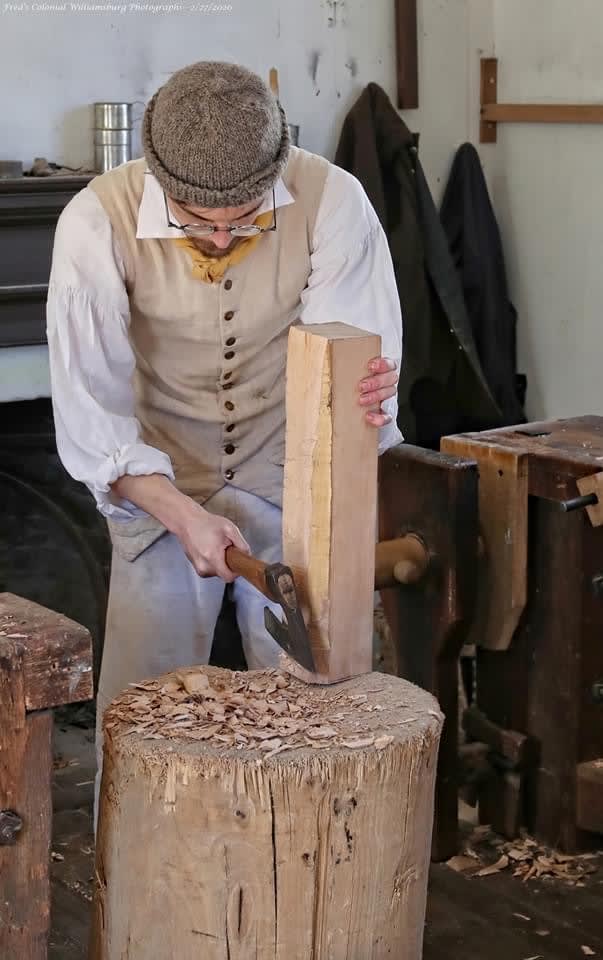 5. Diving into the work!
Sometimes you have to do things in your trade that are outside of your personal comfort zone. Using a sharp tool, lifting heavy things, speaking in front of strangers, getting messy, (not to mention splinters and cuts) is hard work. It can also be extremely rewarding work, from completing a challenging project, finally understanding a new technique, or just gaining confidence in your abilities as a tradesperson. With the challenge comes the reward of creating a tangible product alongside my fellow artisans. We look forward to seeing you at the Wheelwright shop to continue sharing about our trade and apprenticeships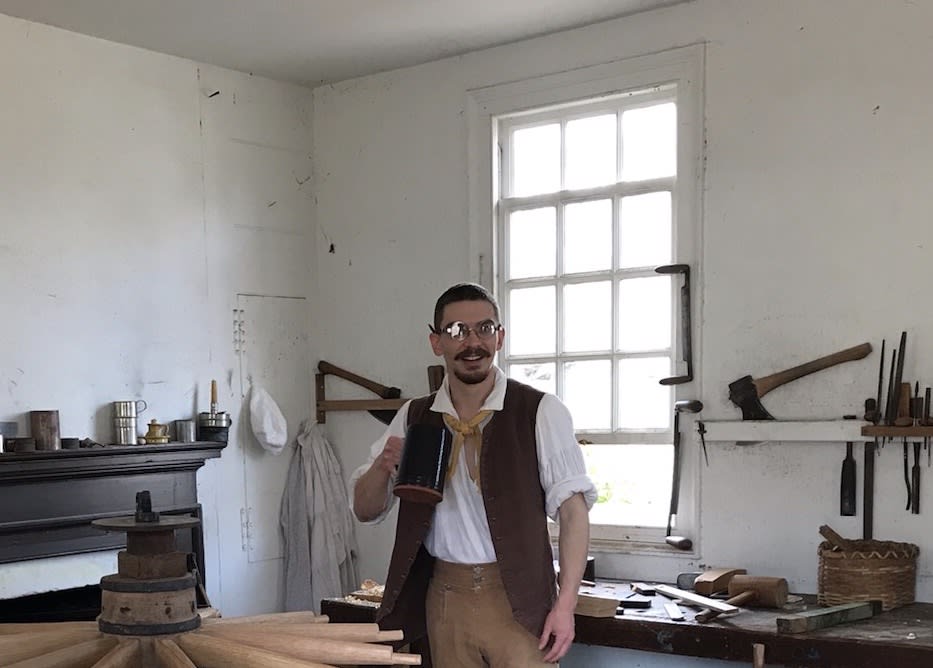 Joel Morris is an apprentice Wheelwright at the Deane Shop in Colonial Williamsburg. He has been working for the Foundation since the Spring of 2019, where began his Trades Department journey working in the Brickyard. He graduated in 2017 from Christopher Newport University as a history major. In his spare time, he enjoys collecting coffee mugs, and playing Dungeons & Dragons.
Learn More