Today we're taking a deep dive into the world of Historic Trades. Colonial Williamsburg is home to 29 different trades and skills, ranging from woodworking to blacksmithing, as well as 18th century practiced skills like our Fife & Drum Corps, and our musicians that perform and play throughout the Historic Area and Art Museums.
Our tradespersons work through several years, if not decades of training, just as they would have in the 18th century, beginning as apprentices until they become journeymen and journeywomen, as well as incorporate additional professional goals, like becoming Masters of the trade shop.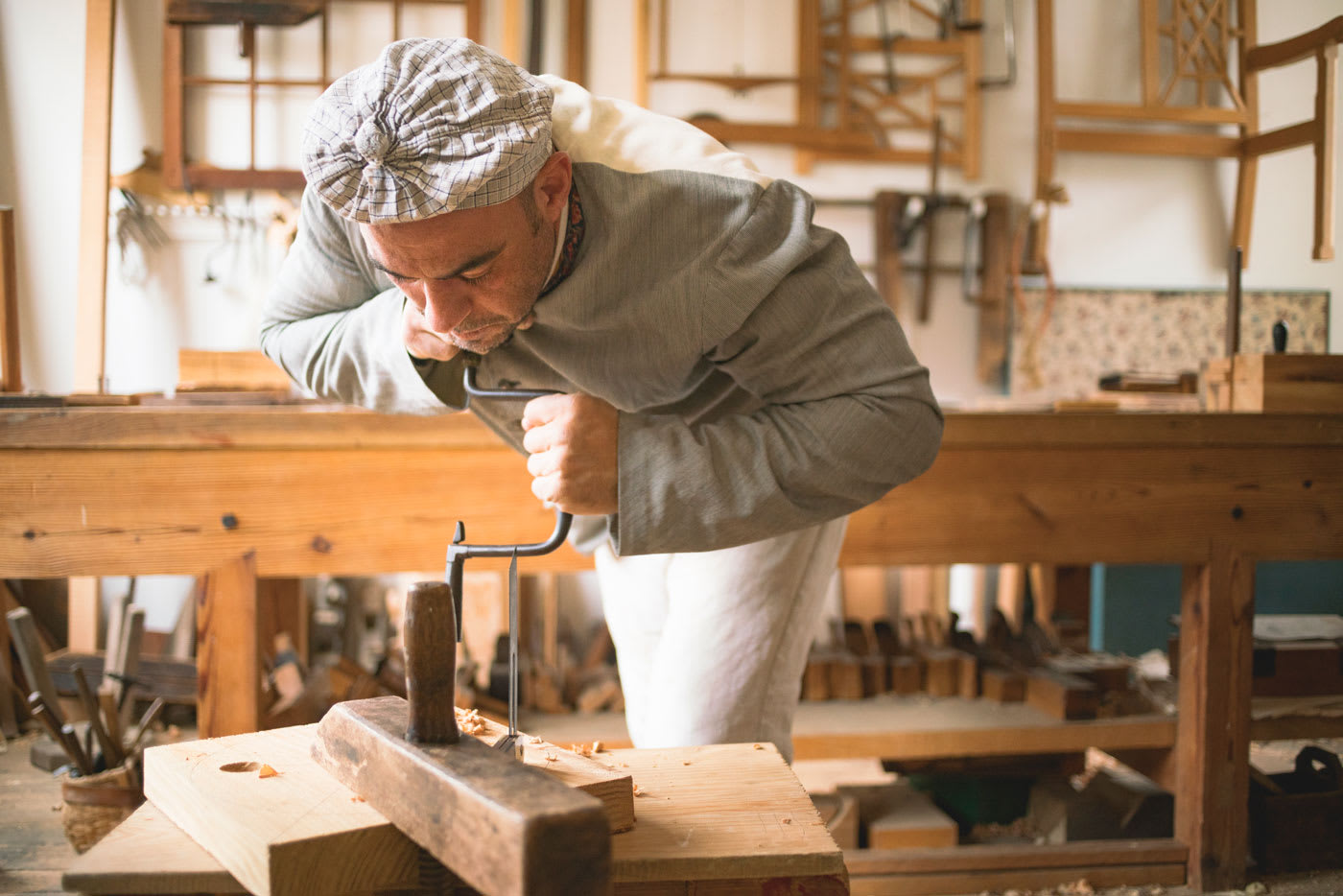 In this Conversation, we sat down with Ted Boscana, the Director of Historic Trades, and Justin Chapman, the Assistant Director of Historic Trades and Skills, to learn more about the trades and the in-depth process that goes into becoming a master in a respective field.
Before we get into the questions, however, we'd like to first explain some of the terminology of the Tradesperson structure:
Apprentice – This is the beginning stage of a person's work with the trade or skill, and how many of our tradespeople start out. There is often a 5-level apprenticeship stage for an individual to become a journeyperson. This level of work encompasses 5-10 years of work, with 5-7 years of apprenticeship being the average amount of time in this role.
Journeyperson – An individual who has successfully completed the apprenticeship stages and works and learns beyond the training received at the shop itself, such as working with outside organization or doing individual research to promote and sustain new ideas and techniques in the Historic Trades. When discussing an individual journeyperson, they may be referred to as a journeyman or journeywoman.
Journeyperson Supervisor – An individual who supervises the other journeypersons in the trade. This person must be a journeyman for at least 1 year before potentially holding this role. At this point, the
individual starts to learn beyond the trade skills and more about the knowledge of how the shop works and working with the rest of the Foundation.
Master Tradesperson – From a historic perspective, A Master of the Trade, by the English, is someone who denotes skill and qualities. From the aspect of the American Colonies, it denoted someone who also held ownership of the business. Sometimes, masters were not necessarily the most skilled individuals in the shop but were the ones running the business.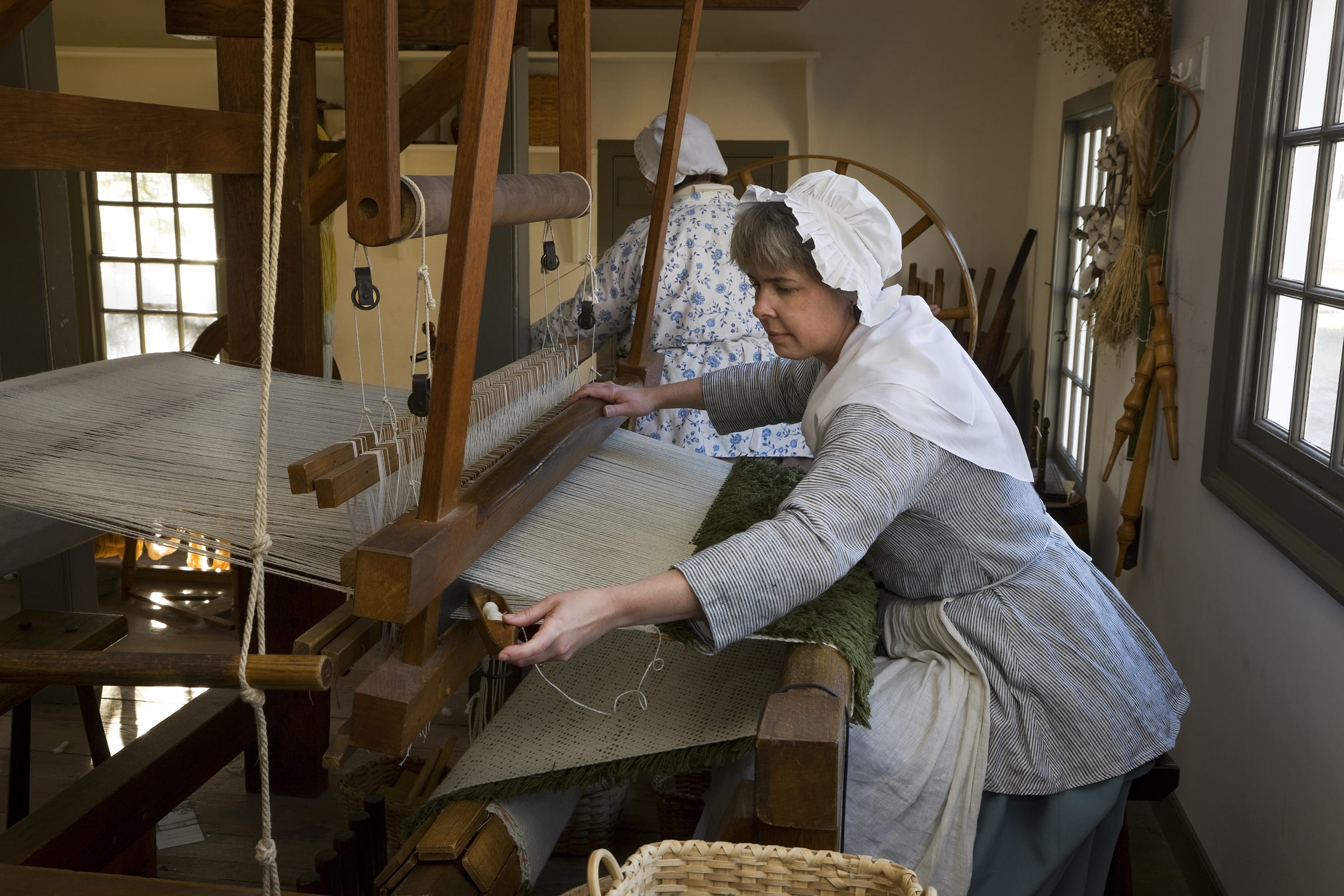 But without further delay, we'll hand it over to Ted and Justin to get started with our Conversation!
Q: Can you explain what the Trades program is?
A: Our trades and skills encompass 29 different programs within the Colonial Williamsburg Foundation. They make goods and provide services to our Historic Area, as well as serve as industry leaders using 18th-century tools and techniques. Some of our tradespeople are known for their expertise and often consult and/or produce for peer cultural institutions around the world. We have so many skilled tradespeople, you would be challenged to find this many experts in any one place elsewhere in the world.
With a trade, you really get to see something tangible come from the practice, things like nails or bricks, actual items you can hold in your hands. With skills, it's this non-tangible skillset and knowledge, there isn't necessarily a physical 'thing' that comes from the practice. In music, for instance, it's difficult to do and to do well, especially on 18th century instruments, but you can't exactly capture a tune in a bottle and use it. Most often, what skilled practitioners do, are to provide items that will enrich the experiences of our guests and the Foundation, but may not have an end product.
Q: Do most people in these roles stay within the Colonial Williamsburg Foundation or do they move to more modern trades?
A: Many of our skills, even though they use 18th-century techniques, are applicable in a 21st century world. Our guests often chat with our tradespersons about how their techniques are relevant to a "modern" individual working in the field of carpentry or construction. We are fortunate that many of our tradespeople are with the Foundation for a long time. It's interesting – our tradespeople are either here for a few years, or they're here for 40+ years. Currently, our Master Blacksmith has been with Colonial Williamsburg since the 1980s, and the Master at the Silversmith has been here for over 45 years. We have a journeyman at the Silversmith who has been with us for nearly 45 years as well.
It's not just the longevity or years of experience, but many of our talented skills staff are also highly trained in their fields. For example, Music often hires individuals who have advanced degrees. Currently, three members of the Music team have a least a doctorate degree, and many of the roles are based upon the idea of building a curriculum that applies to 18th century music that would have been heard in our region. Learning never stops.
Everything is based upon an occupation and it's all related to the subject matter of Colonial Williamsburg, so there are always more ways to learn and to connect not just with history, but to other departments, and with the guests we see and interact with every day.
Q: How has CW supported tradespersons in the past, how are we currently supporting employees to continue their education in these more technical roles?
A: The trades and skills are some of the biggest proponents of continuing education. We consider apprenticeships something like an "undergraduate college" but being a journeyman is something you get to explore with a specific area and focus. If we don't have the necessary skills to support an individual's pursuits, we can send people out to explore with other folks, learn from outside sources and expand this information to focus on our internal trades.
For example, I (Ted), got to learn outside with a carver to bring this knowledge back to Colonial Williamsburg, and ​​that's how I got my start with carving. This new skill made me a better artisan and helped me become the first Master Joiner at Colonial Williamsburg. We are constantly re-evaluating curriculums, using experimental archaeology and new techniques that are discovered, to work through our processes and to rediscover different aspects of the trade.
We also like to encourage professional associations, and to utilize Colonial Williamsburg as a resource from the outside. For example, the apothecary had several interns that came from area colleges to learn about historical medicine. Those in the apothecary then speak at professional medical conferences and trades conferences outside of CW to promote our own trades and skills. Next month, one of our apprentices is going to learn engraving from a different engraver and is going to a gunsmith seminar in Kentucky. Even though he works under a master engraver, he'll be learning different techniques and it will allow him to explore new topics and make new connections.
Q: How do the 21st century and the 18th century overlap in the trades? How do we continue making these practices relevant?
A: One of the most unexpected cultural drivers has been this Millennial generation of "DIY" projects that allow for a more rustic approach to being an "authentic" project. They might not be using commercial grade products or materials, but they're using similar products to what we use every day, which makes it easier to converse with them about what they're working on and how our projects overlap. There's a lot of overlap and cultural desire, even if it's as a hobby, to do things on your own. One of our biggest allies has been YouTube, because it gives people a chance to look at the how-to. The one thing YouTube lacks is human connection. This is one way for us to engage with individuals in person, because not only do we show them the how-to side of things, but we also talk with them and provide a more human connection to the project they're working on.
Q: Are there any upcoming projects that our readers should be aware of, or should keep a close eye on when visiting the Historic Area?
A: There are so many projects going on right now! With all the major anniversaries coming up in 2026, we've got a lot of construction projects. The brickyard is up and running and we've been helping with the windmill, as well as bringing farming back into focus as one of the most important trades in 18th century Virginia. Exciting things are also happening at the powder magazine. Guests should plan to stop in at all the individual shops because each has their own projects, and they are happy to share all the things they are working on. Within the past few years, we've really focused on being leaders in museum communities and making sure we're fully up and running since the COVID restrictions have been eliminated.
We're also really excited to continue implementing our trade workshops, which will plan to be a precursor to the Historic Trades & Skills Institute. Part of our strategic plan includes establishing a school to host workshops that will hold a multi-generational experience so that guests can go away and understand what the true essence of our trades while taking part in hands-on activities.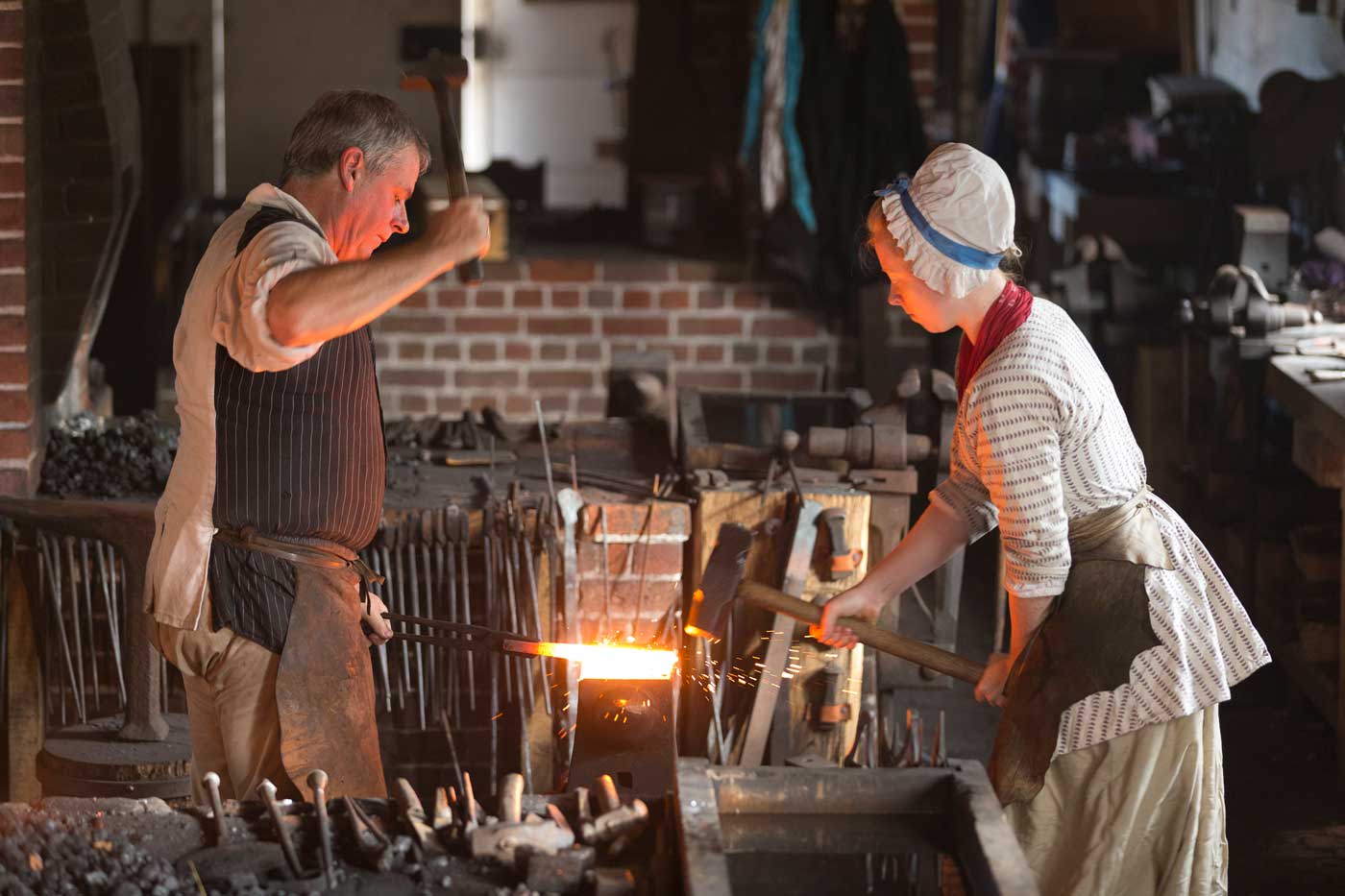 Q: What is the most enjoyable part of working with the Trades?
A: It might be a little corny, but I believe in the team we work with. So much of it, is that we work with people that are so obviously talented and passionate about what they do. To be able to go into work every day and help fulfill our mission, "That the Future may learn from the past," its empowering to see everyone growing in their fields.
Working with guests every day, you get to see these 'a ha' moments with families and children. Being able to see that excitement and lighting that spark from an early age is so important. Working as part of an organization where you get to contribute so much of your "life's breath" to what you do and see the intersection of careers and enjoyment, while working hard and knowing we receive satisfaction through the work we're doing is such a rewarding part of this career.
And then, just being able to grow, to work with things like social media, the livestreams, being able to push our knowledge and our content out there to larger audiences and to grow those relationships is something we continuously strive for. It allows new individuals and new generations to explore all the different trades we offer.
You can visit many of our trades during the day at Colonial Williamsburg. To see what trades are open and how to find them in the Historic Area, please visit the Events Calendar. Conversations is a question and answer-style blog series focused on discovering, discussing, and exploring a variety of topics and roles within the Colonial Williamsburg Foundation.
Together, with You
We count on you to fulfill our mission that the future may learn from the past. Together, with you, Colonial Williamsburg strives for excellence through nationally recognized preservation of this living museum, world-class educational opportunities and thought provoking civic engagement programming. Make a gift now to support and advance this important work.
Colonial Williamsburg is the largest living history museum in the world. Witness history brought to life on the charming streets of the colonial capital and explore our newly expanded and updated Art Museums of Colonial Williamsburg, featuring the nation's premier folk art collection, plus the best in British and American fine and decorative arts from 1670–1840. Check out sales and special offers and our Official Colonial Williamsburg Hotels to plan your visit.
Learn More