A farmer opens new ground with a plow and in doing this comes a fresh new possibility of a new crop. This is what is currently happening at Ewing Field.
Teams across The Colonial Williamsburg Foundation are working together to create a site with a new crop of interpretive opportunities. Soon, the Architectural Preservation and Research team will be moving the iconic windmill from its current home near Great Hopes Plantation. Historic Trades' Carpenters are making material for two small buildings for storing tools and implements and the Landscape team will be helping to figure out soil improvements for the Historic Farming Trades' field area. All this is coming together at the new location called Ewing Field facing Francis Street just past the Williamsburg Inn.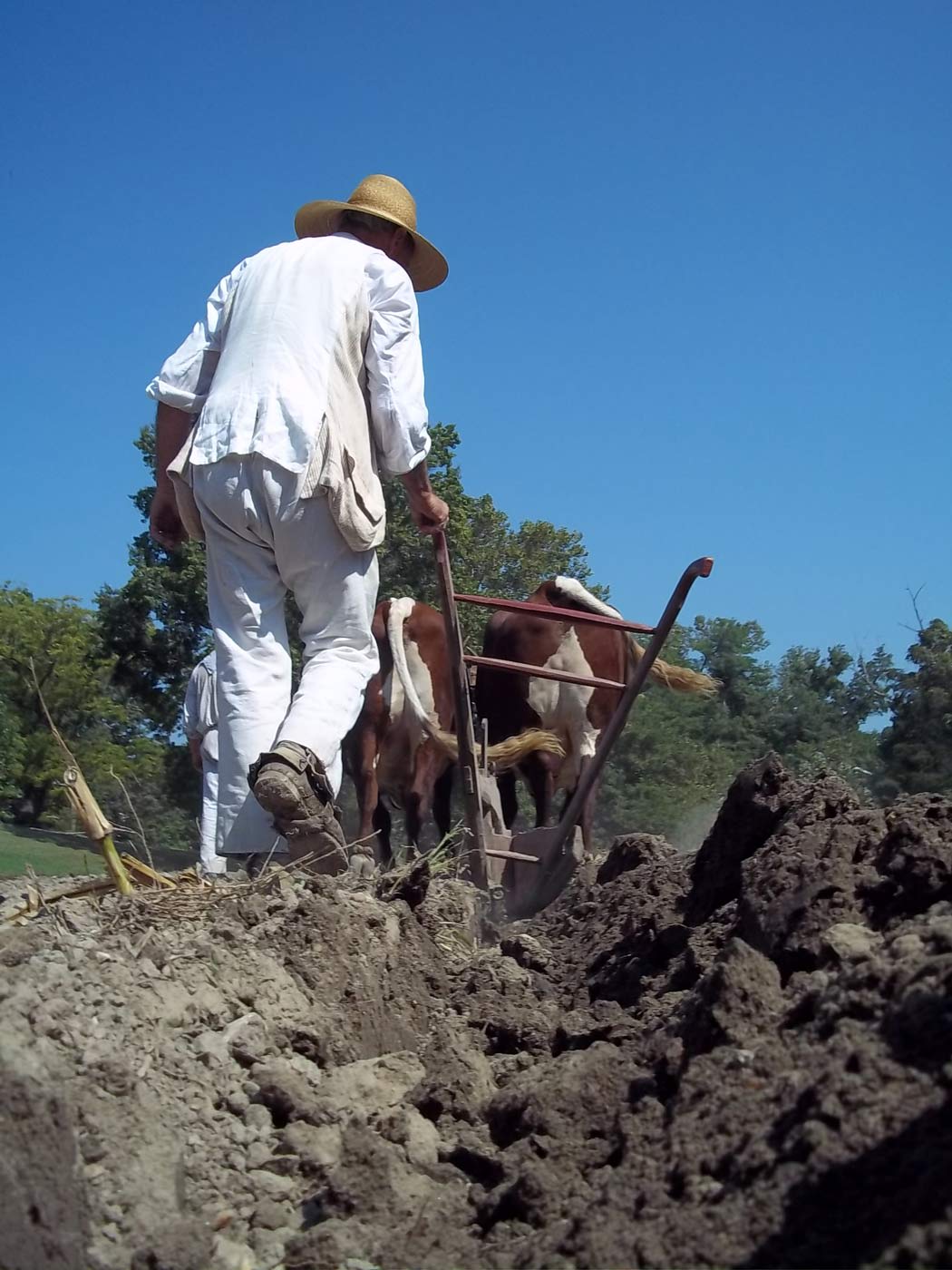 What is this new site all about?
Imagine yourself flying over Williamsburg in the 18th century. Think of it like a drone flight with attached camera. You can focus the camera on specific things that you are interested in. An open lens shows a bustling city with carriages and carts and people in the streets. Guests can focus the lens closer and see Wheelwrights making an oxcart. I like other examples as well that show "focus" versus my point which is an open lens. We could use blacksmiths forging a manure folk, or other trades work that refer to people other than farmers.
Ewing Field will add to this experience by opening the lens to the widest view possible. And what you will see on this site on the corner of Francis and Bucktrout Streets is the experience of over 90% of the population of 18th-century Virginia. These people are the poor and rich, the enslaved and free. They are the farmers.
When I started my career in Living History over 30 years ago, I asked my mom what she wanted to experience from a historic site. She said: "I want to know what it was like." This direct and yet profound statement has guided me throughout my career through graduate school and five different agricultural projects at museums (two before coming to the Foundation and three here).
What was it like? We share this in many ways at Colonial Williamsburg. The Historic Farming Trade like all of the Historic Trades answers this question primarily through our work. And in our case, we grow crops with period tools and methods. We do things the way that they did them as much as we understand it. Yet, we are not them. Because of this, we are in a consistent state of experimentation. The museum world has a name for this, calling it experimental archaeology. It is an on-going process whether it is the nuances of curing tobacco or the growing of a pumpkin that Thomas Jefferson said tasted like sweet potato. Through this, flows understanding of the people. We make connections with the people of the past through the work and share what we know about them to our guests.
Collaborations
With the iconic windmill in the background, the area in front of it is not a farm. Rather it is a crop area that will showcase a small slice of farming in the 18th century. And through this lens, guests will come to understand more about the ninety percent of the population who made their living tilling the soil.
Collaborations with other departments is a big part of this new project. Coach and Livestock will lend us horses and oxen to pull the plows and there may even be occasions when George Washington expounds his adulations of the new Rotherham plow or an enslaved woman tells of her putting up a 1,000-rail fence and milking a cow before sunset. And as we have done before, Teacher's Institute participants will pick worms off tobacco leaves and school kids may practice chopping weeds with a hoe. We will experiment with immersive and innovative programs as we grow this new site to help guests better understand 18th-century Virginia.
This all takes place with the power of the windmill in the background. While the windmill will be passively interpreted through signage, this gigantic machine creates "teachable moments" to link the farmer's work in growing food crops to the finished product that enters one's body through consuming flour and meal. It also affords the opportunities of connecting the power of the wind to modern applications of sustainable energy.
Historic Farmers will provide active interpretation at Ewing Field. They are the storytellers of the people of the past through the work that they do. Primarily this involves the growing and harvesting of tobacco, corn, wheat, flax, and cotton. The wellbeing of the entire colonial economy is dependent on these crops. Sustainability will be integrated into the interpretation using the mistakes and responses of past farmers to help inform us to do the right thing in the present and future. Colonial farming has a considerable amount of "don't dos" that are based on short-term thinking. There are plenty of modern analogies to connect a modern visitor's experience to the practices and mistakes of the past. And hopefully not to be repeated again.
Beyond the field
The connections we will make can be tasted as well. An edible connection to the past through 18th century crops has been one of my long-range goals since 2015. Recently, Chef Travis Brust at the Williamsburg Inn used the rare 18th-century variety of Red May wheat in the pizza dough at the Williamsburg Inn's Social Terrace. Preserving this wheat has been part of the Historic Farming Trade's operation for nearly forty years. What we grow is nowhere near the amount needed for our guest's appetites, but the efforts to save this variety of wheat inspired commercial mill Anson Mills to grow it, grind it, and offer it for sale. Chef Travis purchases this product and now it goes into our guest's bellies with every bite of pizza ordered at the Inn. This is just a start. Perhaps guests will be able to taste even more of the past at our taverns and restaurants in the future.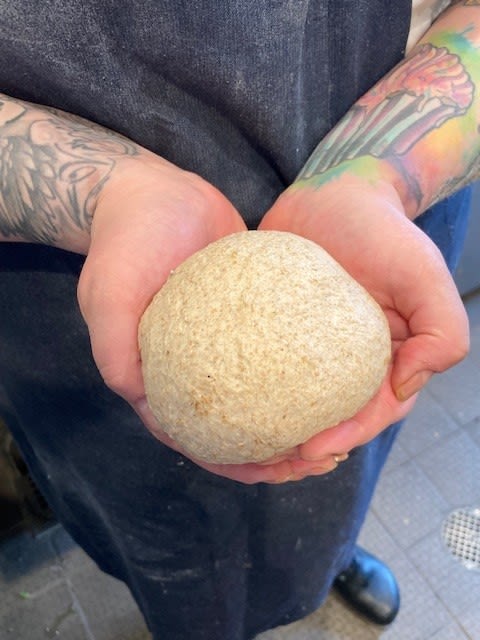 The Mirror Effect
While interpreting behind a fence to maintain a ten-foot distance from guests during the Covid-19 pandemic, I noticed that more than ever in 20 years at CW, guests had questions about how to grow things. This was part of the resurgence of a grow-your-own movement in our country that the pandemic triggered. It was like people were reaching down to agricultural roots to gain some modicum of self-sufficiency in uncertain times. Or maybe even a self-satisfied feeling of freedom gained in each homegrown tomato held in hand.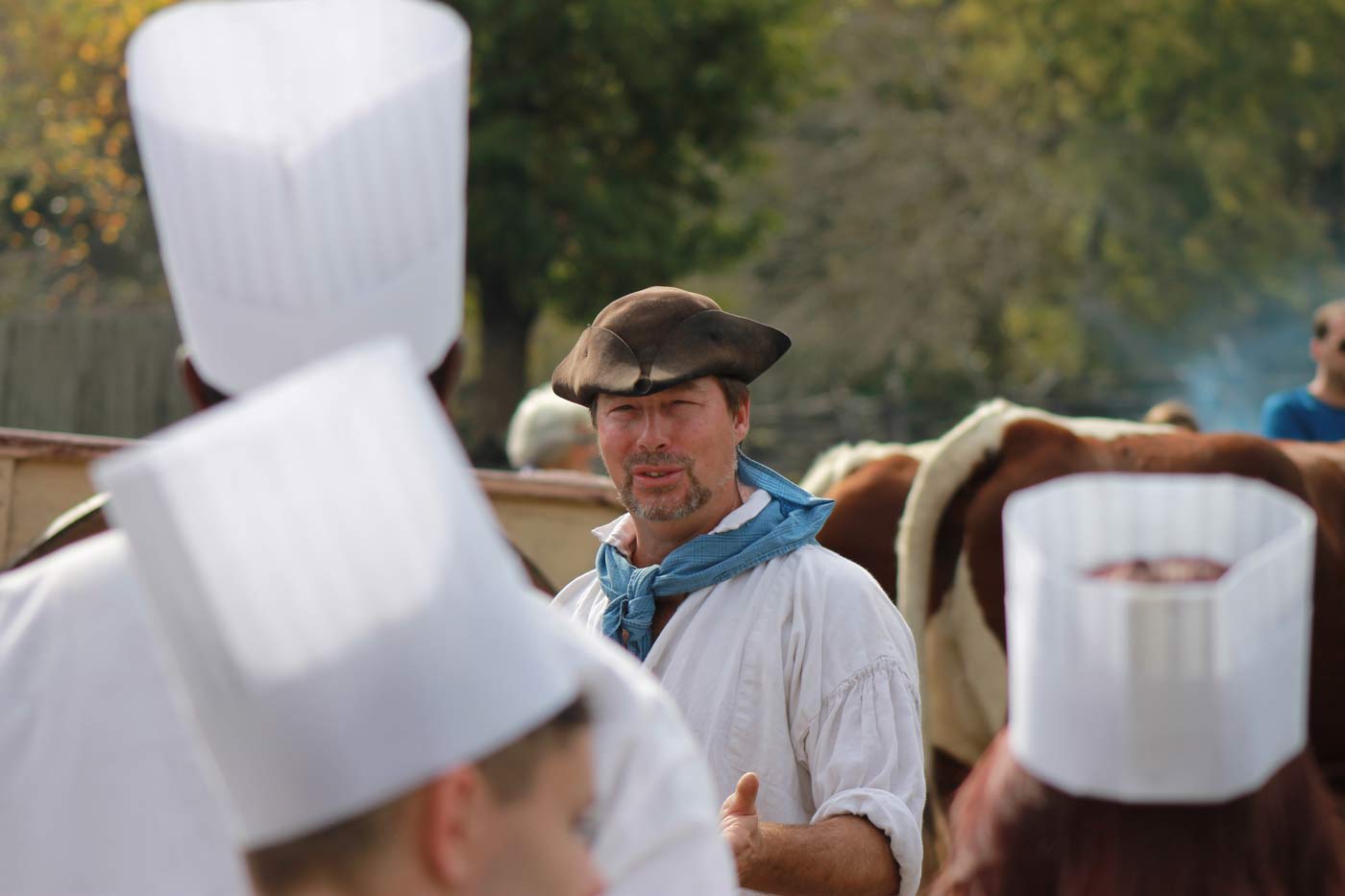 I had the feeling that it was like people were looking into the smudged glass of a mirror trying to find the farmer within. And finding that the reality is the farmer is looking back. Within our genetic makeup is a farmer whether that is ourselves or someone in the past. It is within us. At Ewing Field, we will connect the "farmers" of the present to the farmers of the past.


Ed Schultz has worked as a historic farmer for 32 years with this being his 20th year at Colonial Williamsburg. After serving as a U.S. Army paratrooper, he earned a Bachelor's degree in History from Appalachian State University and a Masters in Outdoor Museum Management from Utah State University. Ed has worked at five historic sites during his career. In 2019, the Association of Living History, Farms and Agricultural Museums (ALHFAM) awarded him a lifetime achievement award for his contribution to historic farming, living history, and ALHFAM. He also works a small home farm with his family in the marshes of the Guinea Neck on the Chesapeake Bay.
Colonial Williamsburg is the largest living history museum in the world. Witness history brought to life on the charming streets of the colonial capital and explore our newly expanded and updated Art Museums of Colonial Williamsburg, featuring the nation's premier folk art collection, plus the best in British and American fine and decorative arts from 1670–1840. Check out sales and special offers and our Official Colonial Williamsburg Hotels to plan your visit.
Together, with You
Our donors help us achieve a deeper understanding of America's founding ideals and how they relate to the world and this country today. Because we are not state or federally funded, your support is crucial to preserving the wonder of Colonial Williamsburg. Give now to keep history alive for generations to come.