Judith • Rachel • Hannah • Sukey • Frances • Doll • Succordia • Charlotte • Charity
In the new museum theatre piece "Sentiments of American Women," we seek to honor women of the past with love, respect, and remembrance.
We aim to give our audience an idea of the wide breadth of experience among diverse 18th-century women. We speak their names, and we imagine their thoughts and feelings. What we learn is that we have much in common with the women who came before us, even though our circumstances are quite different.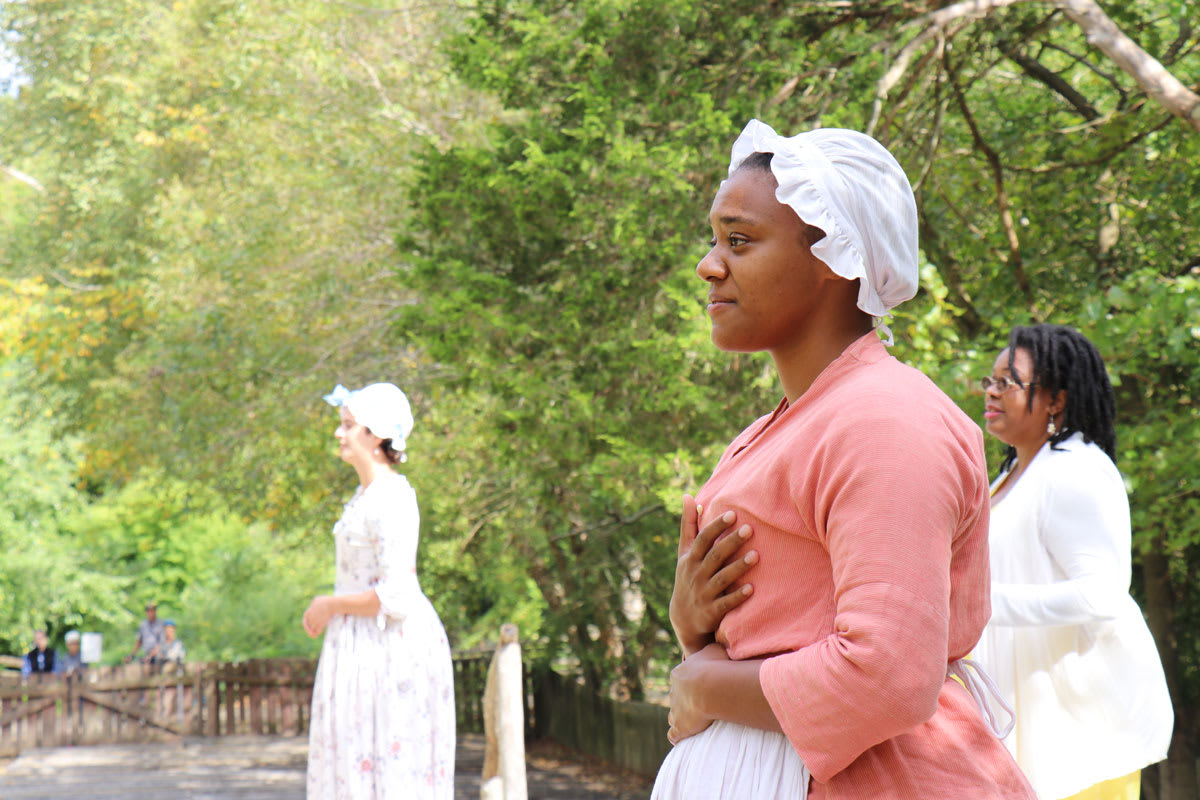 Mary • Dolly • Elizabeth • Milly • Phyllis • Catharine • Sorrow • Betsey • Martha
For many women of the past we research and portray, the only evidence we have of their existence is their names: on inventories, baptismal records, death notices, newspaper ads, indenture contracts, or deeds of sale or freedom. We share what we can about them and their experience by examining primary and secondary resource material and our own experience being human.
We know they lived in Virginia during a pivotal time in our country's history. But who were they? We know so little about them because they were enslaved, women, ordinary, poor — but we do know their names.
Nanyehi • Sarah • Francine • Molly • Peachy • Betty • Sally • Fanny • Myrtilla • Kitty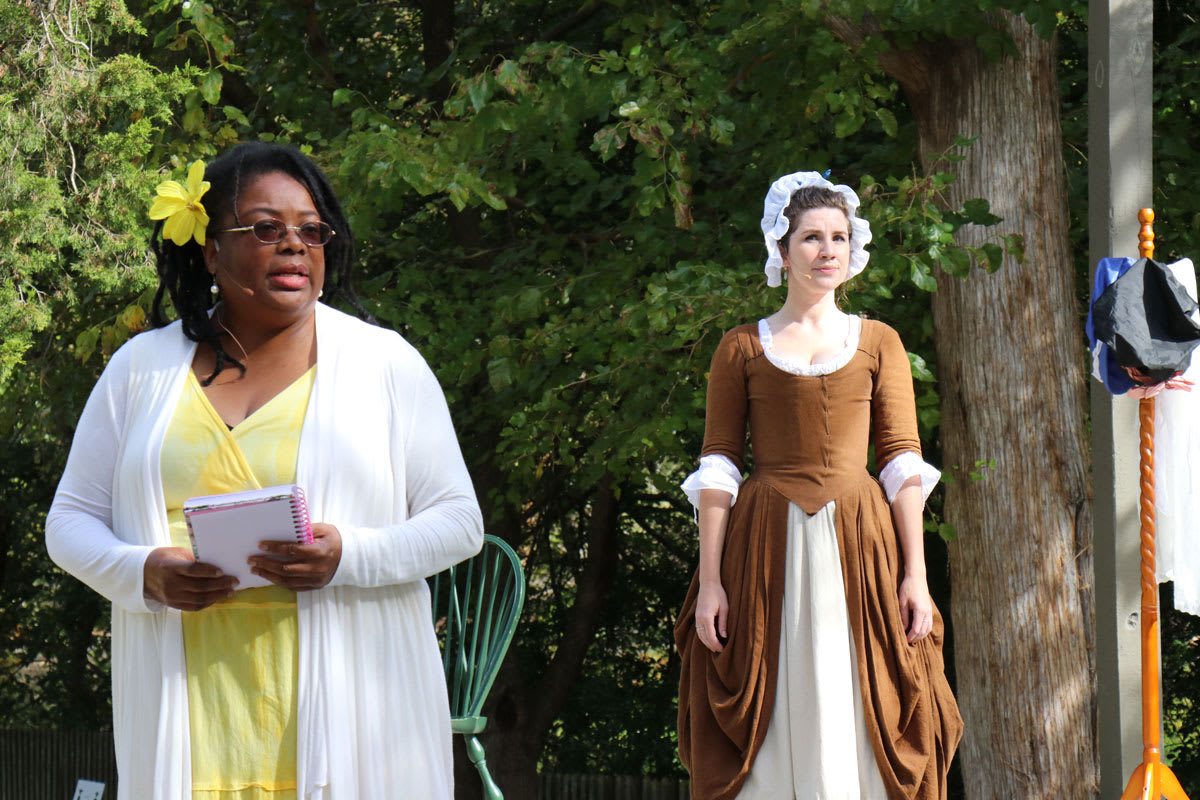 #sayhername, #sayhisname always hits me square in the heart. Our names are sacred. Given to us by our mothers and our fathers. Defining a path for us. Our names are a precious part of our identity in this big scary world. We say the names of the women who came before. We take a moment to say: Yes, I remember you. Yes, you were here. Now, I am here.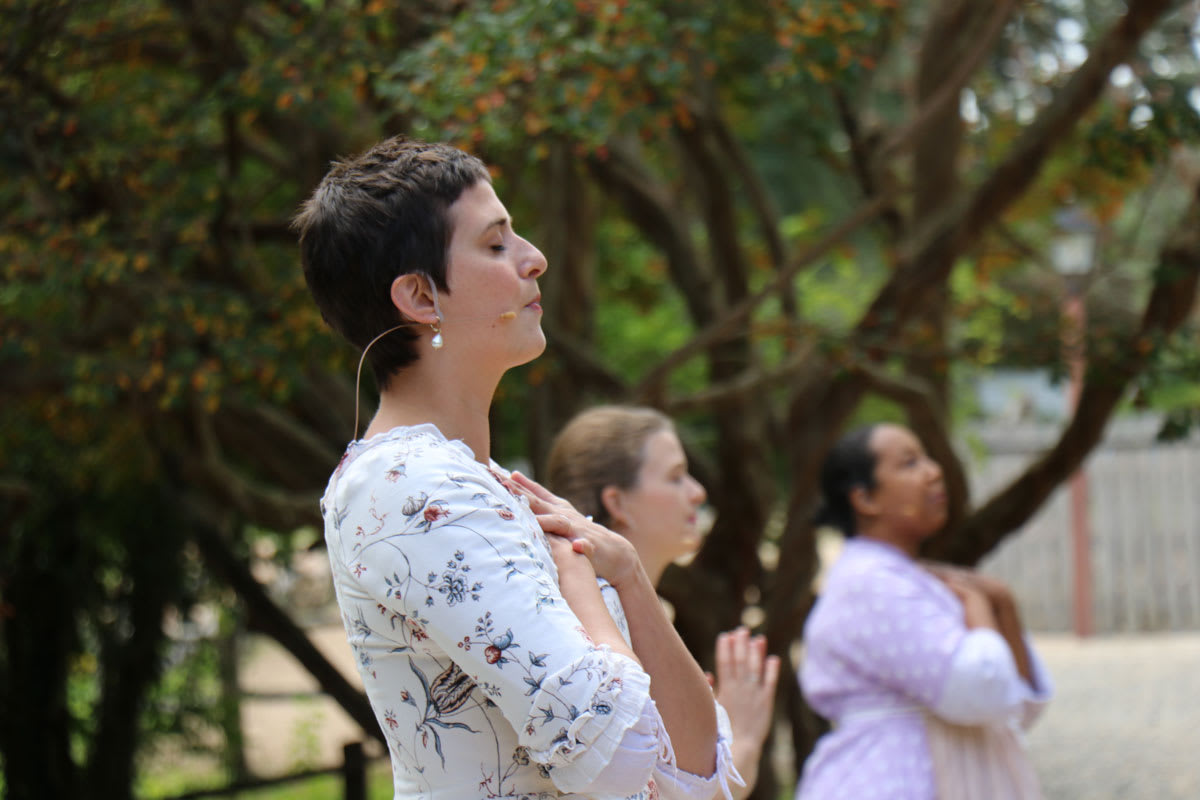 Dorothea • Jane • Agnes • Nanny • Ann • Edith • Lydia • Dinah • Abigail • Harriot
In "Sentiments of American Women," we invite you to consider the lives of many women who lived in Virginia in the 18th century. As we consider their lives, we connect to and learn from our past, as we create our future by the choices we make each day.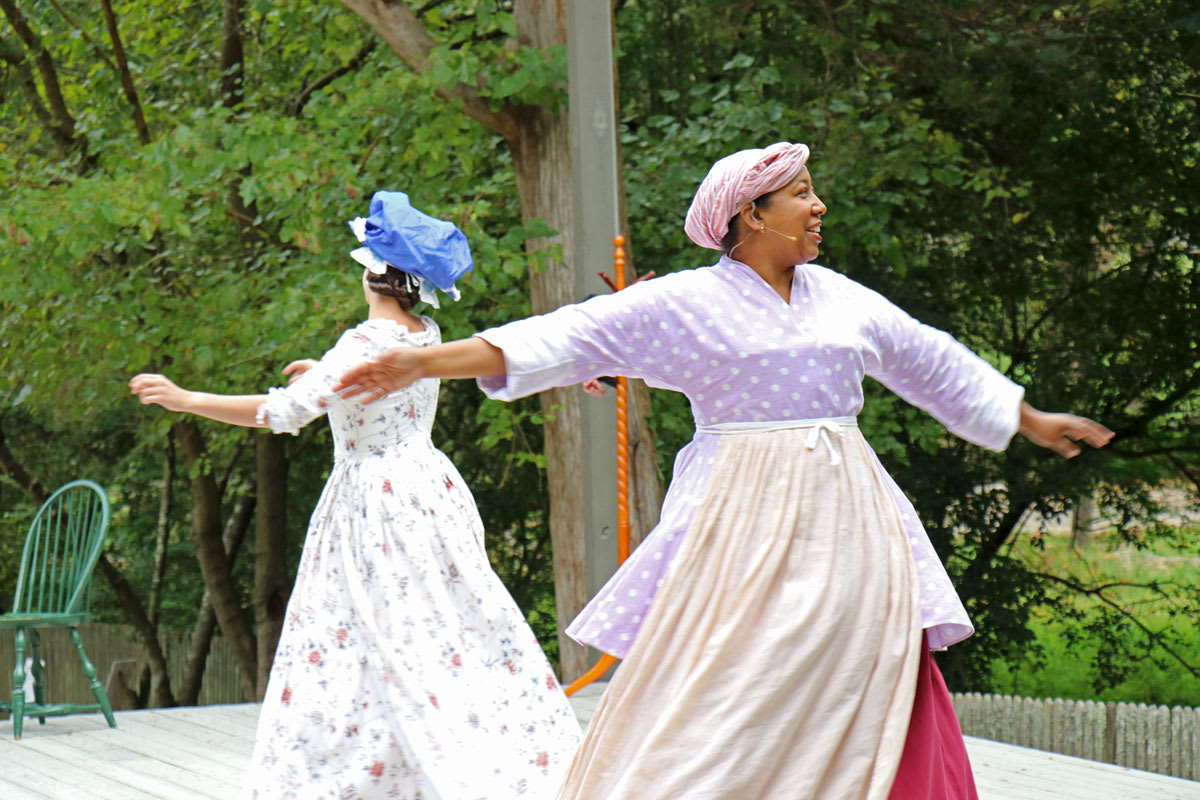 We hope you can come celebrate these women of the past with us. Sentiments of American Women will be performed live on the Charlton Coffeehouse Stage Fridays and Saturdays through November 14th at 4 p.m., weather permitting.
"Sentiments of American Women" was conceived by Katrinah Carol Lewis and written by Emily Doherty, Lindsey Foster, Zakiyyah Jackson, Margarette Joyner, Katrinah C. Lewis, Michelle Greensmith and Hope Wright, with contributions from Nicole Brown, Rachel Eiland-Hall, Katharine Pittman, Felicity Meza-Luna, Cathy Hellier, Kelly Arehart, and Elizabeth Thomas.
To learn more, here are some books and articles consulted by the playwrights during the development of this piece:
"A Dutiful, Obedient Wife: The Journal of Elizabeth Foote Washington of Virginia 1779-1796." Thesis (William and Mary) by Linda Eileen Parris
"Black London: Life Before Emancipation" by Gretchen Holbrook Gerzina
"Early American Indian Documents: Treaties and Laws, 1607-1789" General Editor, Alden T. Vaughan.
"Help Me to Find My People: The African American Search for Family Lost in Slavery" by Heather Andrea Williams
"Incidents in the Life of a Slave Girl" by Harriet Ann Jacobs
"In the Matter of Color: Race and the American Legal Process: The Colonial Period" by A. Leon Higginbotham Jr
"Mammy: A Century of Race, Gender, and Southern Memory" by Kimberly Wallace-Sanders
"Slave Nation: How Slavery United the Colonies and Sparked the American Revolution" by Alfred W. Blumrosen, Ruth G. Blumrosen and Steven Blumrosen
"The Great Catastrophe of My Life: Divorce in the Old Dominion" by Thomas E. Buckley, S.J.
"The Racial Symbol of the Topsy Turvy Doll" from The Atlantic magazine 11/20/2015 by Julian K. Jarbo -
"They Were Her Property: White Women as Slave Owners in the American South" by Stephanie E. Jones-Rodgers
"Wives, Slaves and Servant Girls: Advertisements for Female Runaways in American Newspapers, 1770-1783" by Don Hagist
"We Are your Sisters: Black Women in the Nineteenth Century" by Dorothy Sterling (editor)
"Women and the Law of Property in Early America" By Marylynn Salmon
"Women in the-Eighteenth century: A Southern Perspective Centering on the Life of Anne Blair Banister" by Jane Carol Geer Koop, B.A.A Thesis in History

Katrinah Carol Lewis is an actor, singer, playwright, director, historical interpreter, teaching artist and yoga instructor. She has been working in the Actor Interpreter department at Colonial Williamsburg since 2011, serving as Artistic Director of Museum Theatre since 2016. She conceived and directed "Sentiments of American Women" and lead the development of the piece. She is the co-playwright/playwright and director for "Created Equal," "Resolved. An American Experiment" and many other museum theatre programs at CW including "Joy in the Morning" and "Faith, Hope and Love." She has been an active member of the theatre community in Richmond, Virginia for over 15 years and was awarded the Richmond Theatre Critics Circle Award for Best Actress in a Musical in 2016 for her work as Billie Holiday in "Lady Day at Emerson's Bar and Grill," with TheatreLab.