It's almost time again for a beloved Colonial Williamsburg holiday tradition: the Yule Log Ceremony. The first Yule Log Ceremony was held at Colonial Williamsburg in December 1940, although it had been preceded for some years by one at William & Mary. In 1940, Colonial Williamsburg was looking for ways to involve the larger community in celebrations and to use historical Christmas traditions in the restored area.
Although there is no record of a Yule Log in colonial Virginia, the tradition was one of long standing in English and Scottish Christmas celebrations. Each part of the ceremony has an allegorical meaning.
Every attendee holds a spring of green which symbolizes the woes of the past. When the Yule Log passes in procession, each person touches their sprig to ward off evil spirits.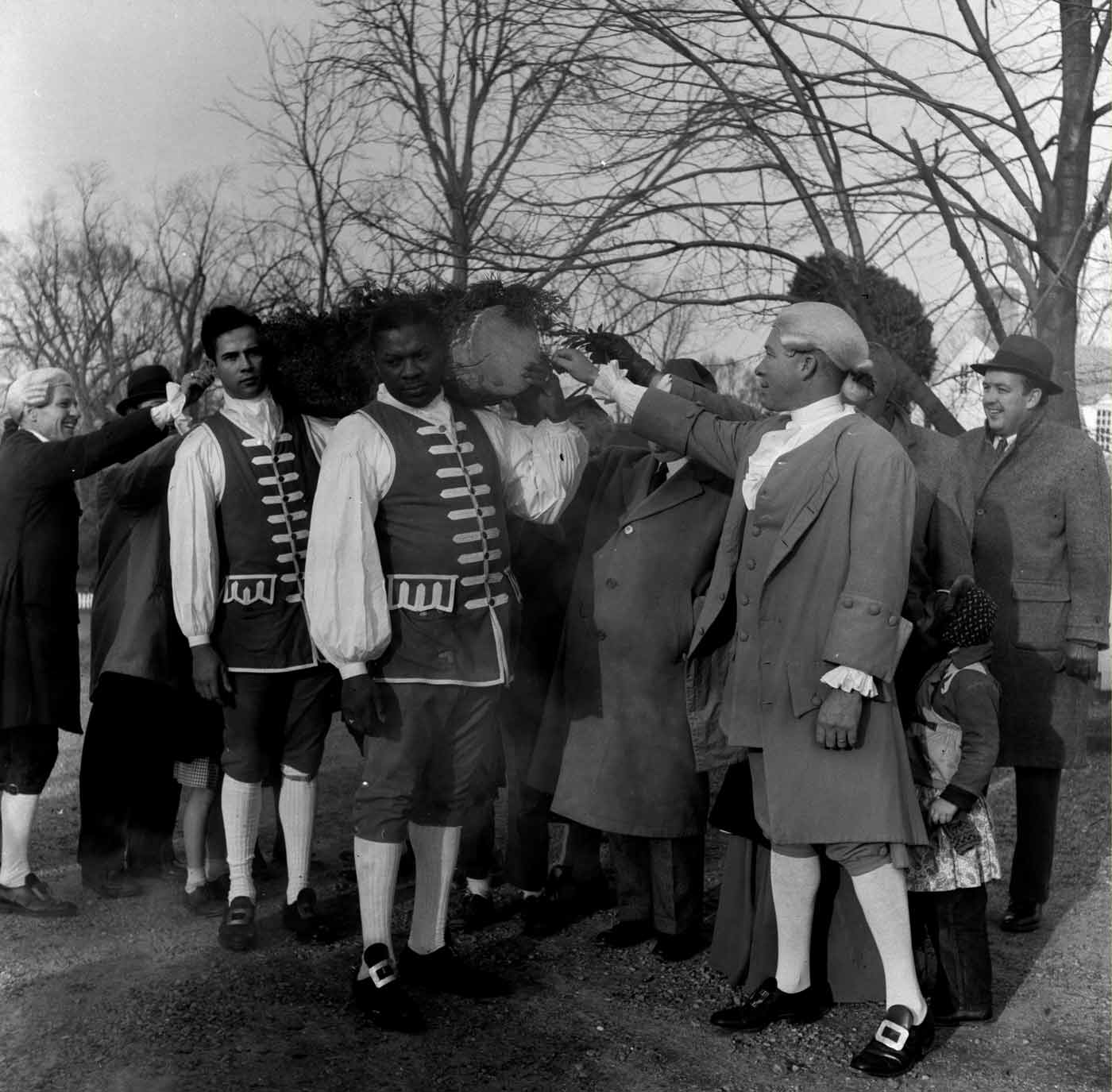 During the blessing of the log, wine is poured on the fire to ward off spirits and to protect the house from "ghosties and ghaisties and things that go boomp in the night." Then each guest throws their sprig into the fire to symbolize the banishing of last year's woes.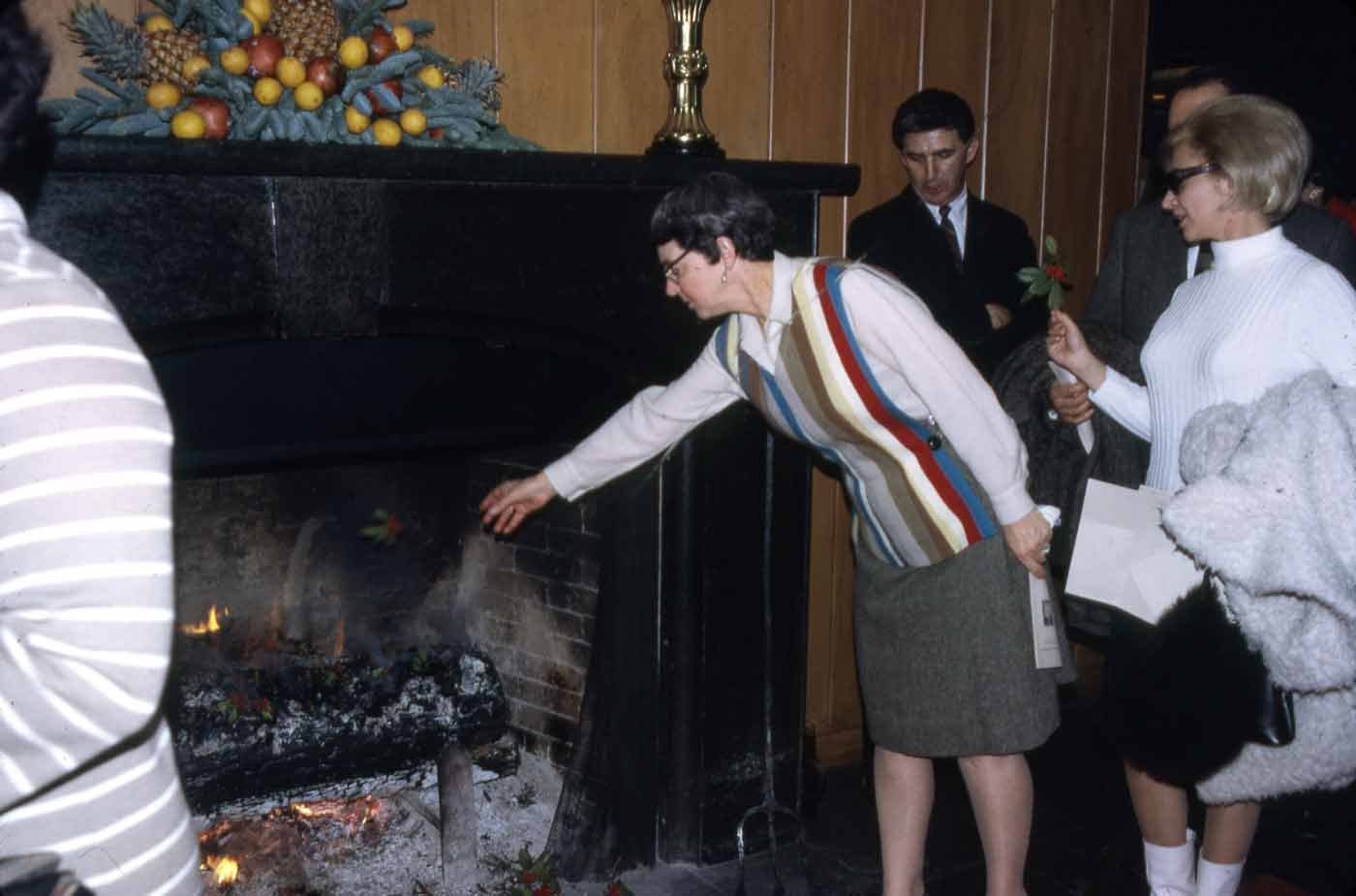 Each part of the ceremony includes carols and drinking from the Wassail Bowl. When the log processes into the ceremony location, it often has been accompanied by platters of fruit and turkeys and wassail bowls to symbolize the bounty and celebratory nature of the season.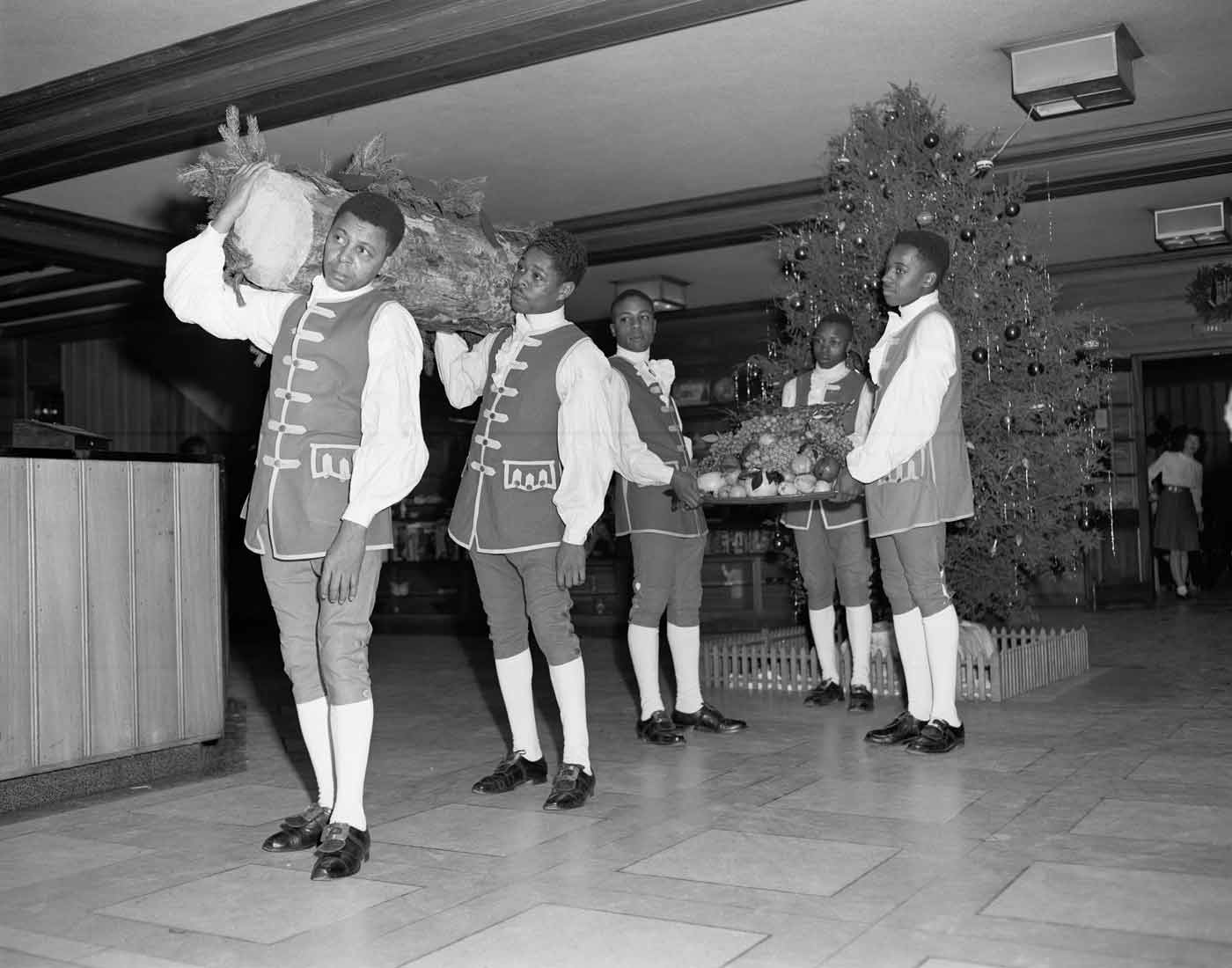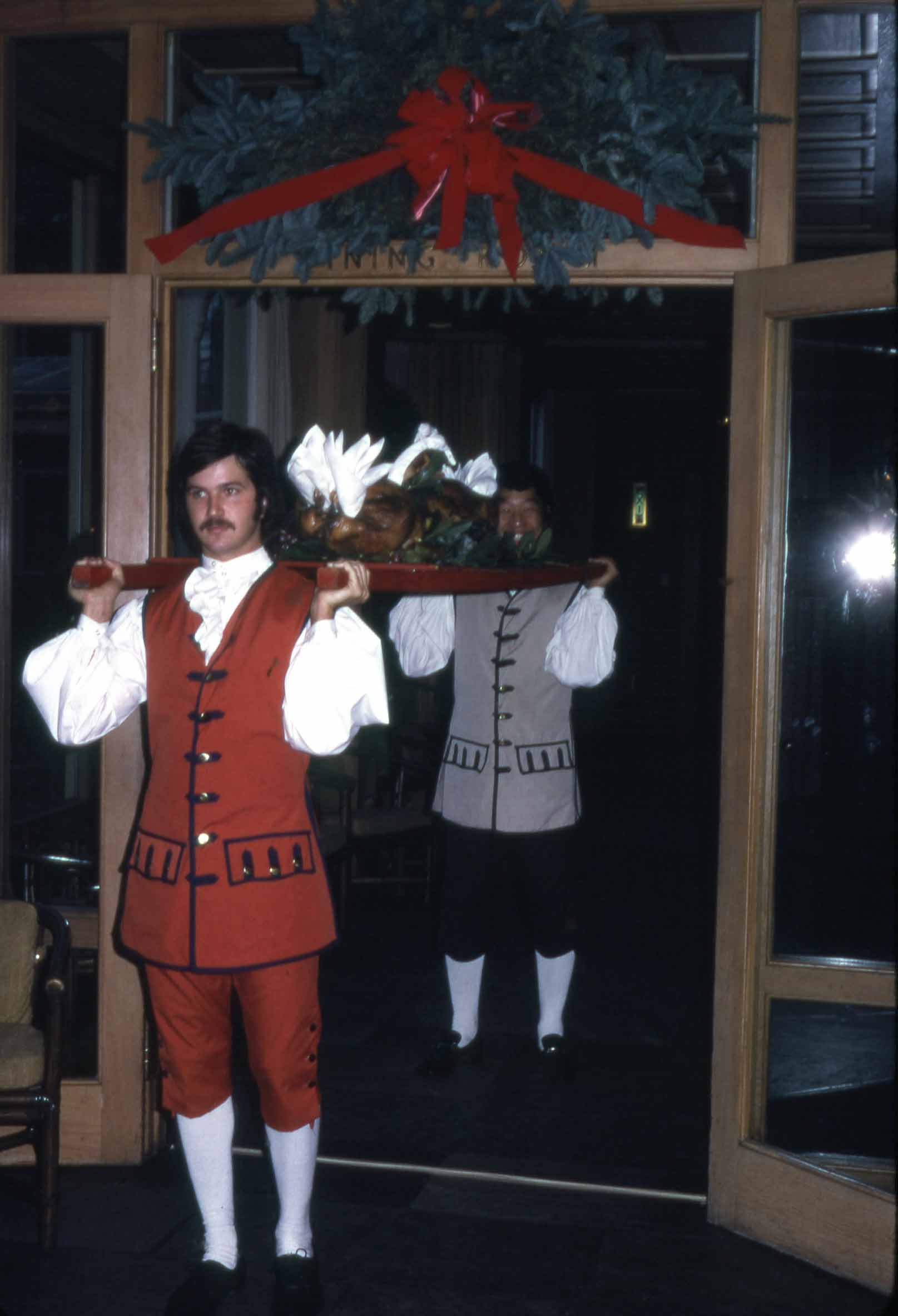 The first Colonial Williamsburg Yule Log Ceremony was held at the Williamsburg Lodge as it was the only public space with a large enough fireplace to accommodate the log. In subsequent years, the ceremonies have taken place in different locations: sometimes at the Lodge, sometimes at the Inn back courtyard, and sometimes in other places in the Historic Area.
For several years, guests had the opportunity to go out into the woods at the Golden Horseshoe Golf Course and help to cut down and drag the log back to the Inn.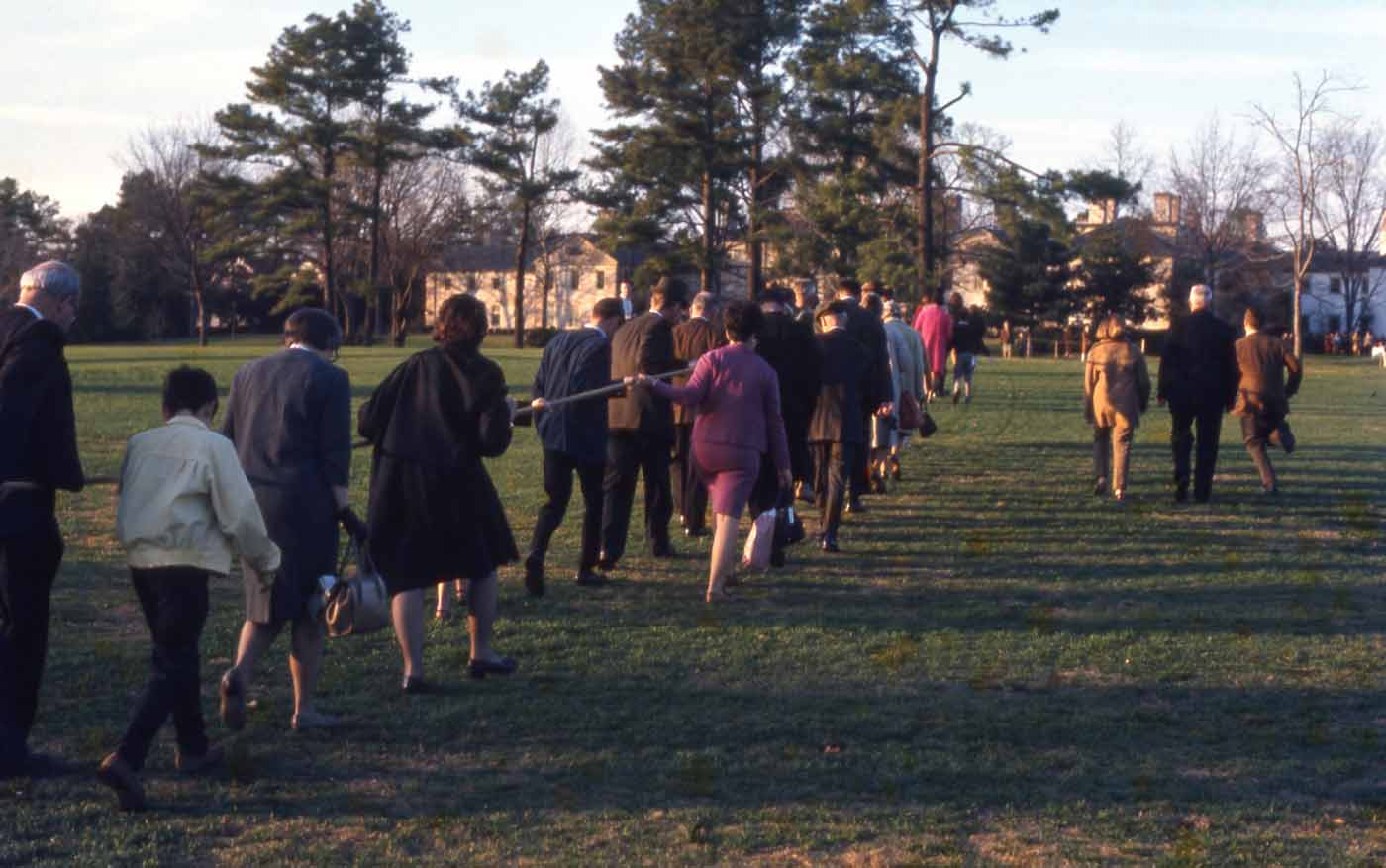 This year the Yule Log Ceremony changes a big yet again: on three dates in December, the log will process by wagon from the Capitol circle to Market Square where the ceremony will take place. We hope you join us, cast away the woes of 2021, and enjoy the holiday spirit in Colonial Williamsburg.
Attend A Celebration of the Yule Log
Follow the Yule log, hauled by wagon, from the Capitol circle to Market Square, accompanied by music, festivity, and the community of 18th-century and present-day Williamsburg. Make a wish and toss a sprig of greenery into the bonfire.
Learn More
Colonial Williamsburg is the largest living history museum in the world. Witness history brought to life on the charming streets of the colonial capital and explore our newly expanded and updated Art Museums of Colonial Williamsburg, featuring the nation's premier folk art collection, plus the best in British and American fine and decorative arts from 1670–1840. Check out sales and special offers and our Official Colonial Williamsburg Hotels to plan your visit.
Keep History Alive!
Our donors help us achieve a deeper understanding of America's founding ideals and how they relate to the world and this country today. Because we are not state or federally funded, your support is crucial to preserving the wonder of Colonial Williamsburg. Give now to keep history alive for generations to come