Here at the Art Museums of Colonial Williamsburg, we've been collecting some of our Summertime favorites. From food to activities, who doesn't love a summer filled with fun?
If you're visiting Williamsburg, make sure to stop by the Art Museums to see these objects in person and even pick some of your own favorites to add to the list! If, however, you're enjoying a virtual summer holiday, click the links to learn more about the objects or search the Collections to find your own summer favorites.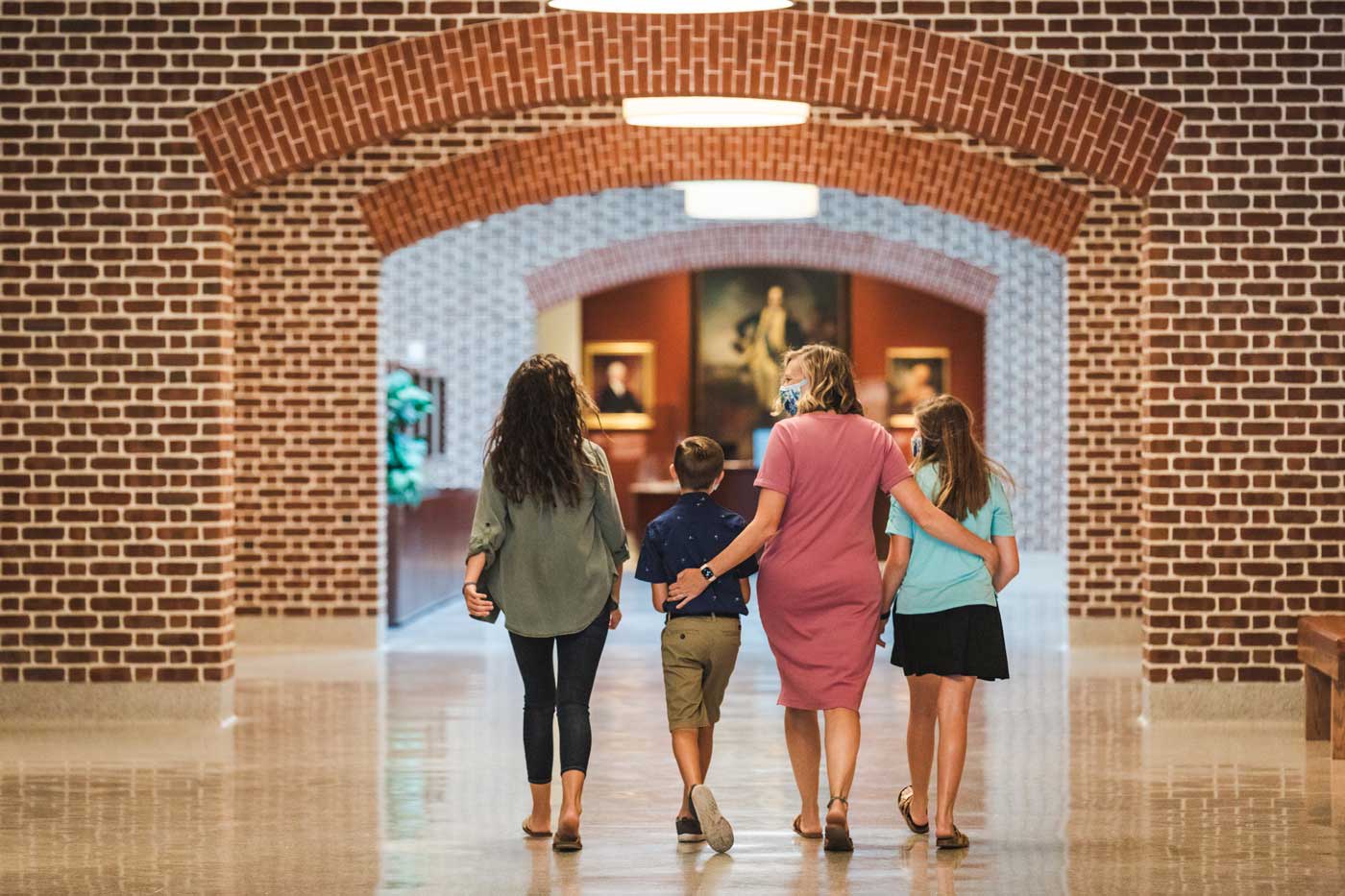 Do you have a list of favorite summertime foods -- hot dogs on the grill, homemade ice cream or fruit from your favorite farm stand?
Our carved wooden WATERMELON is a year long reminder of the bounty of summer.
If you were traveling through Waverly, Virginia, during the late 1960s/early 1970s, chances are you would have come upon this watermelon created by Miles Carpenter. To advertise his roadside farm stand, Mr. Carpenter carved the large piece as a trade sign to represent the fruits and vegetables you would find at his place. He also sold soda pop, ice cream and even small carvings like this frog.
What are your favorite summer fruits and vegetables? You might be surprised to find other examples of fruits and vegetables on exhibit at the Art Museums of Colonial Williamsburg. How many examples can you find?
Find the WATERMELON in the Wilson Family Gallery or click here.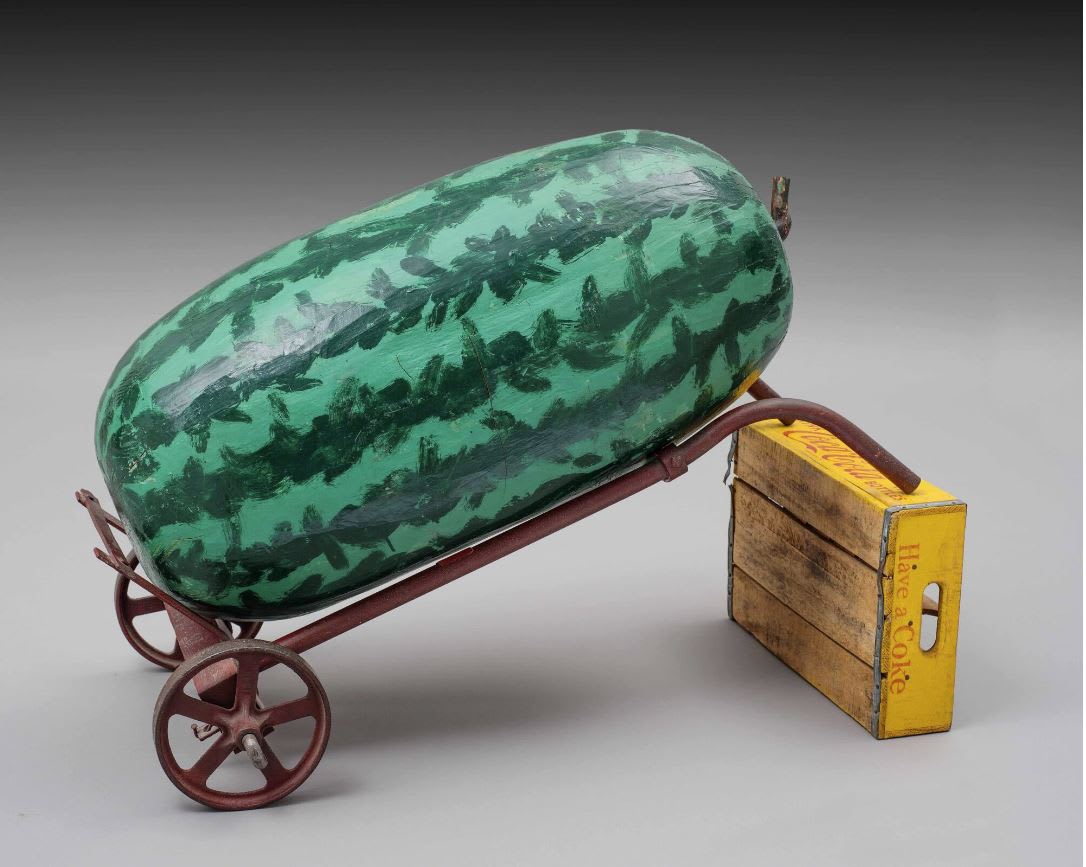 Watermelon Trade Sign
DATE: 1960
ARTIST: Miles Burkholder Carpenter (1889-1985)
ORIGIN: Waverly Virginia,
MEDIUM: Oil paints on elm wood with a natural grapevine stem, the object set upon a painted iron and wood hand cart and accompanied by an empty, painted, wooden Coca-Cola crate
CREDIT LINE: Museum Purchase
OBJECT NUMBER: 1973.706.1
Visiting a carnival, a fair, or an amusement park this summer?
Here at the Art Museums of Colonial Williamsburg, the Carousel is one of our personal favorites! But we can only dream of a ride on the CAT!
Many modern carousels are made up of brightly decorated horses. But in the early 20th century, some carousels consisted of a whole menagerie --cats, camels, pigs, ostriches, and more. Of course, horses were there too.
Did you know that the carousel originated in the Middle Ages as a training activity for knights?  Riding horses in a circular formation gave riders an opportunity to practice activities such as catching balls and spearing rings, which developed their fighting skills. Eventually wooden horses were mounted or children to play make-believe, with many carousels including real and imaginary creatures, like cats!
Find the Carousel CAT in the Miller-Worley Gallery or click here.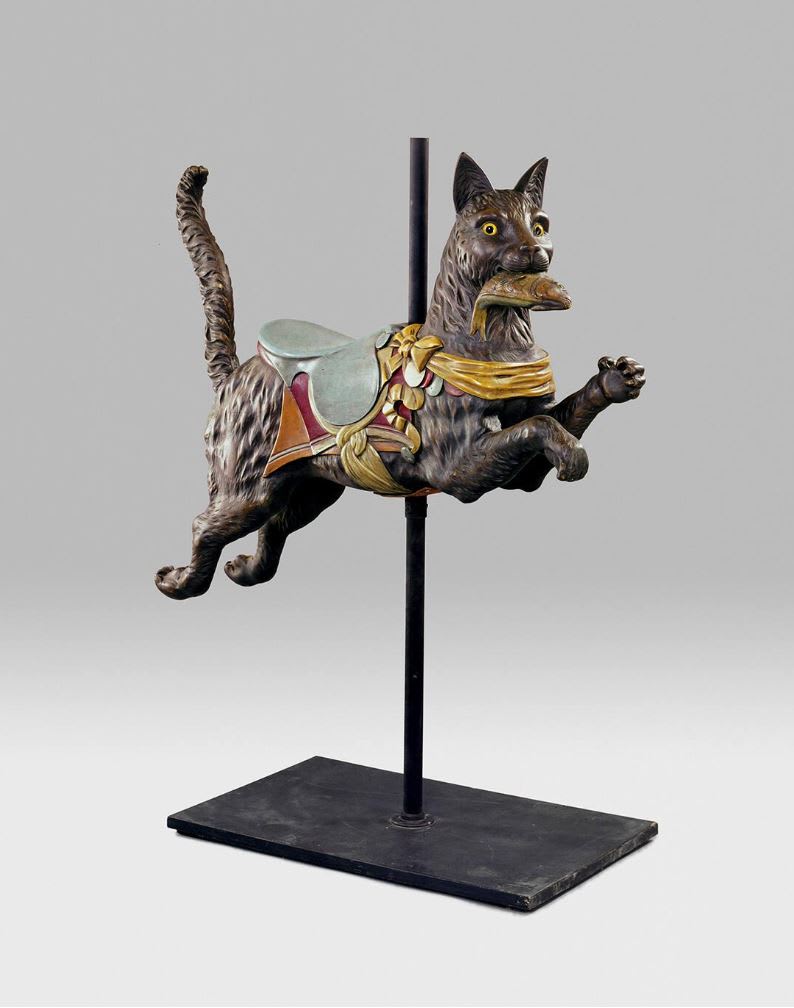 Carousel Figure: Cat
MAKER: Dentzel Carousel Co.,
ORIGIN: Philadelphia, Pennsylvania, 1903-1928
MEDIUM: Painted basswood with glass eyes
CREDIT LINE: Museum Purchase
OBJECT NUMBER: 1969.703.1
Are outdoor activities a part of your summer plans? Perhaps a picnic in the park, a trip to the beach or a neighborhood bike ride.
In his painting, SUMMERTIME, artist Karol Koslowski depicts some fun ways to spend time outside and enjoy nature.
Mr. Koslowski enjoyed painting pictures of real and imaginary places and often used books and postcards as inspiration. Mr. Koslowski, a Polish immigrant, lived in Queens, New York, and worked as a fire cleaner at the Astoria Light, Heat and Power Company, which was dirty, hot, and physically demanding. Painting was his pastime and gave him the opportunity to transport himself to many places.
Find SUMMERTIME in the Proserpi Gallery or click here.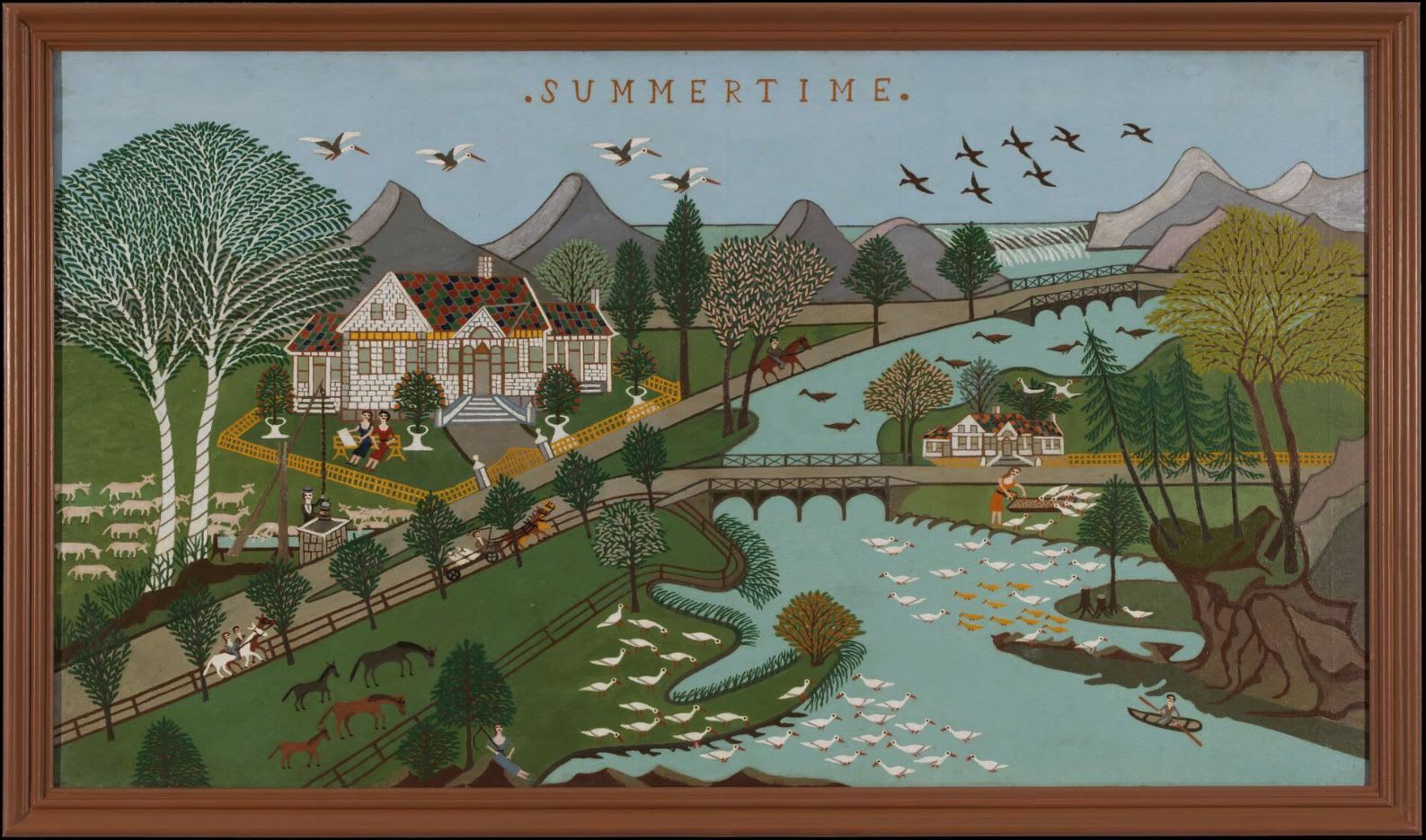 Summertime
ARTIST: Karol Kozlowski
ORIGIN: Brooklyn, New York, 1960-1962
MEDIUM: Oil on canvas
CREDIT LINE: Gift of Lita M. Elvers in honor of her father, Abril Lamarque
OBJECT NUMBER: 1991.102.3
Who can resist a delightful cool beverage on a hot summer day or night?
Whatever your beverage of choice, serving it in a vessel that will keep it oh- so-cool calls for an object specifically designed for the task. Asa Blansett could have sold you wares to accommodate those needs.
Mr. Blansett moved to Lexington, Kentucky, in 1806 and became the most prolific silversmith in Kentucky, producing "Silver Teapots, Sugar and Cream Pots, Tankards, Cans and Tumblers and all kinds of Ladles and Spoons…" His business thrived until his death in 1838.

Made from silver, the TUMBLER and the PITCHER naturally cool the beverage held within. Add a bit of ice and you have a delightful, refreshing beverage. Be sure to hold the cup from the rim or the base to allow the silver to retain the cold.
What are your favorite summertime beverages?
Find the Tumbler and Pitcher on exhibit in the Campbell Gallery or click here.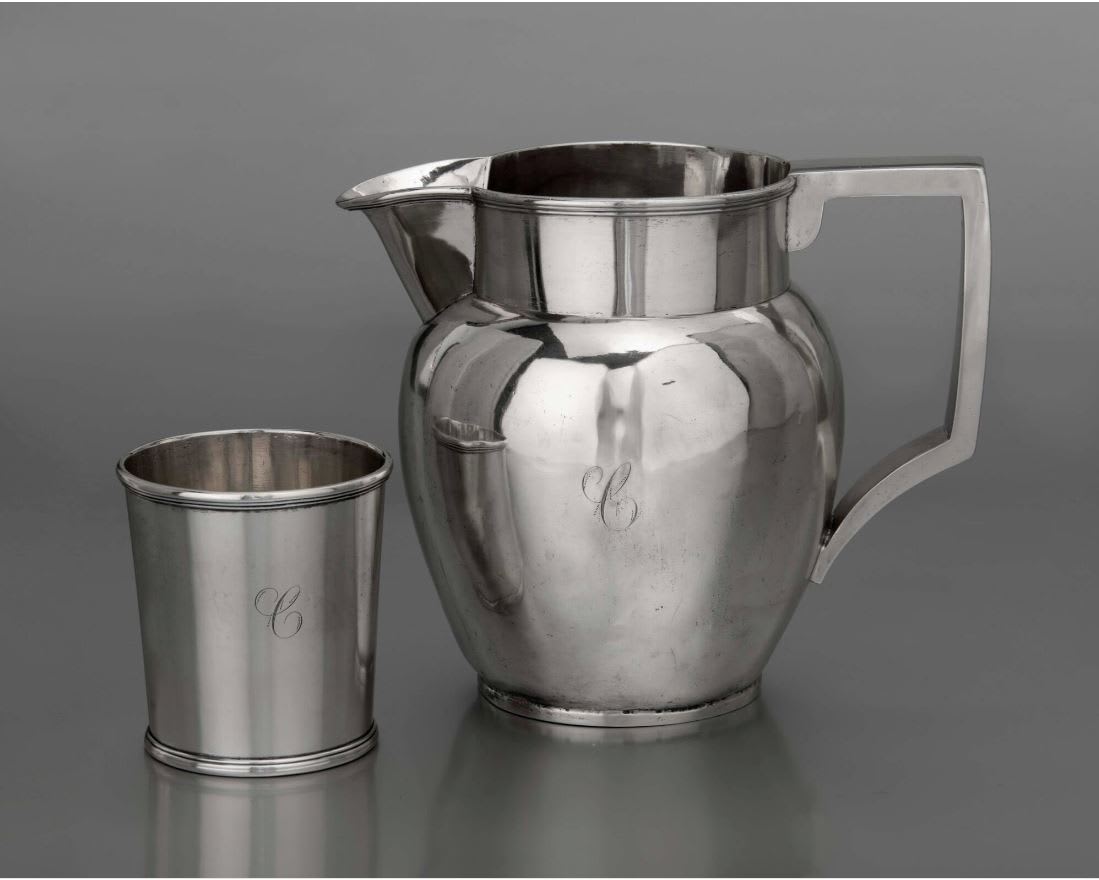 Jug and Tumbler
ARTIST: Asa Blanchard
ORIGIN: Lexington, Kentucky, ca. 1815
MEDIUM: Silver
CREDIT LINE: The Friends of Colonial Williamsburg Collections Fund
OBJECT NUMBER: 2019-101,1&2
How do you get from here to there during the summer months?
Planes, trains, and automobiles come to mind for great distances, but what about travel within your neighborhood?
Walking, roller blading, and TRICYCLES?
Did you know that tricycles were in use as far back as the late 18th century? They were originally designed for adults, rather than children.
The TRICYCLE on exhibit was made in America in 1885. At the time, it was advertised as a boy's three-wheeled velocipede. This size was "suitable for boys from 10 to 14 years." The smallest version was made for a child from 3-4 years old. Unlike modern bikes, this one was made of wood and iron. Notice there are no gears or brakes – it is all pedal power!
Find the TRICYCLE on exhibit in the Levanti Gallery or click here.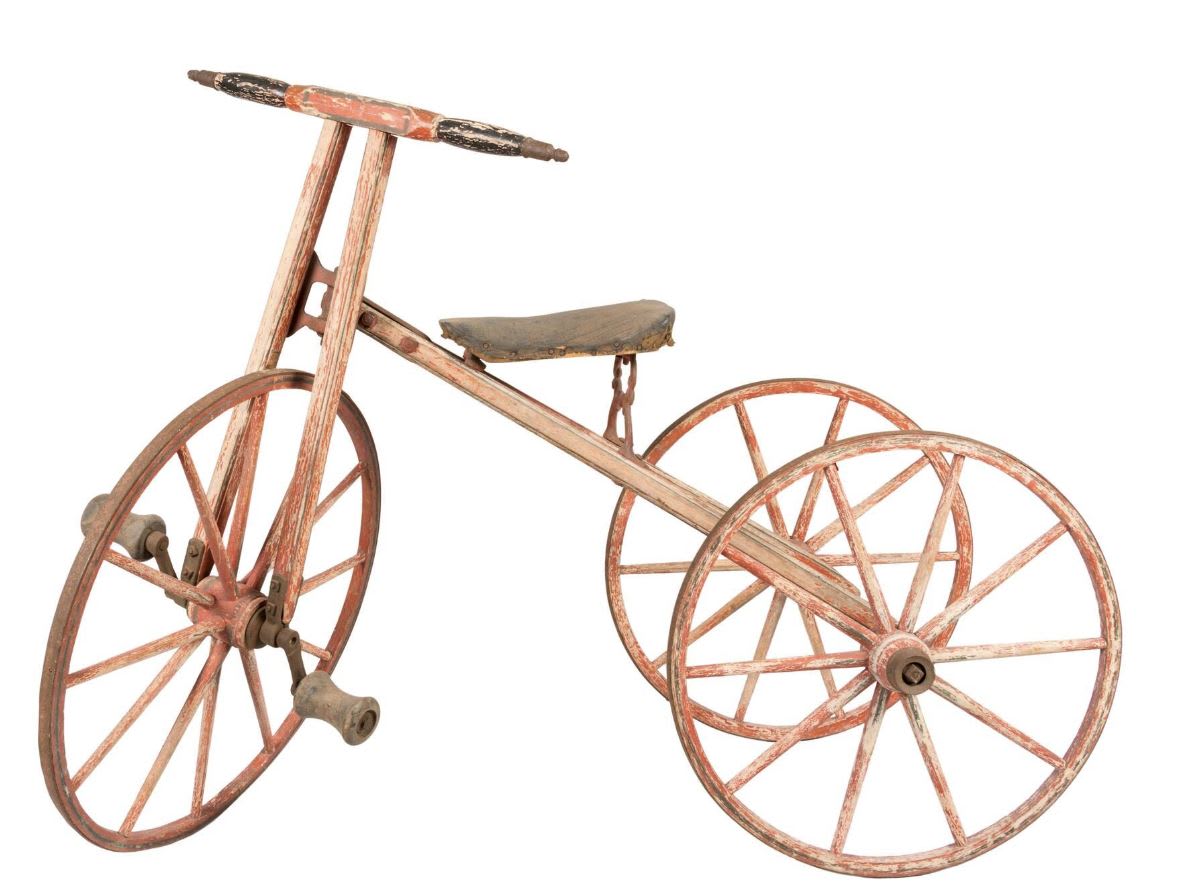 Tricycle
ORIGIN: America, 1885
MEDIUM: Wood, iron, and paint
CREDIT LINE: Gift of Raleigh Old Green
OBJECT NUMBER: 1970.1200.12
Planning a summer vacation often centers around a destination. Whether to a big city, a lake, or a historic site, like Colonial Williamsburg.
Have you ever travelled to visit a Natural Wonder?
The United States of America is filled with wonders -- the Grand Canyon, the Rocky Mountains, the Finger Lakes. There are so many AMAZING places to visit in this country.
The Map of North America Constructed According to the Latest Information includes images of two Natural Wonders: Niagara Falls in New York and Natural Bridge in Virginia. Americans began to regard natural wonders as symbols of national pride. The cartouche on this map not only highlighted places uniquely American but also native animals – a rattlesnake, beaver, and eagle.
To see other versions of these natural wonders, visit the Sheila Miller Gallery and find two paintings by Edward Hicks that depict the FALLS OF NIAGARA and NATURAL BRIDGE.
Find the Map of North America Constructed According to the Latest Information in the McNamara Gallery or click here.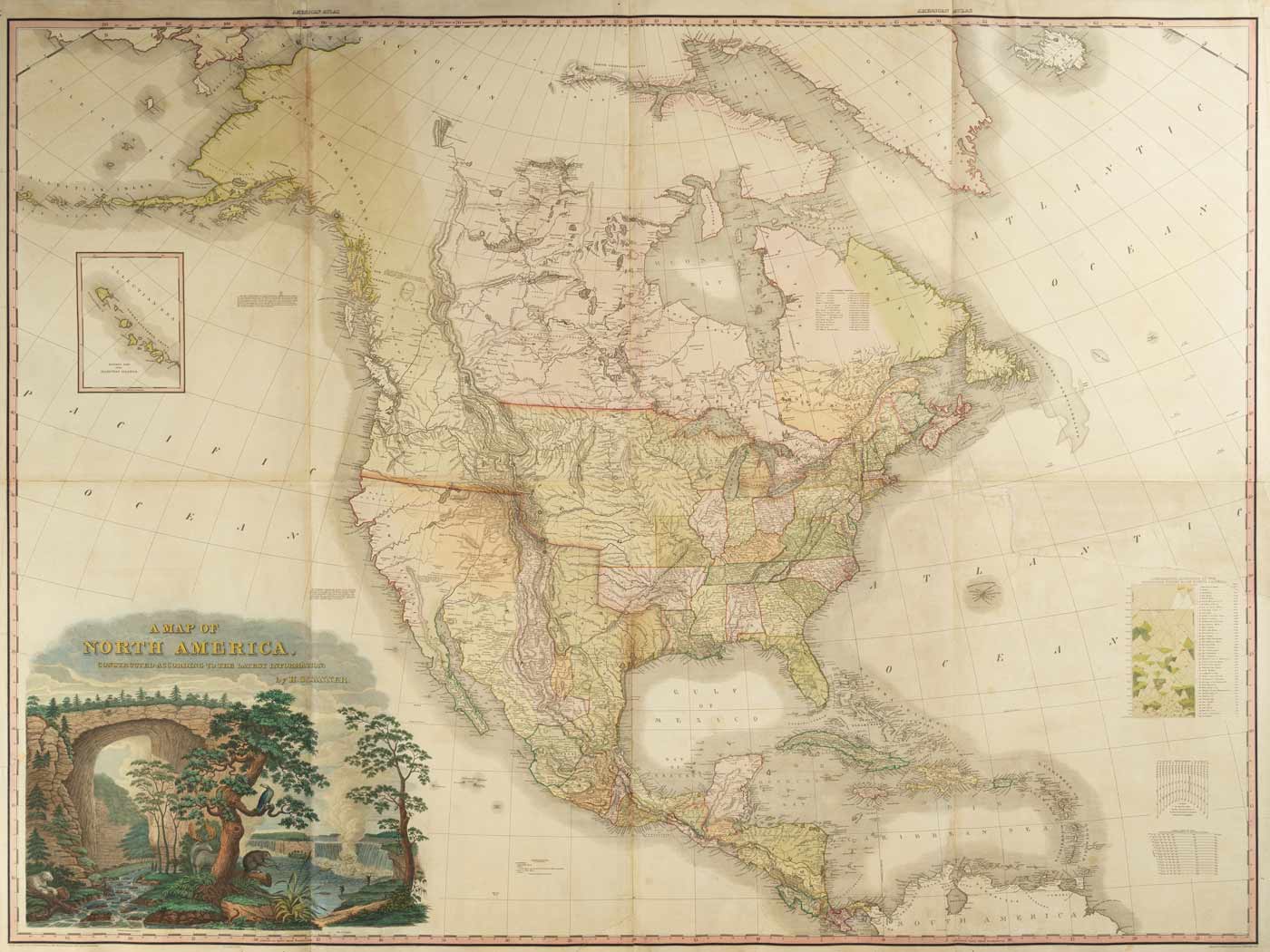 A MAP OF NORTH AMERICA
DATE: 1822
MAKER: Henry Schenck Tanner (1786-1858)
ORIGIN: Philadelphia, Pennsylvania, 1822
MEDIUM: Line engraving on laid paper with hand color
CREDIT LINE: Museum Purchase
OBJECT NUMBER: 1997-5


Thank-you for taking a SUMMERTIME tour with us.  We hope to see YOU sometime this summer, or any other season, at the Art Museums of Colonial Williamsburg.
Colonial Williamsburg is the largest living history museum in the world. Witness history brought to life on the charming streets of the colonial capital and explore our newly expanded and updated Art Museums of Colonial Williamsburg, featuring the nation's premier folk art collection, plus the best in British and American fine and decorative arts from 1670–1840. Check out sales and special offers and our Official Colonial Williamsburg Hotels to plan your visit.
Keep History Alive!
Our donors help us achieve a deeper understanding of America's founding ideals and how they relate to the world and this country today. Because we are not state or federally funded, your support is crucial to preserving the wonder of Colonial Williamsburg. Give now to keep history alive for generations to come.