The American colonies' first purpose-built theater opened on this site before 1720. Today, you can take in a lively performance by Jug Broke Theater Company on an open-air stage. See the calendar of events for a schedule of musical and theatrical entertainment.
Accessible
View on the Full Map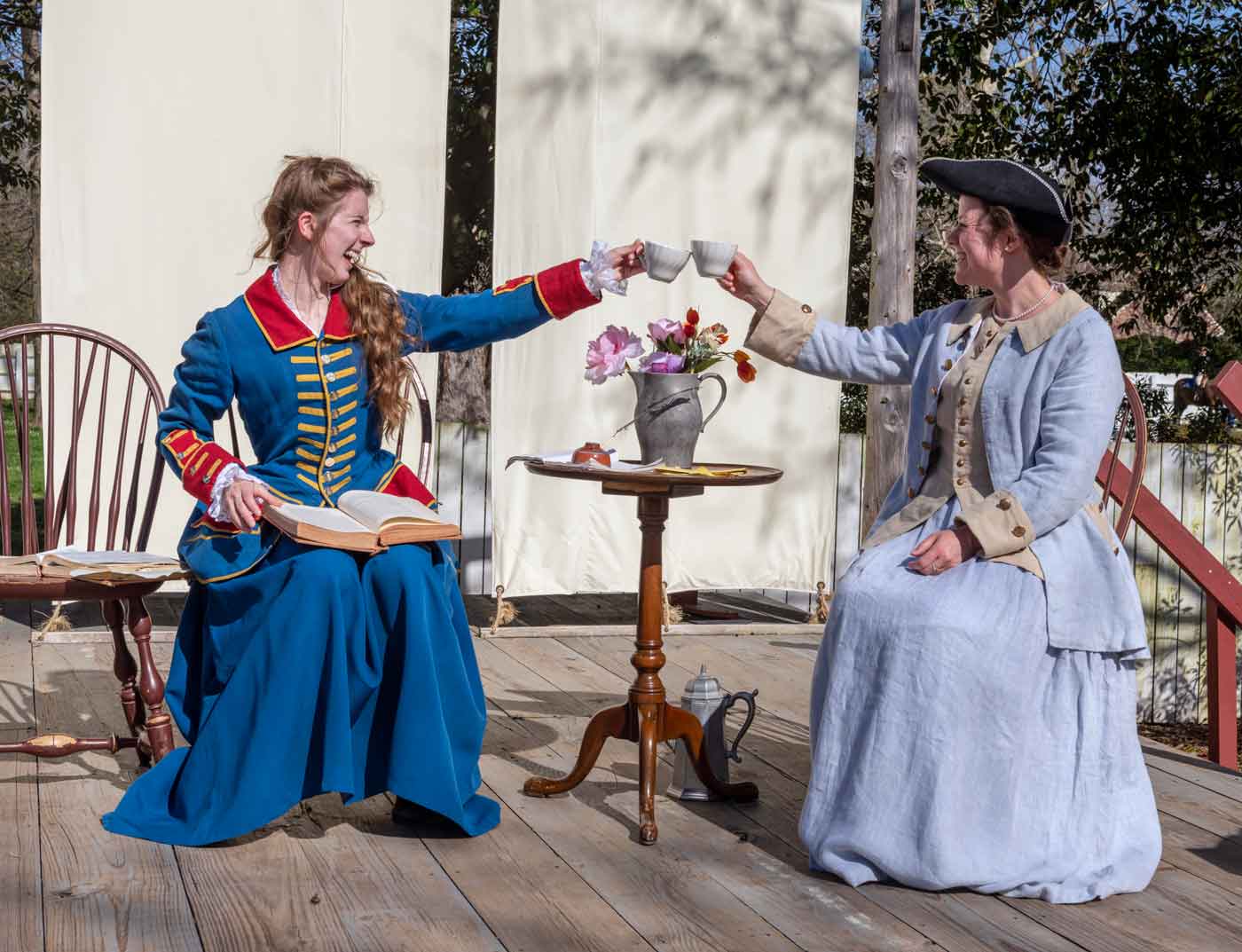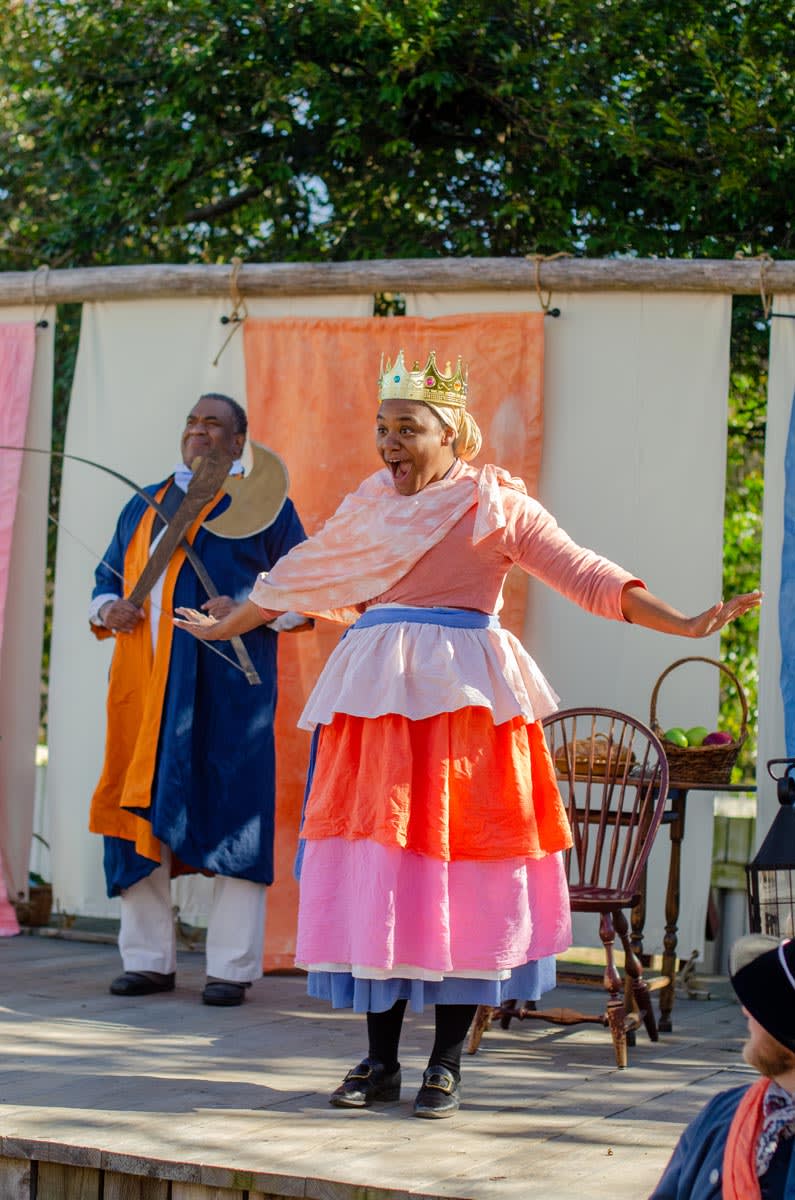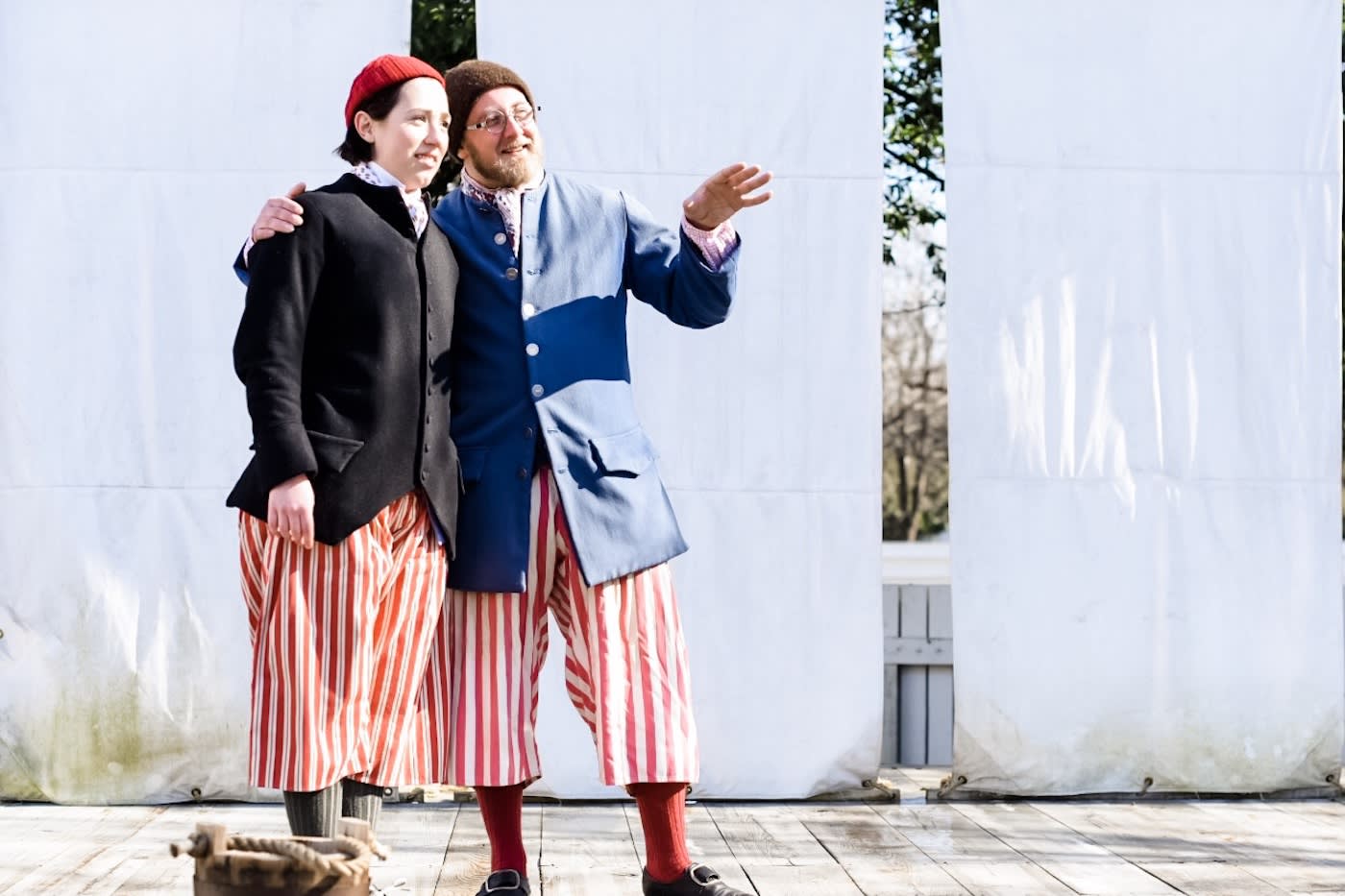 This Spring, Jug Broke Theatre Co. will take the stage twice a day six days a week. Below are summaries of the plays you might see throughout the season. Check the marquee by the stage to find out what's showing during your visit.
Acting How-To: Learn about the 18th-century transition from the Declamatory acting style to the new style published in Aaron Hill's Essay on the Art of Acting, and get the opportunity to test out the styles for yourself!


Coffee Cantata: Mrs. Charlton's daughter Lizzy is wildly in love…with "the delicious juice of the coffee bean"! Join us for this comedic ballad opera, based on Johann Sebastian Bach's Coffee Cantata from the 1730s.


The Frolic: Every 18th-century family had its own source of music; children, farm hands, and often times the enslaved brought music to every part of life in Virginia; it was part of the fabric of any gathering. Experience the spontaneity and energy of multiple musicians who happen to be playing at the same space at the same time. 


Highland Jubilee: Explore the music and culture of the many Scottish immigrants who lived in the colonies and Williamsburg in the 18th century — including Lord Dunmore and the Play House Stage's founder, William Livingston.


Juvenilia: An aspiring young writer — who you might find familiar — entices her siblings and friend into performing a double bill of mystery and comedy for her utterly bewildered father.


Ladies of Llangollen: A musical romance adapted from the diaries, letters, and poetry of Sarah Ponsonby and Eleanor Butler, who in 1780 eloped together from Ireland to Wale and shared their lives for 50 years in a picturesque countryside cottage called "Plas Newydd," meaning "Our New Home."


Loquacious Lucy: When Lucy, a loquacious enslaved child, learns that her friend has been sold, her father must teach her hard lessons about slavery and instill in her the pride of her ancestors.


Songs for Jane: The older sister of an aspiring novelist and playwright seeks to convince her sister, Jane, to include music in her upcoming theatrical productions. Through story and song, many fictional scenarios are introduced as the ladies discuss how music might be a larger part of their performances in the future. 


The Widow's Masquerade: Explore the adventures of Hannah Snell — a woman who joined the King's Navy and became the first female to receive a commission by the King for her service — all while keeping her identity as a woman hidden until after she retired.
Come Explore In Person