The fun doesn't end when the sun goes down. From spooky ghost tours to public trials to concerts of 18th-century music, you'll find an array of nightly performances in the Historic Area.
Due to high demand, we encourage guests to purchase evening program tickets in advance. Please note: children under the age of 18 must be accompanied by a ticketed adult, and not all programs are appropriate for young children. Explore each program page to learn more.
Discounts on evening programs are available to all Annual, Good Neighbor, and Collegiate Pass holders. To receive that discount, pass holders must purchase tickets in person at any Colonial Williamsburg ticketing location, or by calling (888) 965-7254.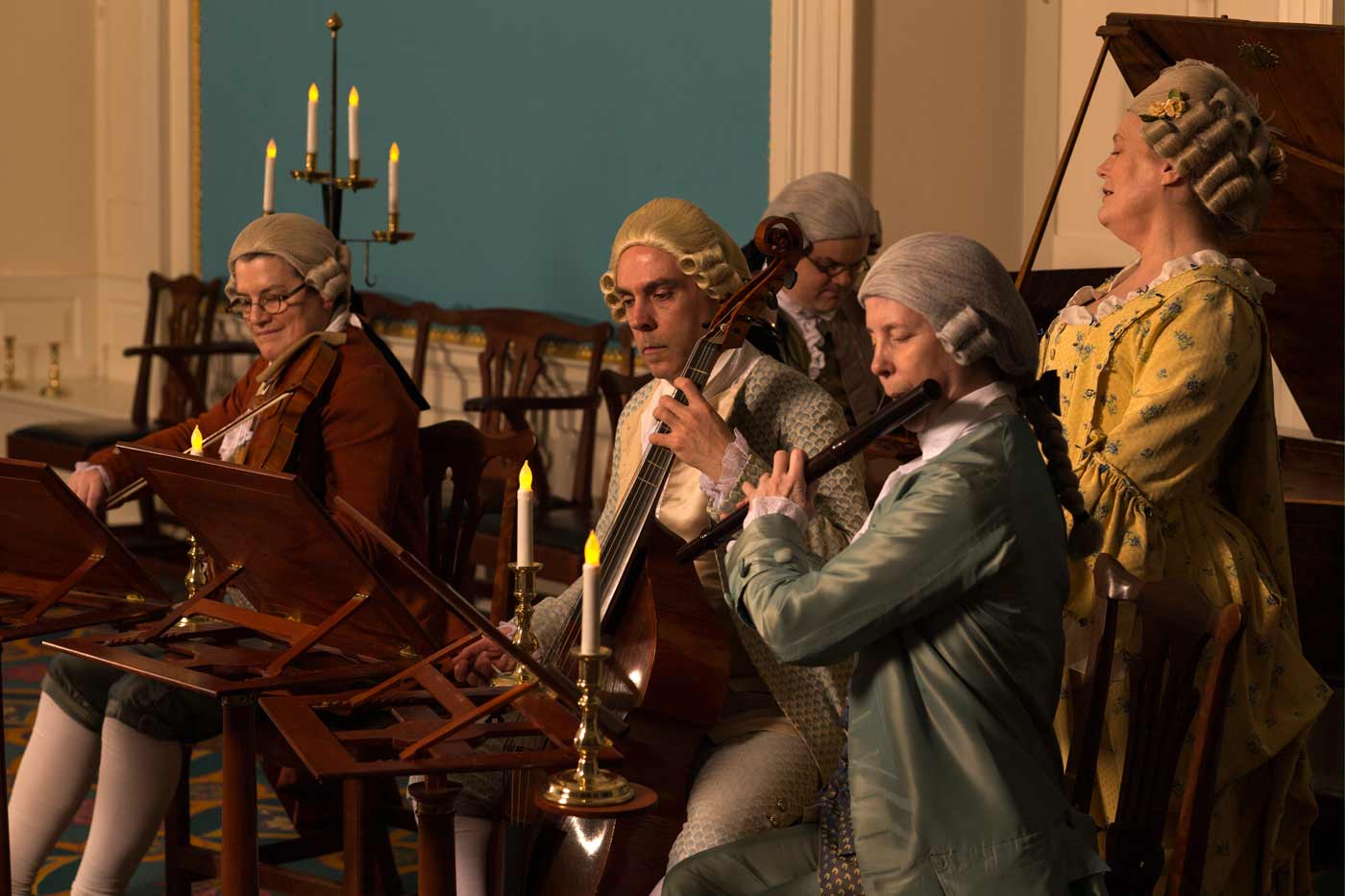 Palace Concert
The regal Palace of the royal governor comes to life as Colonial Williamsburg's early music ensemble, the Governor's Musick, offers an elegant evening of holiday chamber music showcasing 17th- and 18th-century music for harpsichord, voice, flute, and strings. The concert repertoire is custom-crafted to each series and varies throughout the year.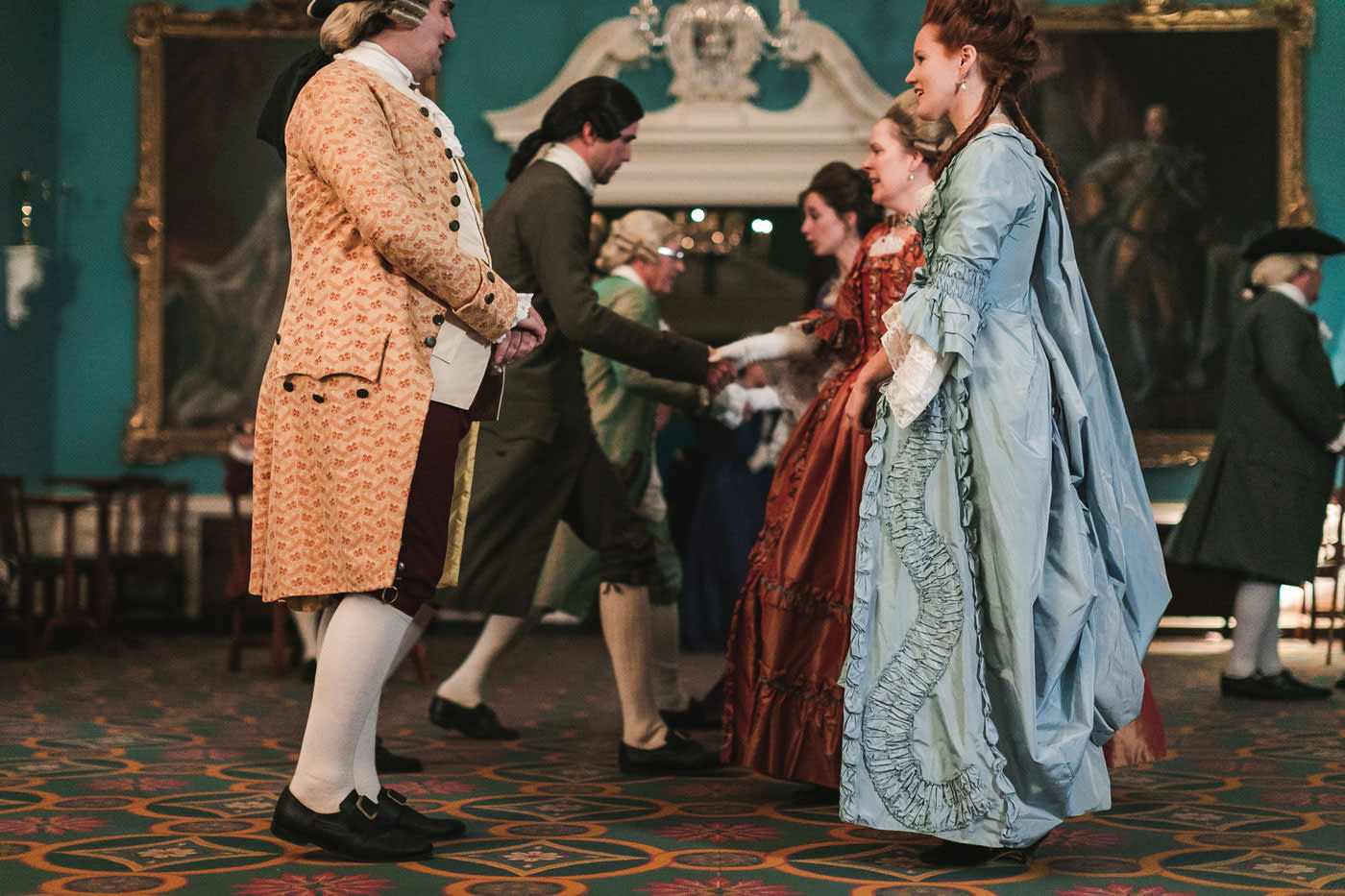 Dancing at the Governor's Palace
Join our dance ensemble for a lively family-friendly evening of dance and music in the Palace Ballroom. We'll demonstrate various dances of the 18th century and then invite guests of all ages to join in on the fun. Available for a limited time only Available for a limited time only.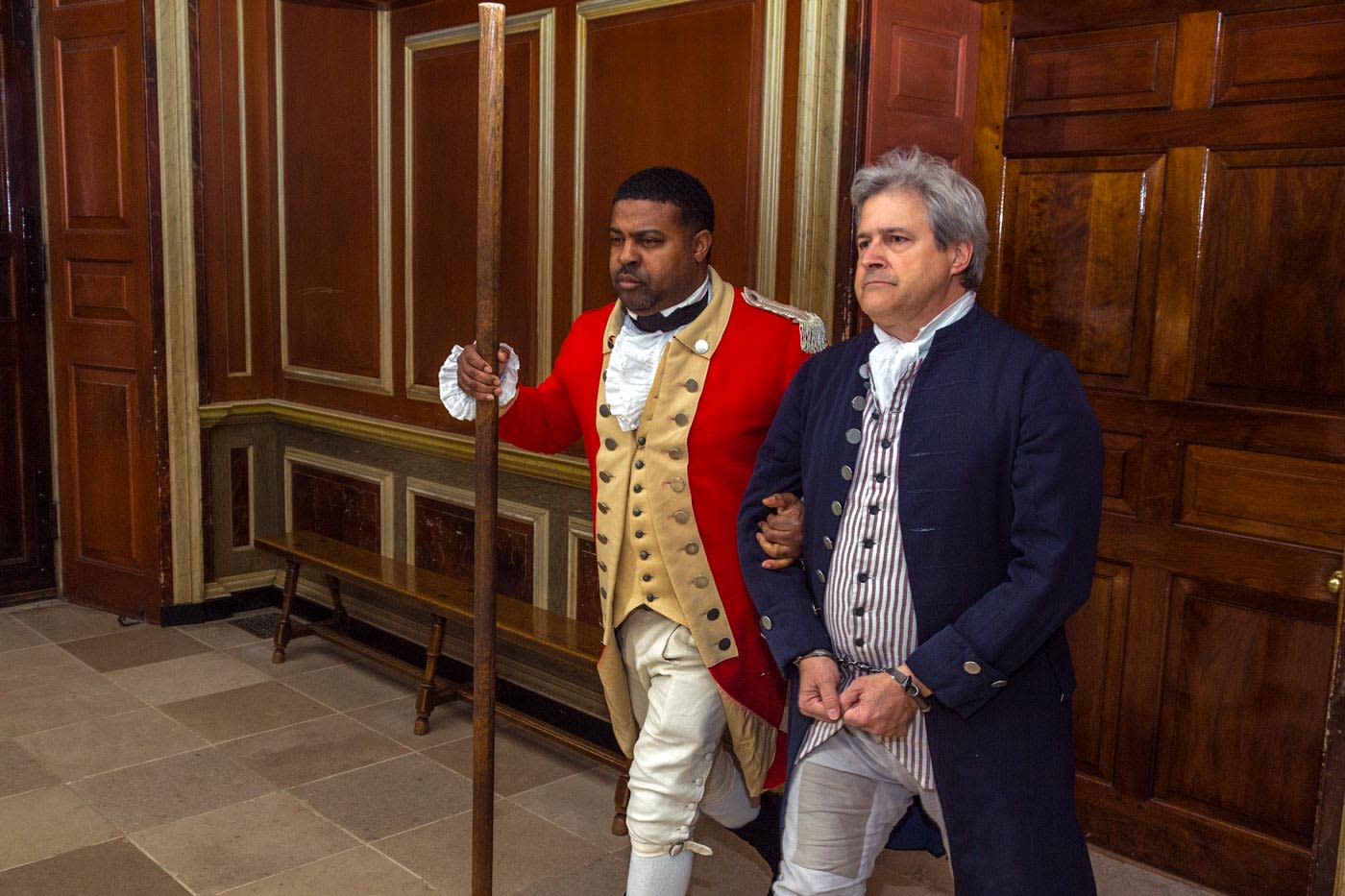 Trial of a Patriot
What if America's War for Independence had failed, and the leaders of the American Revolution were charged with treason? Find out in this alternative-history trial, where you question witnesses, weigh the evidence, and determine the fate of an American Patriot.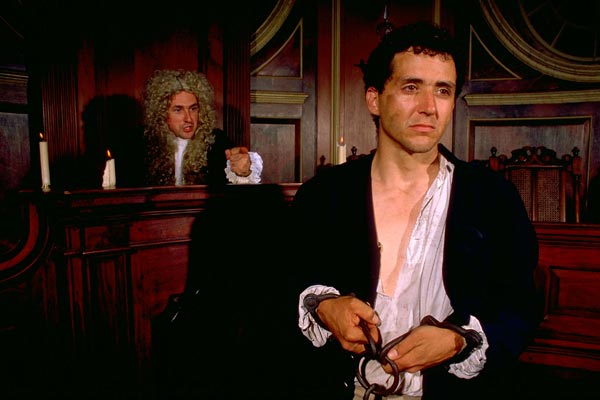 To Hang a Pirate
How would you sentence a pirate? Find out at the trial of Israel Hands, a member of Blackbeard the pirate's crew that was captured in 1719. Hear the evidence against him and then make a judgment for yourself.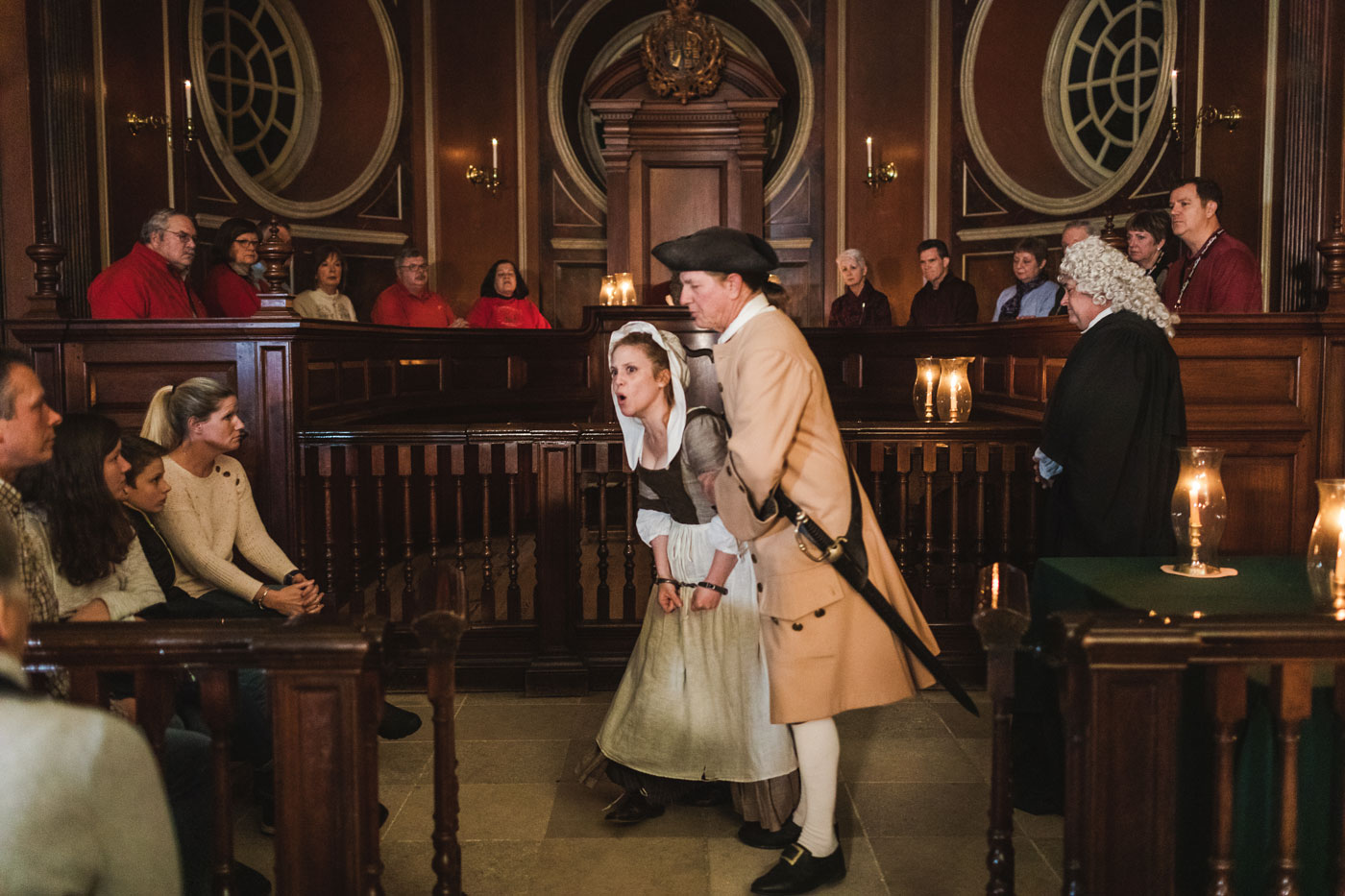 Cry Witch
You decide! Is Grace Sherwood a witch? Question witnesses. Weigh evidence. Finally, cast your vote for the guilt or innocence of "the Virginia Witch." Not appropriate for young children due to subject matter and intense emotion.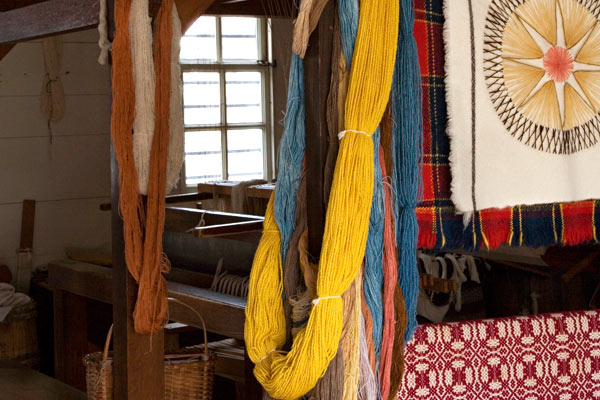 Drop Spindle Spinning Class
Join us for a fun wool-spinning class for beginners. In this hands-on workshop, learn how to spin your own yarn and receive all required supplies, including your own drop spindle — modeled on an original 1770 antique and unavailable in stores — to take home. We will work with wool from our own rare Leicester Longwool sheep and discuss the history of the drop spindle as well.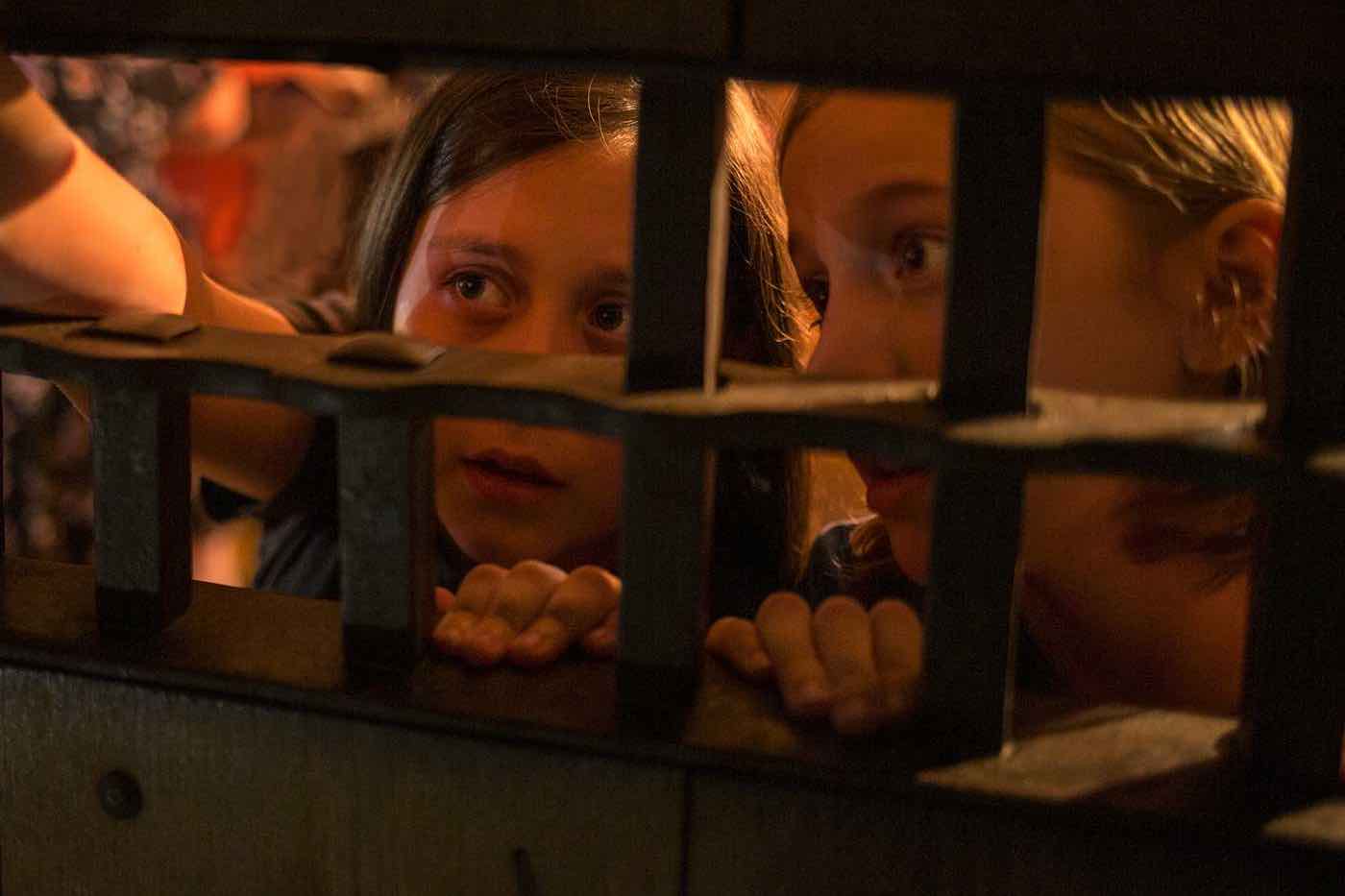 Colonial Williamsburg Escape Room: Spies & Lies
Espionage was a vital tool leveraged by both sides of the American Revolution. Enter the world of spies and wade through the investigation. Who is your friend? Who is your enemy? Who can you trust? But most importantly, where do your loyalties lie? A spy's life is in your hands. Team up to decipher the clues, unravel the lies, and decide the spy's fate.