March 2021
Whether they were transforming domestic hobbies into successful careers, pounding smoldering metal in blacksmith shops, or shaping the course of the nation, women played important—and unexpected roles—in Colonial Williamsburg. Join us this March for special programming as we celebrate and examine the lives and relationships of these women during Women's History Month.
Our most elite cadre of interpreters, Nation Builders portray real historic figures who lived in 18th-century Williamsburg and made a significant contribution to the American story. Travel to the 1790s, and meet a Nation Builder who helped shape their time, and whose legacy continues to influence and inspire American ideals.
Explore Online
Enrich your experience with some pre-visit research or dive into blogs, videos, and live conversations after a visit.
Sign up for our emails to be the first to know about Women's History Month!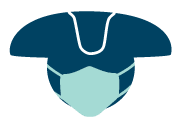 Please note that some images may have been taken prior to COVID-19. All guests are required to wear face masks when indoors, and they are recommended outdoors. Face coverings will be worn by Colonial Williamsburg staff. Learn more here about our commitment to the health and safety of our guests and staff and what protocols we have in place.