A Free Black Cabinetmaker's Sideboard
The Art Museums of Colonial Williamsburg are home to a breathtaking range of folk and decorative art. Uncover the history behind beautiful objects in masterfully curated exhibitions in our series "Amazing Stories. Beautifully Told."
Today we're looking at a sideboard, found in the Blagojevich Gallery of The DeWitt Wallace Decorative Arts Museum, home to remarkable objects that are useful as well as beautiful.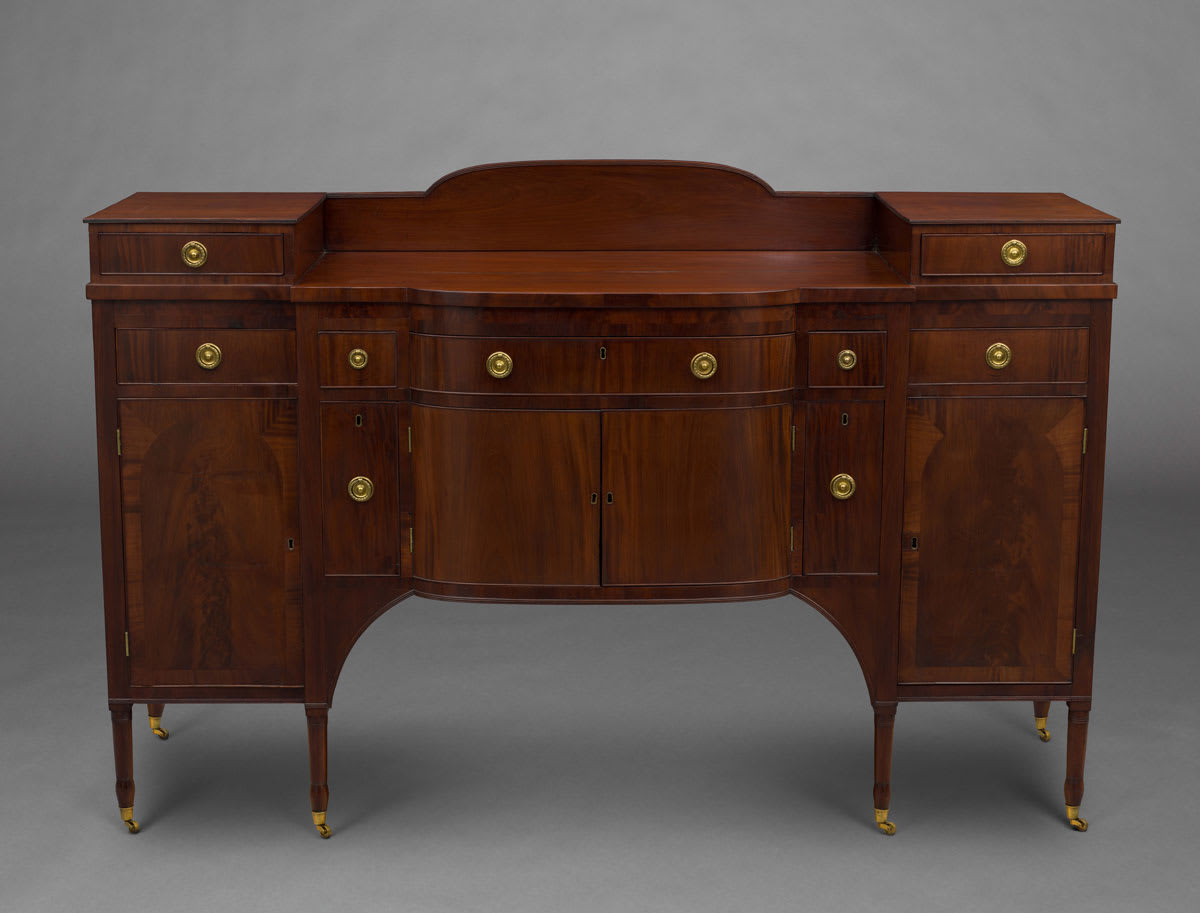 What is it?
A large neoclassical sideboard made of mahogany, yellow pine, and tulip poplar. It was made between 1810-1820 and bears the inscription "William Moss by his hand." William Moss, the maker of the sideboard, appears to have been a free Black cabinetmaker working in Lynchburg, Virginia. The accomplished quality of the woodworking, particularly in the manipulation of the matched veneers to create a complex pattern, demonstrates Moss's considerable skill as a cabinetmaker.
What's the story?
A sideboard is a table with a serving surface and compartments for storing dining utensils, linens, and anything else a table might require for a meal. Due to their versatility, sideboards grew in popularity during the 19th century. You would find this type of furniture, especially with such excellent workmanship as the Moss piece, in the home of an affluent family. Moss made his sideboard in Lynchburg, a western Virginia tobacco commerce hub. By 1810, the city attracted many journeyman cabinetmakers looking to produce goods for the growing population. Most Lynchburg furniture from 1800 to 1825 shows an understanding of fashionable designs but was less refined than that of coastal cities such as New York, Baltimore, and Norfolk. After 1810, however, there was increasing use of more costly materials and techniques, as evidenced by Moss's choice of mahogany veneer and his quality craftsmanship.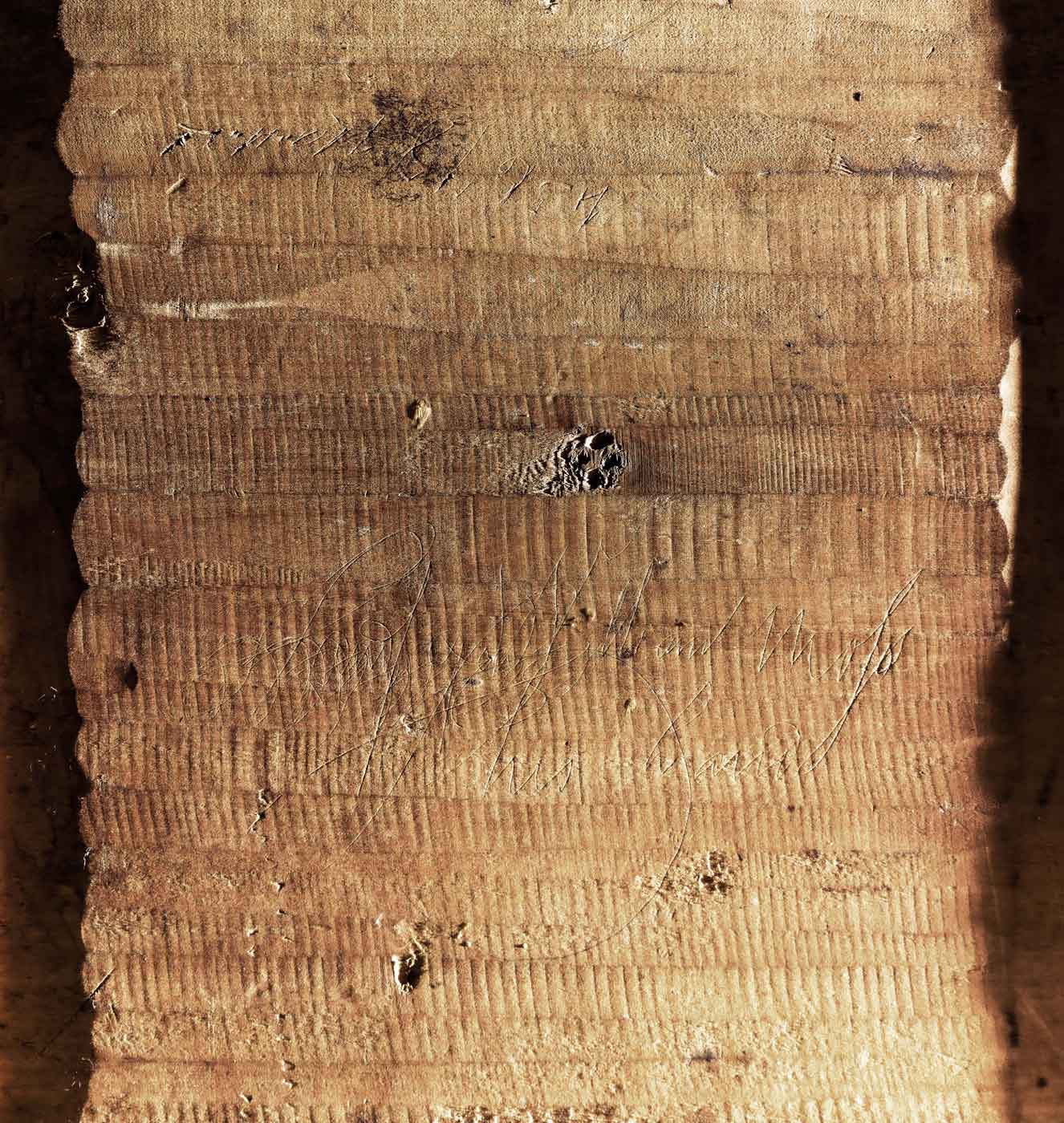 One of the things that makes this sideboard so special is that it is signed by its maker, William Moss. Like many Black craftsmen, very little is known about Moss. National and local county records provide some information about who he was and what his life might have been like. Moss may have been born free in Virginia in or sometime after 1776.  In 1814 he married a woman, later described in a census as white, in a Quaker wedding ceremony in Campbell County, Virginia witnessed by two other free Black individuals, Jonathan and Lucy Moss. William Moss was likely a journeyman in a Lynchburg cabinet shop until around 1820 when he was listed in the census as being engaged in agriculture.
Free Blacks made up approximately 10% of the population of Lynchburg in 1810 but they were prohibited from voting, possessing firearms, leading religious services, and forming schools. Despite the restrictions, Moss was able to read and write, as evidenced by his signature on the sideboard.
Why it matters
We can learn about history from many different angles when studying this sideboard. The fine craftsmanship speaks to the tastes of a growing Virginia city in the early 19th century. The signature by William Moss helps contextualize who was making furniture in the city and gives us a better understanding of life for a free Black man living in Virginia in the early 19th century.
See for yourself
You can find this sideboard and tens of thousands of objects in our online collection here. We also invite you to see this remarkable object in person at the Art Museums of Colonial Williamsburg and discover more amazing stories, beautifully told.
Jackie Mazzone is the Americana Furniture intern at Colonial Williamsburg. She holds a MA from the Bard Graduate Center in Decorative Arts, Design History, and Material Culture and is passionate about discovering what everyday life was like in the 18th century.
Delaney, Ted, and Phillip Wayne Rhodes. Free Blacks of Lynchburg, Virginia, 1805-1865. Lynchburg, VA: Warwick House Pub., 2001.
Colonial Williamsburg is the largest living history museum in the world. Witness history brought to life on the charming streets of the colonial capital and explore our newly expanded and updated Art Museums of Colonial Williamsburg, featuring the nation's premier folk art collection, plus the best in British and American fine and decorative arts from 1670–1840. Check out sales and special offers and our Official Colonial Williamsburg Hotels to plan your visit.
Learn More