The Art Museums of Colonial Williamsburg are home to a breathtaking range of folk and decorative art. Uncover the history behind beautiful objects in masterfully curated exhibitions in our series "Amazing Stories. Beautifully Told."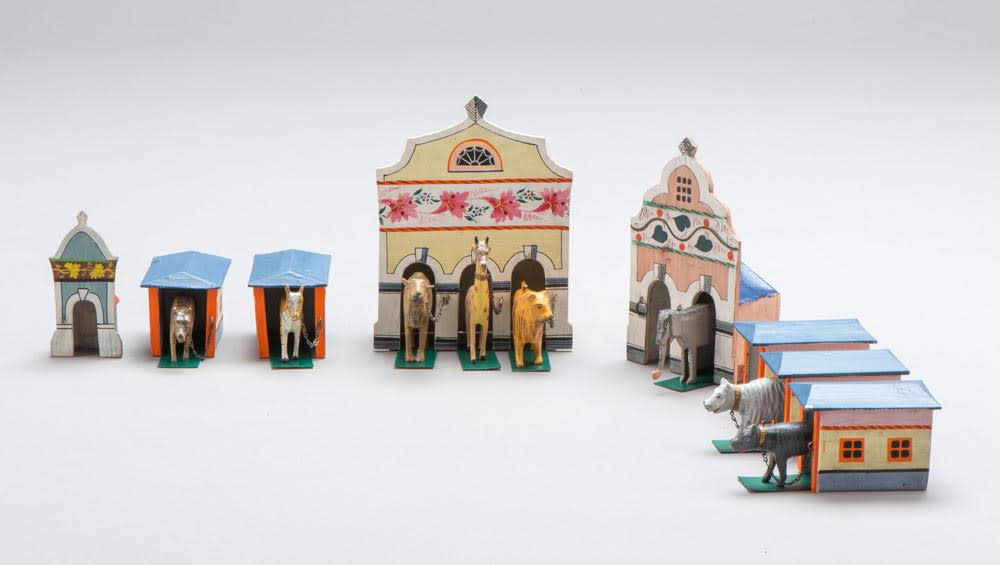 Today we're looking at a toy menagerie found in the German Toys in America exhibition currently on display in the Joanne L. and Philip D. Wolfe Gallery. The Wolfe Gallery is part of the Abby Aldrich Rockefeller Folk Art Museum, home to the nation's premier collection of American folk art.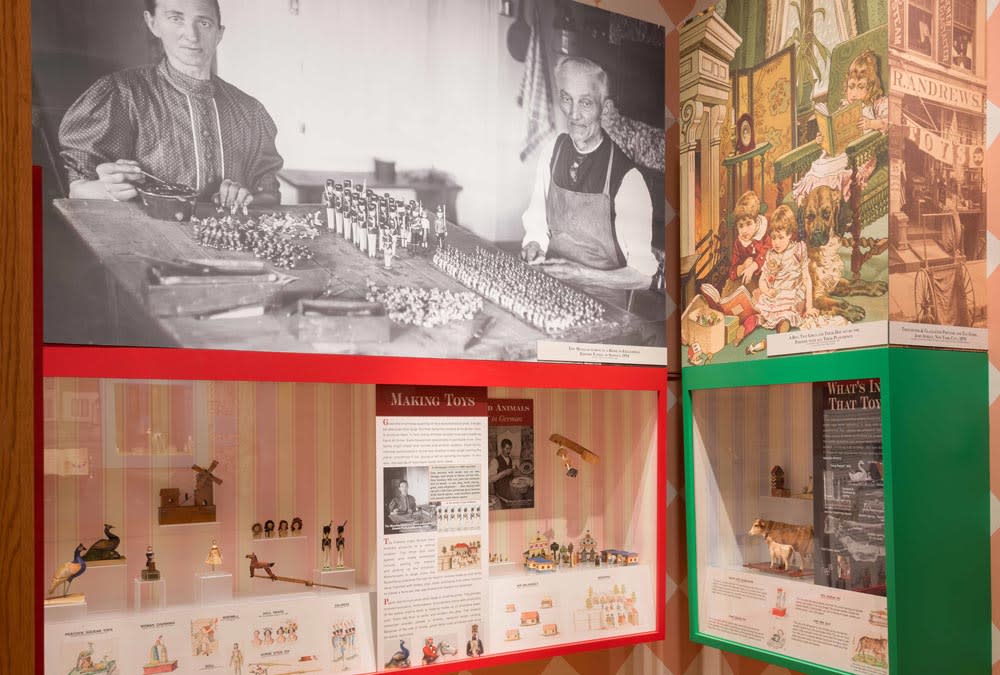 What is it?
This toy set, made in what is now Germany in the second half of the 19th century, features several buildings that house a variety of exotic animals. The largest building measures only 6 inches tall. Each piece is carved from wood and hand painted.
What's the story?
These small pieces tell a big story. This menagerie appears in a rare 1840s German toy catalog, which is also on view in the exhibition. The catalog contains pages of hand-colored engravings of over 2000 toys.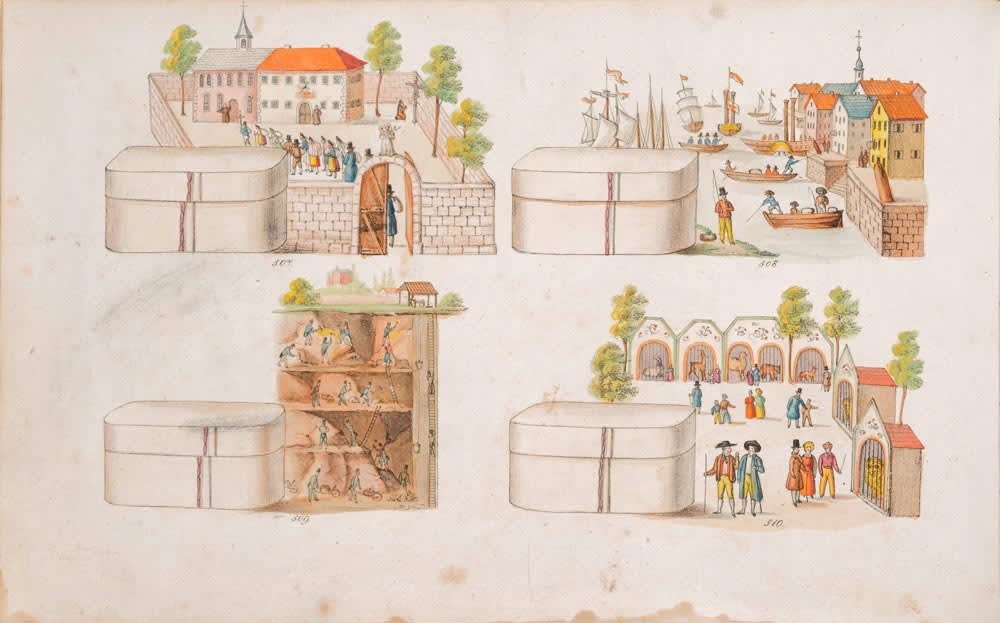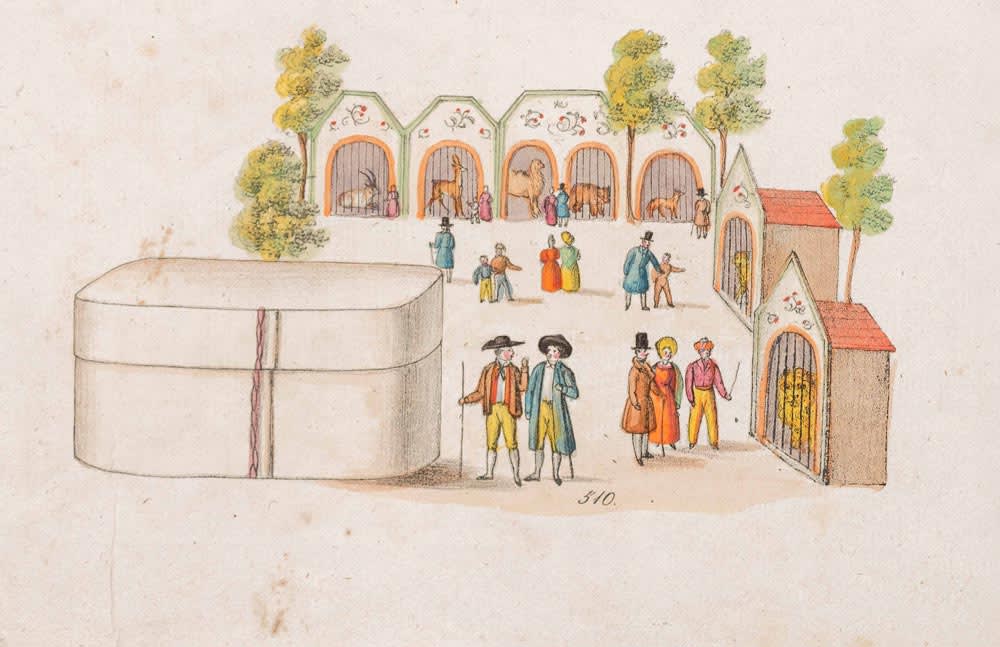 In the 19th century, Germany supplied most of the world with toys. American toy sellers purchased thousands of small wooden playthings at a minimal cost. The toys were made in small villages by the residents. Often the whole family had a role to play in their production — some members carved the figures while others painted them. Toy distributors then sent agents to the villages to collect the products to send to large warehouses. From there, animals made by several different people were boxed with houses made by other artisans. These were then placed on ships to sail to America. Around Christmas time, American newspapers published stories about "The Toy Workshop of the World" and "The Toy Center of the World." And Santa often did his shopping in Germany as well.
Perhaps the most popular animal-related toy was Noah's ark, but many other sets offered both domestic and wild animals in farm, forest, and jungle settings. This menagerie represents a place that very few children would ever encounter in person. The first zoo in America was in Philadelphia and did not open until 1874. Prior to that, small groups of exotic animals were toured through parts of the country for short periods of time. Children learned about these creatures primarily from their story books and toys. Even if they never got to see the animals live, they could imagine visiting and interacting with them in play.
Fun Fact: The first exotic animal to be exhibited in British America was a lion. It appeared in Boston, Massachusetts, in 1716. A few years later a camel arrived in that city. Imagine the public's excitement of seeing such creatures live for the very first time.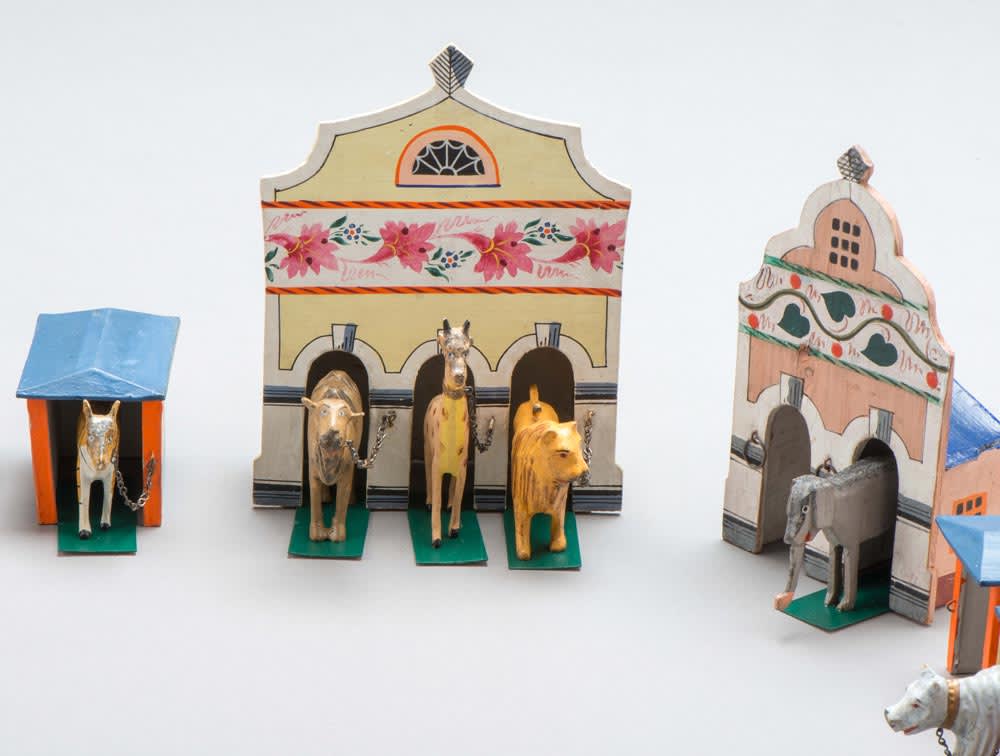 Why it matters
Toys, like the menagerie, remind us of the multiple stories that one object can tell. The toy is a reminder of the people who worked for pennies to produce toys for children thousands of miles away. It represents a successful business and trade network that connected faraway countries to each other. When there was a major conflict in Europe that involved Germany, American children were told to take care of their toys because there might not be any imported that year.
Like many children's playthings, the menagerie depicted the adult world in miniature. Studying antique toys gives us insight into what was popular at the time. But most of all, toys provide insight into the children who played with them. Some child likely received this menagerie as a new toy, perhaps for Christmas. Maybe they shared it with their siblings or friends. They likely used their imagination to be the animal keeper or the adventurer who captured the animals or the curious person who visited the animals.
See for yourself
You can find this toy menagerie and tens of thousands of objects in our online collection here. We also invite you to see this remarkable object in person at the Art Museums of Colonial Williamsburg and discover more amazing stories, beautifully told.

Jan Gilliam is associate curator of toys and curated the exhibition German Toys in America. When not "playing" with the toys, she is Manager of Exhibition Planning. A native of southern California, she received her master's degree in history from the College of William and Mary and is proud to have worked at Colonial Williamsburg for over 30 years and counting.
Colonial Williamsburg is the largest living history museum in the world. Witness history brought to life on the charming streets of the colonial capital and explore our newly expanded and updated Art Museums of Colonial Williamsburg, featuring the nation's premier folk art collection, plus the best in British and American fine and decorative arts from 1670–1840. Check out sales and special offers and our Official Colonial Williamsburg Hotels to plan your visit.
Learn More