With the skill of the gardener..."by the help of a little art…"

—Peter Collinson to John Custis IV, March 21, 1736/7
Garden tools in the hands of skilled gardeners bring forward a glorious assortment of vegetables, flowers, and a various assortment of plants for our enjoyment and sustenance. We are often asked how the tools used in the 18th-century garden differ from today. While you will easily identify the tools that we use from the past, the difference is what materials are used to construct those tools. Iron and wood are replaced today with plastic and aluminum but they all work the same. Having said that, we do have our favorites.
1. Wheelbarrow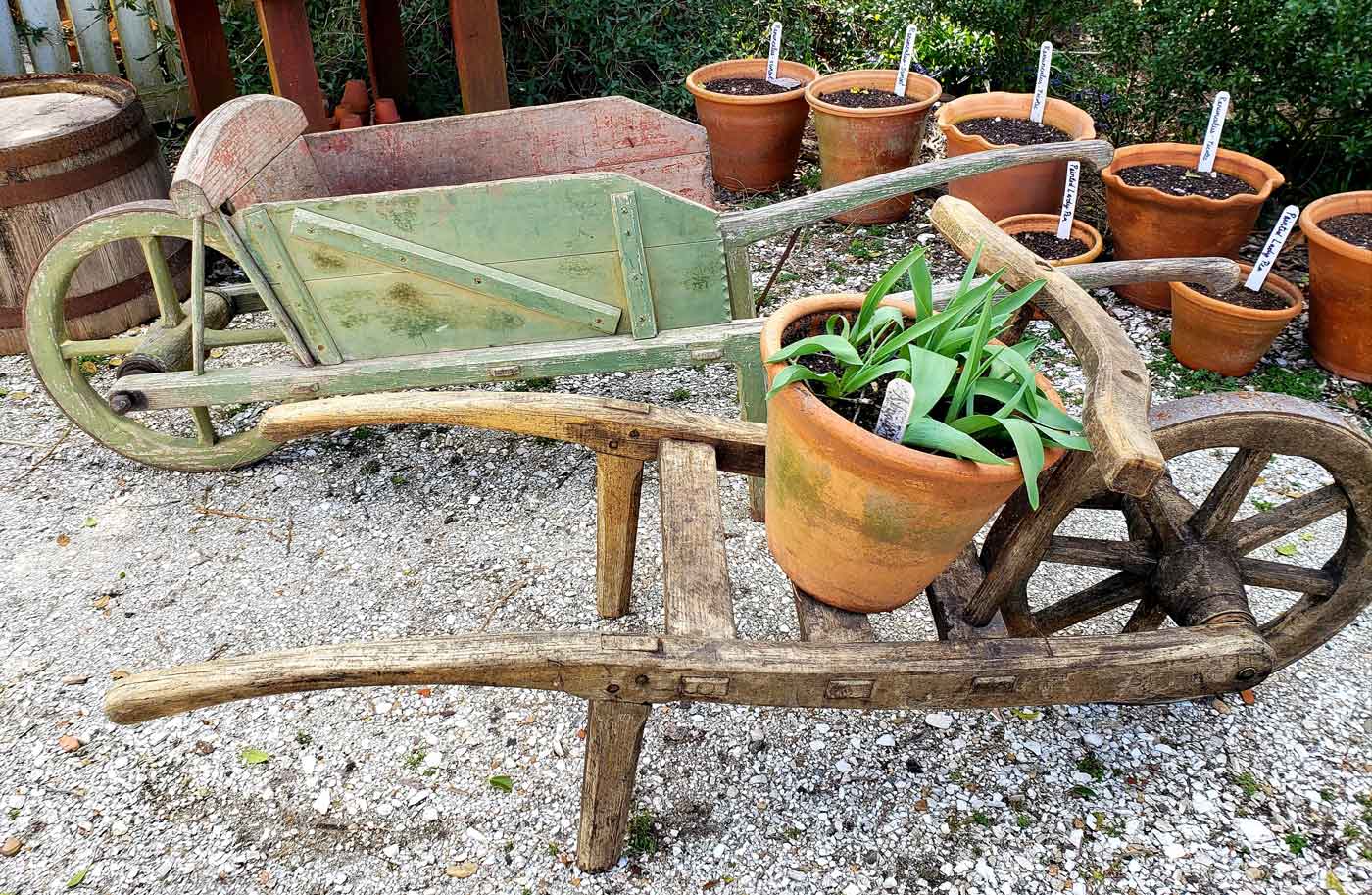 The wheelbarrow is a true workhorse in the garden, allowing us to carry many heavy or awkward loads with ease. We use it nearly every day to take weeds and plant trimmings to the compost pile. During the Spring, the wheelbarrow is invaluable for carting the horse manure necessary to heat our hotbeds. We also use the wheelbarrow to bring compost to the garden beds and to mix potting soil for our plants. We have two styles of wheelbarrow in use at the garden, an enclosed one with wooden sides that can be removed and an "open" one that holds a large basket. Both of our wheelbarrows were made by the Wheelwright shop here in Colonial Williamsburg.
2. Spade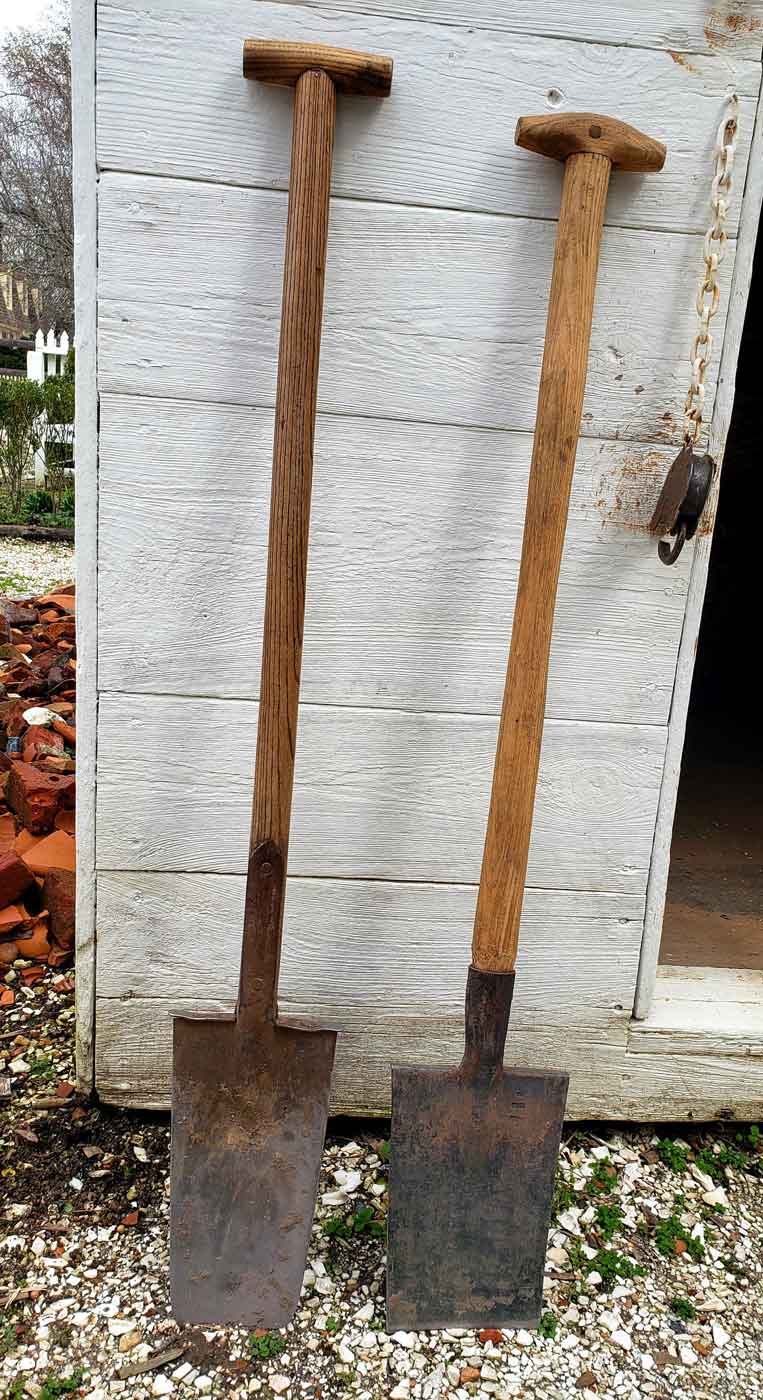 An iconic companion of many 18th-century gardeners, the spade is one of our most frequently used tools. While it may look similar to a shovel, the spade is a specific shape of tool designed for turning over garden soil. The thin, elongated blade is the perfect shape for cutting into the ground. We use the spade to prepare all our garden beds for planting in much the same way modern gardeners might use a rototiller. The spade is also used for digging holes for planting large trees and shrubs, harvesting root vegetables, and moving finished compost. Two of our spades were made here in Williamsburg by the Blacksmiths at the Anderson Armory. We also own a spade that was produced by Patterson's Spade Mill in Ireland, the last working water-driven spade mill in the British Isles.
3. Trowel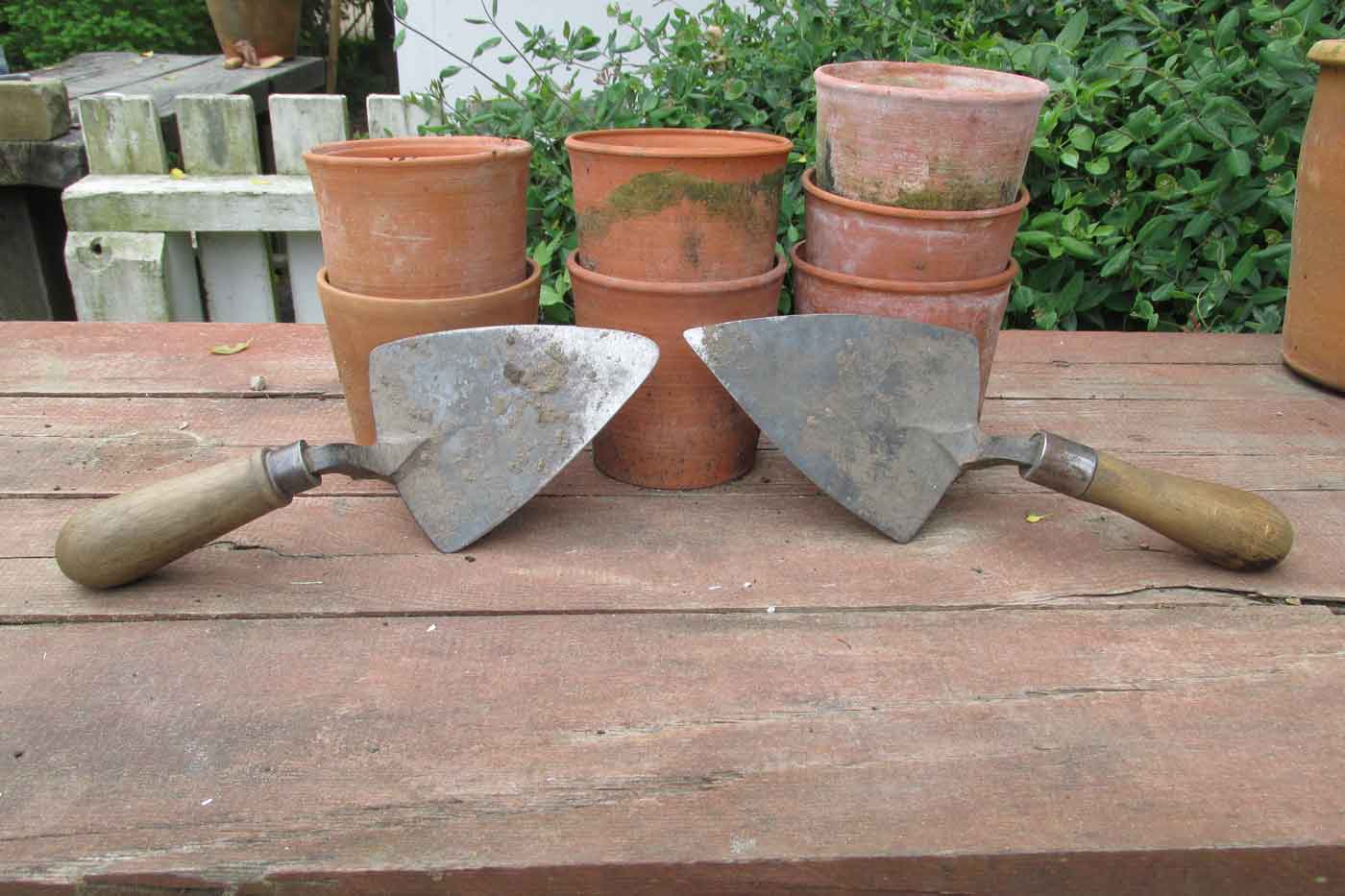 Consider the trowel as the little sibling of the spade; this small hand tool is used for weeding, digging small holes, transplanting plants, mixing small batches of fertilizer into soil, smoothing out small areas of ground, and harvesting the smaller root vegetables. Generally used one handed, this tool has a flattened triangular metal head and a wooden handle. Our trowels were made here by the blacksmiths at the Anderson Armoury and we have two sizes, larger for general use and smaller for tighter areas and more delicate work.
4. Watering Can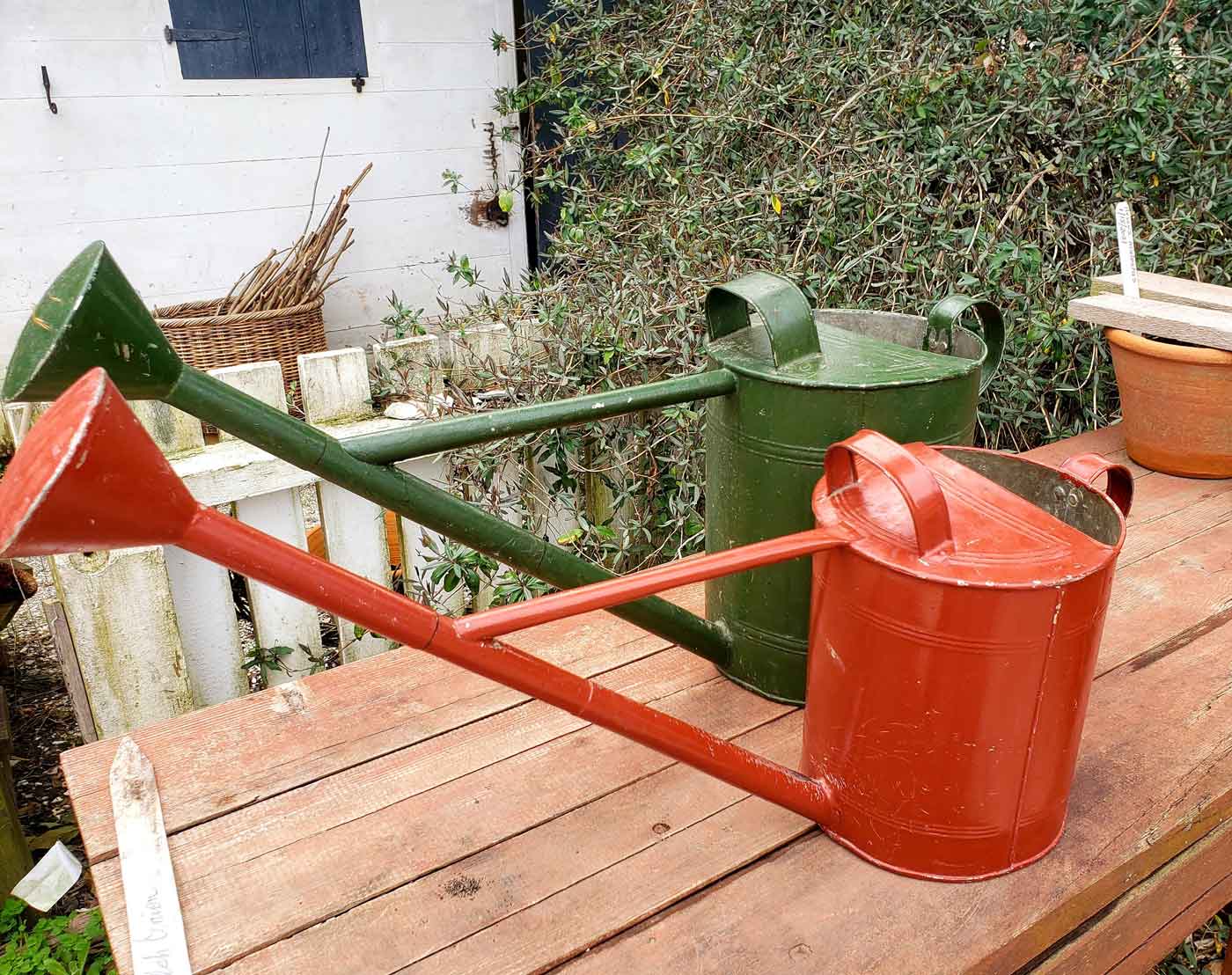 Perhaps the most iconic gardening tool, the watering can is an invaluable addition to our arsenal. Used to transfer water to the fruits, vegetables, flowers, and trees in our garden, this is perhaps the most necessary item for a healthy garden, especially in the heat of a Virginia summer. Watering cans are an absolute necessity in a time before pressurized garden hoses and sprinklers. This large-bodied tin canister has a sizable handle on the side and a smaller handle on top for better control, as well as a long spout with interchangeable heads. These heads have small holes punctured in them to allow water to pass through, either as big holes for a quick rainfall when watering larger plants or with tiny holes to allow a fine drizzle when watering smaller seedlings. Our watering cans were made here by the Tinsmiths at the Anderson Armory and we have many sizes from small to enormous. They've also been painted either green or red and are lovely to look at in addition to being functional.
5. Bell Jar and Hand Light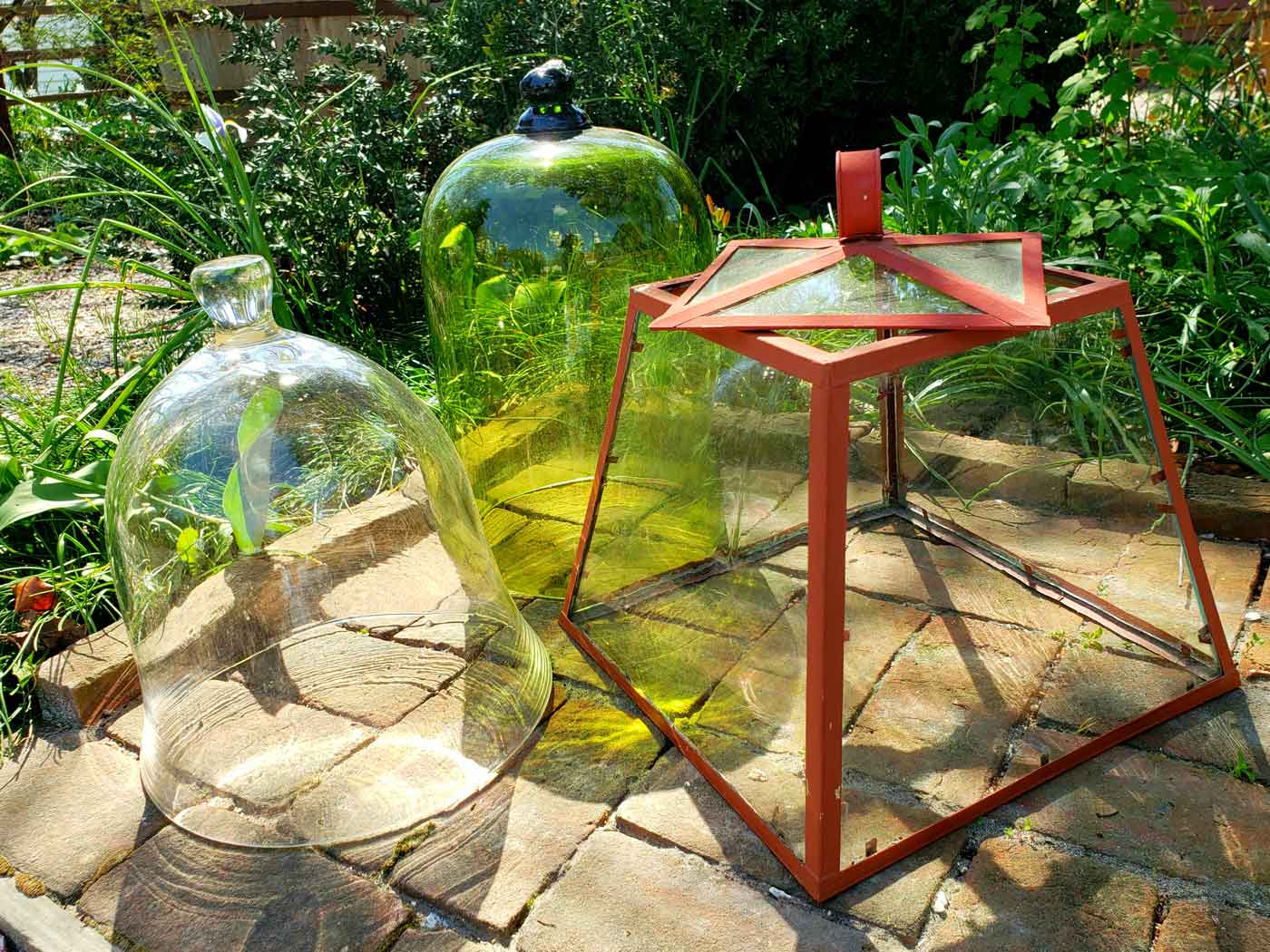 The blown "bell" shaped glass is a tool that would have been used in the gardens of the gentry. Fragments of bell jars have been found by our archaeologists in various gardens such as the Governor's Palace, and the garden of Mr. James Hubbard. Since glass was not made in the colonies in the 18th century, glass was being shipped from England and proved to be expensive. The other form of glass used in our garden is the hand light. In the shape of a lantern with a removable lid, it is used in the same way as the bell jar. We favor its ability to turn the lid to allow measured exposure to air, and the framed glass body does not need to be lifted off the plants. Today, ours are made in our tin shop, but we know that the frames would also have been constructed from iron or lead in the 18th century.
Both glasses appear side by side in an illustration by John Evelyn in 1659. Thought to have originated in 16th-century France, they eventually made their way to England. In our garden of today, we use both styles to protect less hardy plants such as lettuce and parsley from the winter nighttime frosts. The barrier also helps protect against hungry rabbits, squirrels, and deer. Alternate warmer weather uses would be temporarily covering transplants until they take root and warming the soil where seed has been sown on a hill to encourage germination.
Megan Cantwell is an Apprentice Gardener in the Colonial Garden. She enjoys gardening both in the Colonial Garden and at her own garden at home. Deer, rabbits, and squirrels are some of her favorite animals, however, they are also her mortal enemies. She enjoys reading fantasy and sci-fi novels, cooking, and video games.
Teal Brooks is an Apprentice Gardener in the Colonial Garden. She started in her current position in 2017 and began working with the foundation in 2015. She holds a bachelor's degree from The Evergreen State College where she studied sustainable agriculture. When not working in the garden she enjoys cooking, auto repair, and going on adventures with her dog, Rico.
Eve Otmar is the Colonial Garden's Journeyman Supervisor. An avid gardener, she enjoys shooting her flintlock rifle, finger weaving and 18th-century textiles.
Colonial Williamsburg is the largest living history museum in the world. Witness history brought to life on the charming streets of the colonial capital and explore our newly expanded and updated Art Museums of Colonial Williamsburg, featuring the nation's premier folk art collection, plus the best in British and American fine and decorative arts from 1670–1840. Check out sales and special offers and our Official Colonial Williamsburg Hotels to plan your visit.
Learn More