Climate-controlled discoveries await you
There are few things as reliable as the heat of summer in Virginia. And as the temperature rises, we find ourselves looking for fun things to do in Williamsburg that don't involve dripping in sweat. Here are seven cool ways to entertain yourself this summer — inspired by and at Colonial Williamsburg:
1. BAKE GOODIES FOR A NEIGHBOR
There's something relaxing about measuring flour and rolling dough that takes you back to a simpler time. Plus, brightening someone's day with a basket of sweets can put a pep in your step, too! Want some truly time-tested recipes? Check out Recipes from the Raleigh Tavern Bake Shop, in Williamsburg, Virginia. Generations have taste-tested the gingerbread cookies, plum tarts, pear pie and more!
2. SOLVE A MYSTERY
Examine the crime scene, interview experts and suspects, and collaborate with other investigators as you work together to solve a fictitious murder. The twist? The murder takes place in a beautiful art museum! Running every Thursday evening, the mystery of Sir Reginald's Return is a thrill not to be missed.
3. DISCOVER A HIDDEN GEM
Did you know there's an art museum full of quirky toys, whimsical whirligigs, carousel characters, and backwoods banjos at Colonial Williamsburg? Check out the Abby Aldrich Rockefeller Folk Art Museum, one of two museums found in the newly expanded and updated Art Museums of Colonial Williamsburg. Perhaps you'll find the same joy in these unique objects that inspired Mrs. Rockefeller to build the collection upon which the museum is built!
4. CREATE A HOMEMADE LANTERN
Add a homemade touch to the twinkling lights of long summer evenings! Create a homemade lantern inspired by a timeless tinsmithing technique. With supplies you can find around your home, flex your creative muscles, designing your own pattern or using the provided template. Find the instructions here.
5. TAKE JOY IN THE UNUSUAL
Sometimes the most interesting things come in not-so-pretty boxes. Explore objects that are useful in The DeWitt Wallace Decorative Arts Museum, one of two museums found in the newly expanded and updated Art Museums of Colonial Williamsburg. They might look strange, but no doubt, they have a story to tell.
6. BECOME A DETECTIVE
Get out your magnifying glass and examine the hidden clues! In the award-winning exhibition, Upholstery CSI: Reading the Evidence, you can learn to identify the hints left by upholsterers that allow curators and conservators to reconstruct furniture pieces' 18th-century appearances. Head over to the DeWitt Wallace Decorative Arts Museum and check it out — you'll never look at your furniture the same way again!
7. SEE NATION BUILDERS ON STAGE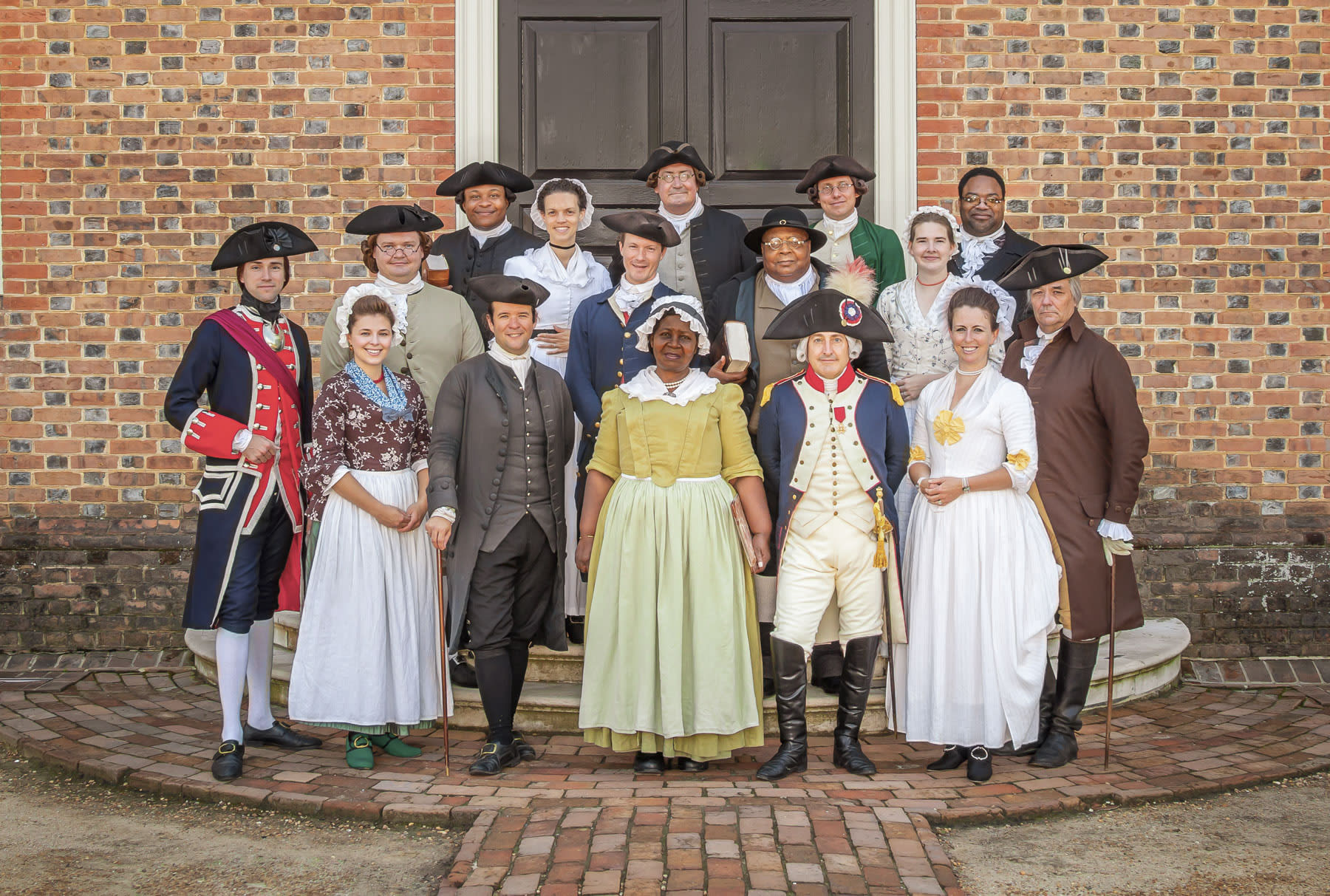 Nation Builders portray real historic figures associated with 18th-century Williamsburg who made significant contributions to the American story. Join them and other talented actor interpreters in the Hennage Auditorium for performacnes every day 1:30 p.m. You'll learn the stories of those who helped shape their time, and whose legacy continues to influence and inspire American ideals. Check this month's programs schedule to find out what's showing during your visit.
Colonial Williamsburg is the largest living history museum in the world. Witness history brought to life on the charming streets of the colonial capital and explore our newly expanded and updated Art Museums of Colonial Williamsburg, featuring the nation's premier folk art collection, plus the best in British and American fine and decorative arts from 1670–1840. Check out sales and special offers and our Official Colonial Williamsburg Hotels to plan your visit.
Keep History Alive!
Our donors help us achieve a deeper understanding of America's founding ideals and how they relate to the world and this country today. Because we are not state or federally funded, your support is crucial to preserving the wonder of Colonial Williamsburg. Give now to keep history alive for generations to come.