Thanks to the popularity of Navajo Weavings: Tradition and Trade, the first Native American textiles exhibition at the Art Museums, the Abby Aldrich Rockefeller Folk Art Museum's next exhibition featuring Native American textiles opened September 10 in the Mary B. and William Lehman Guyton Gallery.
Navajo Weavings: Adapting Tradition features six more weavings on loan from the collection of American folk art enthusiasts Pat and Rex Lucke. None of these works have been displayed at Colonial Williamsburg before.

On view through December 2022, Navajo Weavings: Adapting Tradition highlights the longstanding cultural and artistic tradition passed down for generations in which anonymous Navajo women created brilliantly colored, boldly designed pictorial weavings on hand looms. They adapted and modified their designs based on the changing world around them, creating an art form that is uniquely theirs and providing insight into the Navajo culture in the early years of the 20th century.
Here are 5 Facts to know about this exhibition before you visit:
1. A TERM TO KNOW
Diné is the term the Navajo use to refer to themselves meaning "the People." Through the woven motifs of these textiles, you can learn what was important to the makers among the Diné and gain a sense of their aspirations.
2. EXPANDING REPRESENTATION IN OUR COLLECTION IS NOT NEW
"Colonial Williamsburg's curators have worked diligently over the last twenty years to ensure that our collections represent the diversity of the American people," said Ronald L. Hurst, the institution's Carlisle H. Humelsine Chief Curator and vice president for museums, preservation, and historic resources. "That critical work is ongoing, and these two exhibitions are clear evidence of our determination to use remarkable objects in telling a more complete and fulsome story."
3. DON'T MISS THE CHIEF BLANKET
One highlight of the exhibition is an extremely rare Classic Period chief's blanket, a type of blanket made to be worn and one of the earliest of Navajo weavings. While it remains difficult to closely date objects such as this, as the techniques, materials and design was consistent across the Navajo lands for many years, it is believed that this example was made between 1840 and 1860.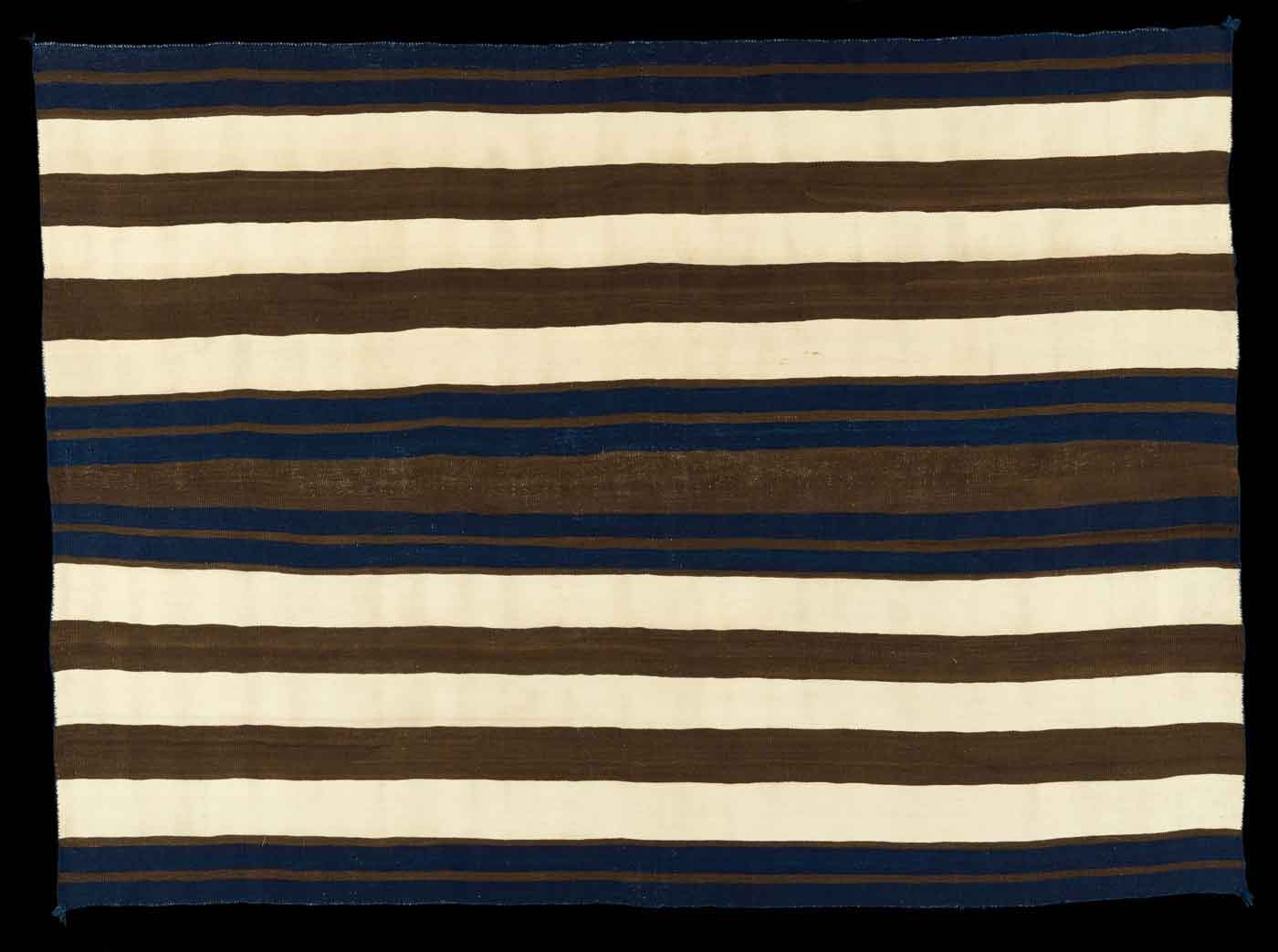 Its earliest provenance dates to a Ute (Chief Ouray) who obtained the blanket from the Governor of Pueblo de Taos during the 1870s. Because these blankets were utilitarian, many did not survive; it is believed that only approximately 50 to 60 of the early classic Ute design blankets exist and many are in museums. This piece is woven from single-ply, handspun Churro wool; its white and brown colors are natural and the blue is from an indigo dye.
4. THE WEAVINGS REPRESENT A HIGHLY SKILLED, EVOLVING ARTFORM
"The six Navajo weavings spanning about one hundred years highlight how the highly skilled Navajo weavers adapted and modified their traditional textiles from the world around them to meet the demands of a modern market and trade." said Kimberly Smith Ivey, Colonial Williamsburg's senior curator of textiles. "With bold designs and brilliant colors, simple everyday objects like trains, livestock, and soda bottles were transformed into works of woven art, and today tell a compelling story of adaptation, survival, and change by the Navajo People."
5. YOU'LL SEE ADAPTATIONS OF THE AMERICAN FLAG
Although the American flag was favored by customers to whom the Diné sold their handwork, it rarely appears as a true rendering on Navajo weavings. As flags were displayed on government buildings, both the buildings themselves as well as the flags became symbolic of U.S. power and authority on Navajo land.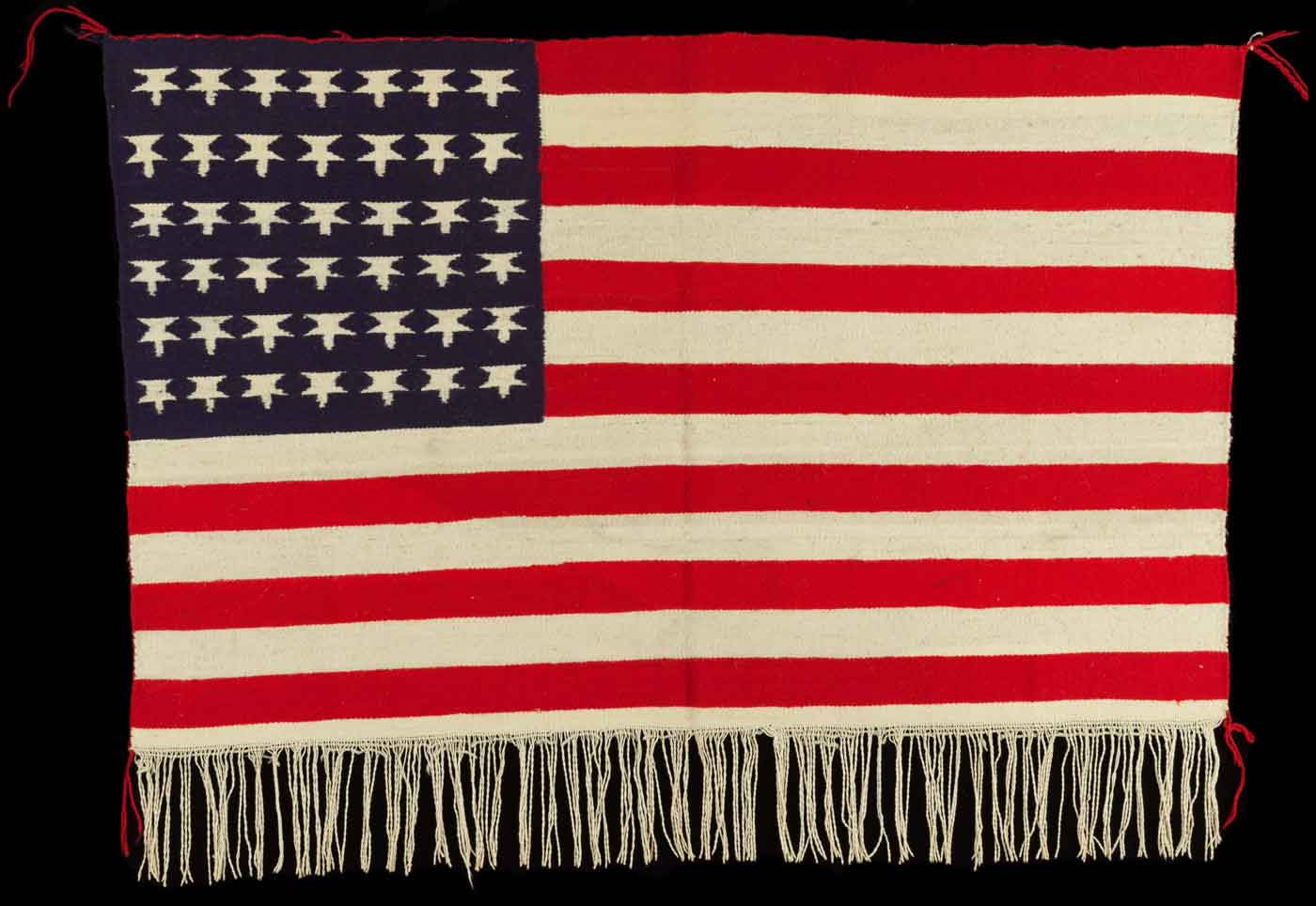 The weavers, therefore, would have adapted the flag to suit their needs, sometimes altering the rectangular shape, changing the number of stars or substituting them with flowers or anchors to create an entirely different motif. Another of the weavings to be featured in this exhibition is American Flag made between 1900 and 1910 of Germantown yarns, aniline dye, and natural white wool. The high-quality woolen yarn imported by railroad from Germantown, Pennsylvania, for use in Navajo weavings was commercially spun and dyed in bright colors with synthetic dyes. Because of the cost, traders supplied the Germantown yarn to the most skilled and talented weavers resulting in some very remarkable weavings.

---

We hope you'll plan a visit to see these remarkable weavings. We are grateful to the Luckes for their willingness to allow us to display these pieces. For 365 days of access to the expanded and updated Art Museums of Colonial Williamsburg, plus exclusive benefits and news about new exhibitions, consider becoming an Art Museums Member. Navajo Weavings: Adapting Tradition received funding from donors who wish to remain anonymous.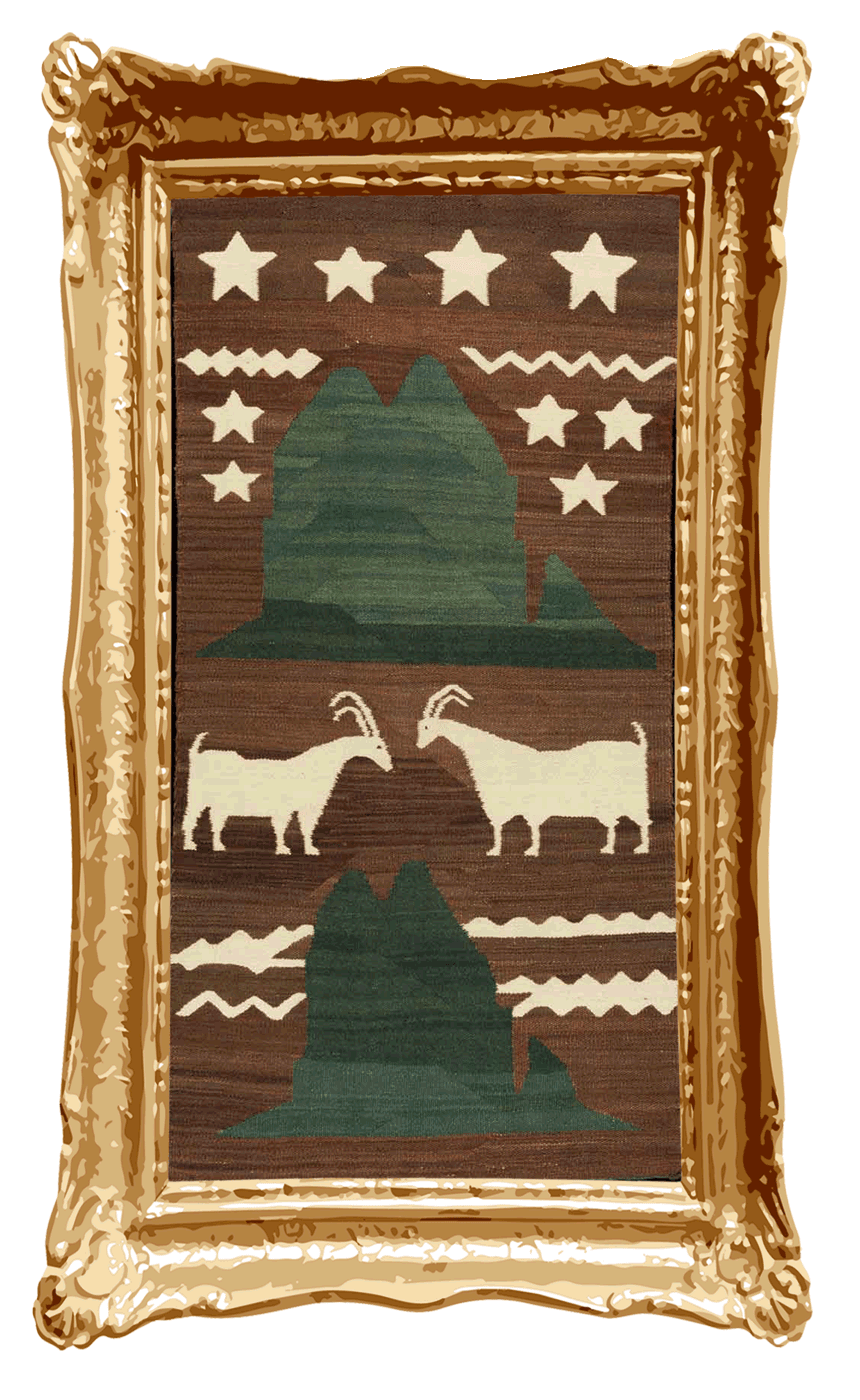 Art Museums for CW Kids

Explore items from the Art Museums of Colonial Williamsburg's collection. Learn cool facts, have some fun with at-home craft projects, and find out where to see these items in person when you visit!


Start Exploring
Together, with You
We count on you to fulfill our mission that the future may learn from the past. Together, with you, Colonial Williamsburg strives for excellence through nationally recognized preservation of this living museum, world-class educational opportunities and thought provoking civic engagement programming. Make a gift now to support and advance this important work.
Colonial Williamsburg is the largest living history museum in the world. Witness history brought to life on the charming streets of the colonial capital and explore our newly expanded and updated Art Museums of Colonial Williamsburg, featuring the nation's premier folk art collection, plus the best in British and American fine and decorative arts from 1670–1840. Check out sales and special offers and our Official Colonial Williamsburg Hotels to plan your visit.
Learn More